Fake Gel Manicures Can Cause Nerve Damage and Skin Injuries
What to Look Out For When Getting a Gel Manicure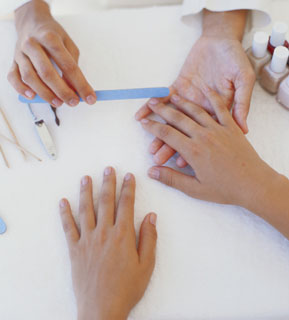 Getting a gel manicure? You may want to make sure that's what you're actually receiving. According to an investigation by Consumer Reports, some salons advertise gel manicures that aren't the real McCoy. Even though gel manicure solutions are a specific thing, many salons are marketing glue-and-powder or gel-and-acrylic blends as "gel" manicures.
That's problematic because the fakes can include a host of dangerous chemicals, including nasty stuff like toluene, a nerve-damaging agent. Worse yet, the mix of chemicals in them can cause nerve, kidney, and liver damage, contact dermatitis, and respiratory irritation. So how can we all protect ourselves and find a real, safer gel manicure? For tips, just keep reading.
Use your senses. Ask to see the bottles, and ask what the ingredients are. If the bottles are unlabeled or don't clearly say they're gel, don't continue. Gel also doesn't smell the way acrylic or glue does, so if there's any kind of strong odor emanating from the solution, don't let the tech use it on you.
Say no to these ingredients: ethyl methacrylate, methyl methacrylate, ethyl cyanoacrylate, formalin, and toluene.
Avoid files. A real gel manicure doesn't require filing or abrading your nail to get it to stick. Injuries from fake gels are usually from chemicals seeping into abraded skin or nail beds. So if your tech whips out a file, stop her immediately.
Watch out for powder. A true gel manicure uses a brush-on solution.
Ask questions. It's your health, so don't be afraid to assert yourself. As with so many other things, it just pays to ask questions and assert yourself. Don't be afraid to say no if something doesn't seem right.