Fall Beauty Tips
Get Your Beauty Routine Fall-Ready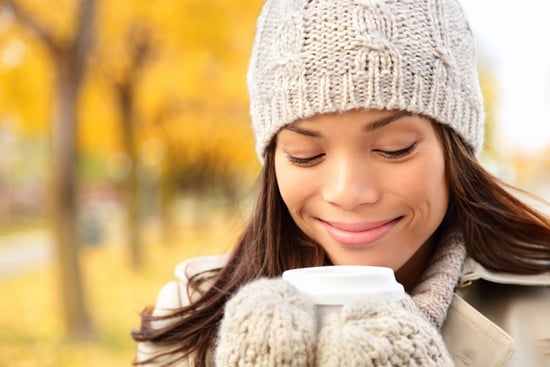 Just like you update your wardrobe for Fall, your beauty routine will likely need a new direction as the season starts to change. A few simple swaps are all you need to get cool-weather-ready. For a reminder on how to bring your beauty routine off the beach, grab your pumpkin spice latte and keep reading.
If you've been slathering on lotion to moisturize . . .
Try this: "As Winter comes, the humidity in your home drops," Dr. Lawrence Samuels, chief of dermatology at St. Luke's Hospital in St. Louis, says. "The air actually pulls moisture from your skin to improve the environment." To combat this, you'll want to reach for a moisturizer with a little more weight. Bring back your body butters, like L'Occitane Shea Butter Body Lotion ($30). They'll moisturize deeply and keep your skin hydrated as temperatures start to plummet.
If you've been using a toner as part of your skin care regimen . . .
Many toners contain alcohol, which, paired with the windchill, can cause extra dryness. You can still get your toner fix, though. Switch out your alcohol-containing varieties for ones free of the ingredient, such as Nars Skin Hydrating Toner ($32).
If you've been opting for loose, beachy waves . . .
Try this: Fall is a great time to work with sleek updos. A tight, low bun adds a touch of glamour to any style. Work a hair wax like Kiehl's Creative Cream Wax ($16) over your style to tame any fly-aways. Looking for something a little more laid back? Pull your hair into a high topknot.
If you've been covering with tinted moisturizer . . .
Try this: For more coverage, bring your foundations back into rotation. Maybelline Dream Foundation ($10) keeps things smooth without the heavy feel. Just allow your moisturizer to dry before layering on the foundation, and don't skimp on the SPF; you need it in the colder months, too.