There was a common backstage beauty trend thread throughout New York Fashion Week Fall 2017 [1]: imperfect, natural, and playful beauty is in.
For starters, we predict there will be far more instances of well-placed, thoughtfully-balanced color on the face (picture vibrant color with otherwise neutral makeup). You can also expect a major deviation from the pointed, drawn-on "Instagram eyebrow," which is being replaced by a groomed, but never overdone brow [2].
This same idea extends to the entire face in terms of avoiding excessive highlighter, harshly-lined lips, and severe contour. Finally, there will be a certain sexy-meets-sweet fusion that's quite alluring. You'll see what we mean as you keep reading!
Deconstructed, Messy Chignons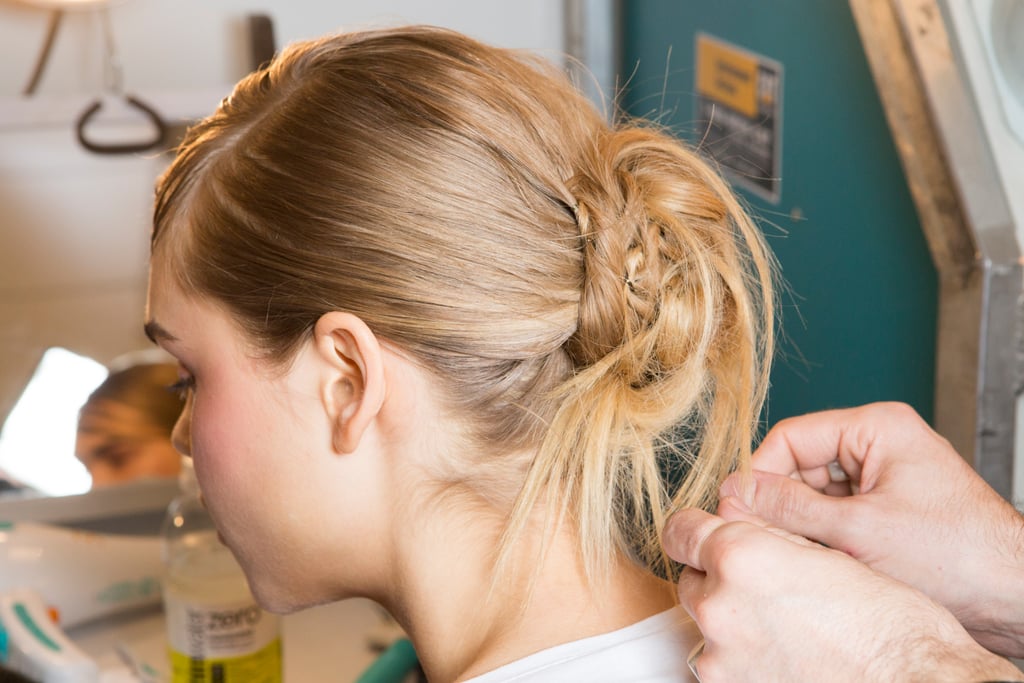 The Trend: Deconstructed, Messy Chignons
The Breakdown: How gorgeous is this piece-y, textured, torn-apart chignon? It's one of those effortlessly chic hairstyles you can wear to a wedding [5], semi-formal, or formal event. This updo was worn by models on the Marchesa runway, and Antonio Corral Calero, global ambassador for Moroccanoil, explained that it's the perfect hairstyle to pair with an ornate, dressy gown since the simplicity of the hair contrasts with the details of a fancy dress.
Get the Look: One of the keys for pulling the messy look off — and to make sure that "it has that modern vibe to it" — is to make sure your hair looks superhealthy and hydrated, Calero said backstage. To do that, prep your hair with something like the Moroccanoil Treatment and Smoothing Lotion before blow drying. Once dry, add some texturizing spray to help create grip and hold, then create an "imperfect, deep side part," Calero said. Sweep hair across your forehead and secure hair in a low bun. For that "torn apart" look, pull pieces of hair out of the chignon and resecure with bobby pins. There's no method to this madness — just treat your hair like a piece of art! Marchesa hair stylists added some texture-heavy accessories to some of the chignons, including velvet ribbon, and had fresh flowers sewn into their hair [6].

Shop the Look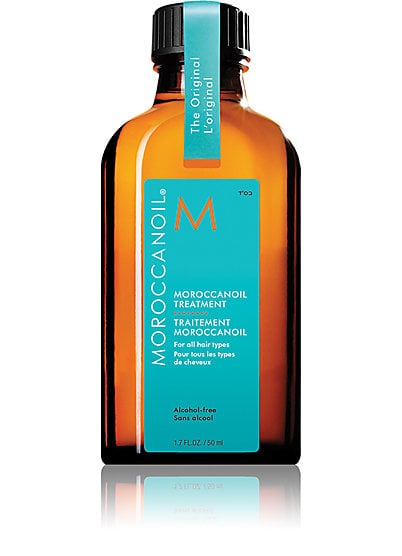 Moroccanoil Treatment [7] ($34)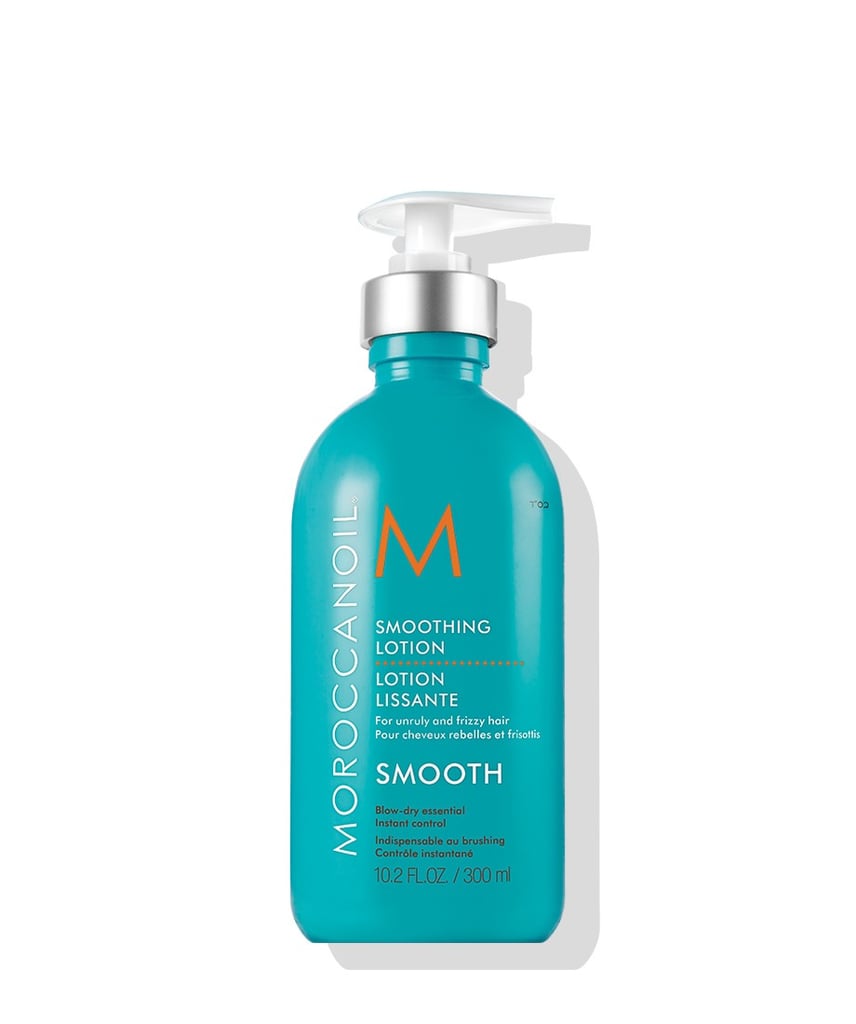 Moroccanoil Smoothing Lotion [8] ($34)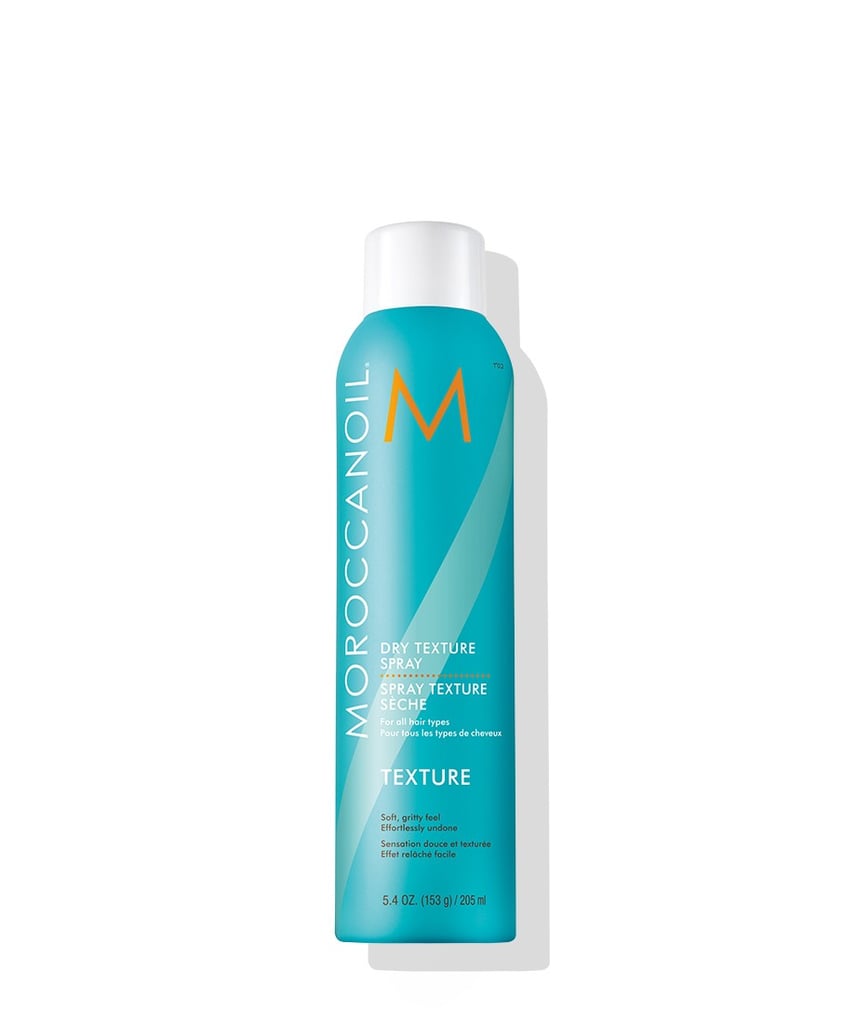 Moroccanoil Dry Texture Spray [9] ($11)
Grungy, Glossy Cat Eye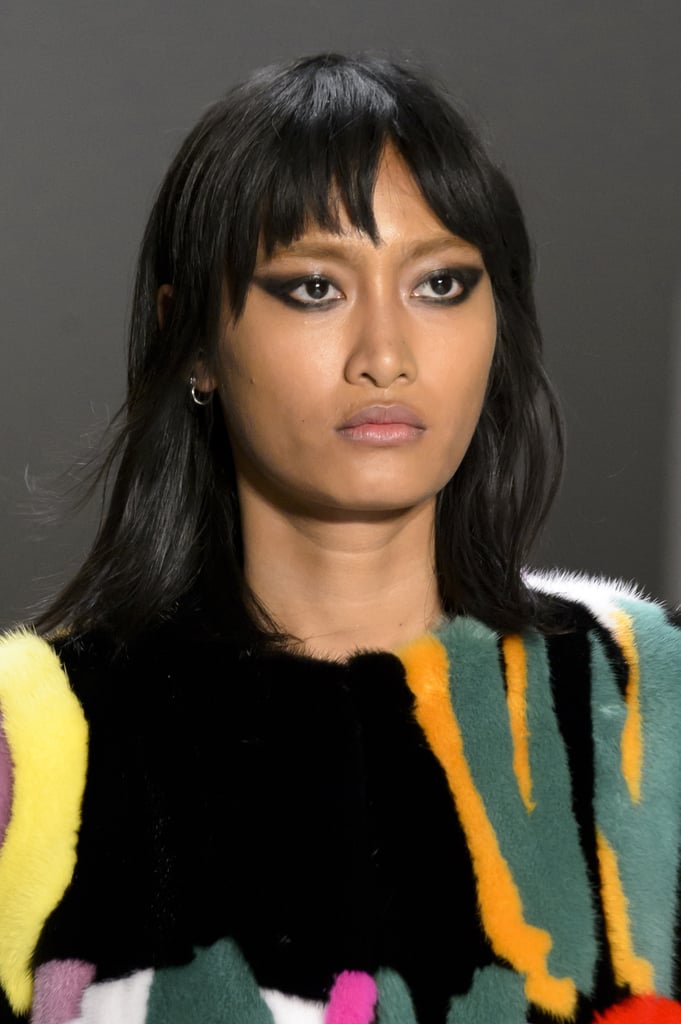 The Trend: Grungy, Glossy Cat Eye
The Breakdown: We wouldn't be surprised if this shadowy cat eye, worn by the models at Libertine, is going to be the look every party girl wears this Fall. It's superdramatic, but also wearable. Lead makeup artist Katie Jane Hughes explained backstage that it has a "lived in" vibe. Apply this look at 9 p.m. — just when the night's beginning — but appear like you've already spent hours partying. Whether you actually make it to last call is your secret.
Get the Look: Face cream, dense black eyeliner, and a wine-colored lip gloss is all you need to recreate this look. Apply a dab of the cream to the back of your hand, along with a swatch of the eyeliner right next to it. Mix the two together with a fluffy brush "to get a really lovely, slippy kind of oily paste," said Hughes. Apply the mixture with the same brush in a cat eye shape, but don't be too fussy about it, as there's beauty in the imperfection. Hughes explains that by mixing the cream and eyeliner together, the look starts to crack and look worn more quickly. To finish, dab a thick, wine-colored gloss with your fingertips to the center of your lids. The gloss will also start looking melted and creased, which further adds to the grungy vibe.
Shop the Look
Too Cool For School Egg Mellow Cream [10] ($36)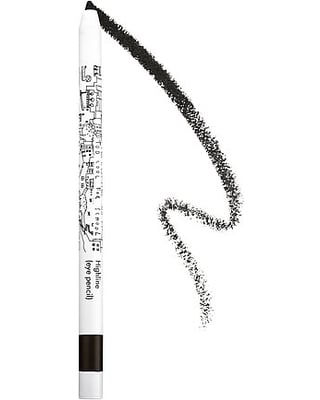 Too Cool For School Dinoplatz Highline Eyeliner in Charcoal [11] ($22)
Too Cool For School Dinoplatz Lip Balm in Spilled Wine [12] ($15)
Layered Nail Polish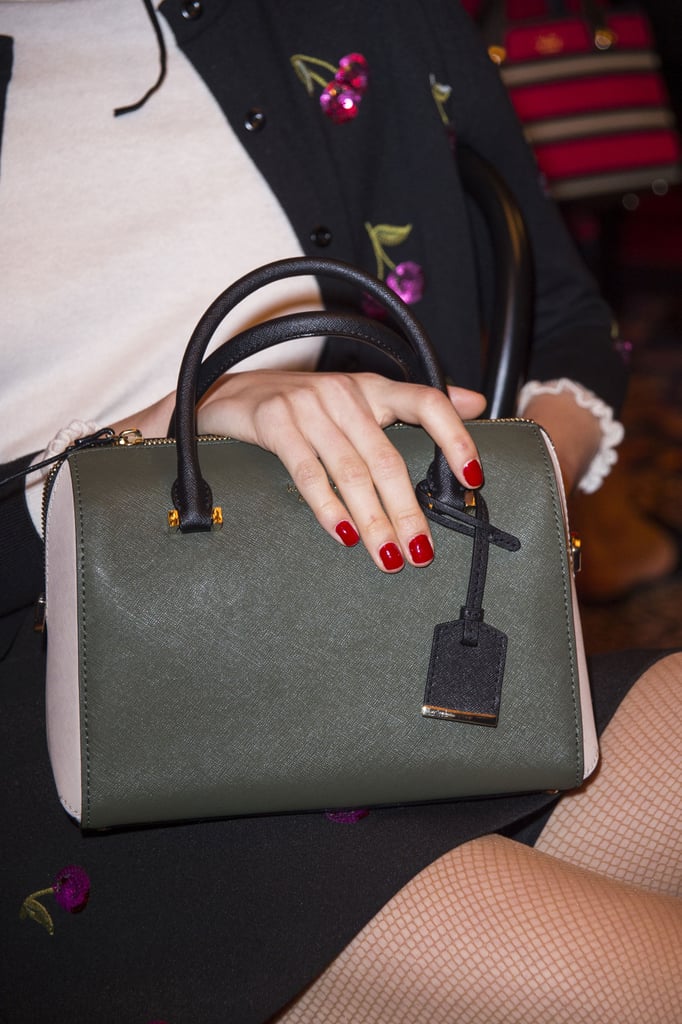 The Trend: Layered Nail Polish
The Breakdown: When you can't find the perfect polish shade, DIY [13] your own. The layered nail polish trend puts you in the driver's seat, as far as color creation goes, and almost guarantees that nobody else will be wearing the same hue as you. Backstage at Kate Spade, Deborah Lippmann — of the eponymous nail polish collection — explained that the idea is to blend two different colors together by layering one on top of the other. This not only creates a rich, new hue, but adds more dimension and depth.
Get the Look: "We used one layer of Lady Is a Tramp — which is a darker, very blue-red — and then layered My Old Flame — which is slightly lighter — over it," explained Lippmann. That splits the difference between the two colors so it's not too dark and not too light, and it's still happy." It's a subtle effect, but you can definitely see the color underneath popping through and it's superchic.
Shop the Look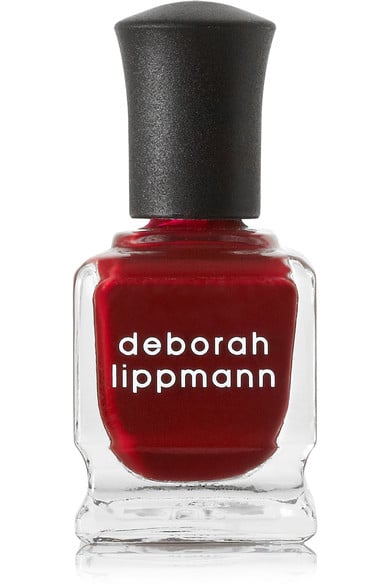 Deborah Lippmann Lady Is a Tramp Nail Polish [14] ($18)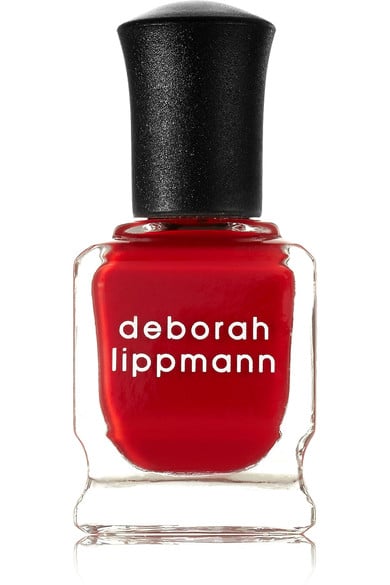 Deborah Lippmann My Old Flame Nail Polish [15] ($18)
Two-Toned, Watercolor Lips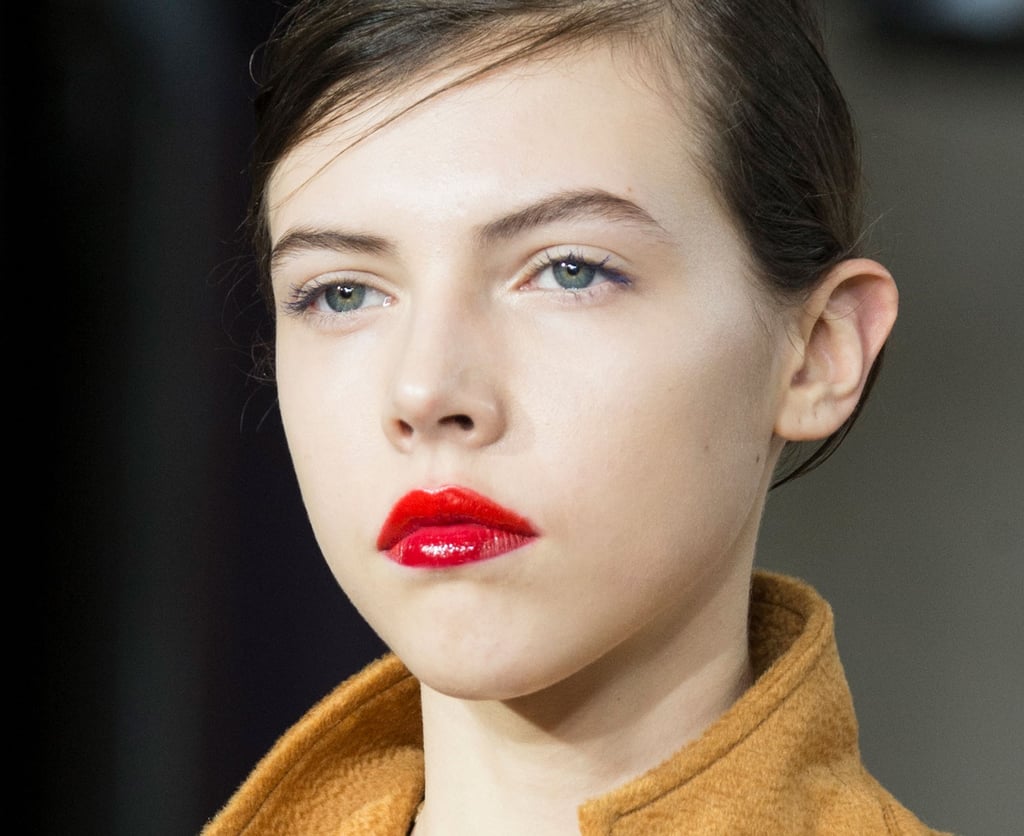 The Trend: Two-Toned, Watercolor Lips
The Breakdown: You may already be acquainted with "two-toned" lips, but this updated version we saw backstage at Jason Wu puts a sophisticated, artsy twist on the look. And before you back away from the idea of wearing a lip that may read "wacky" or "costume-y," know that the impact is equal parts subtle and stunning.
Get the Look: Forget about any lip gloss applicator or lipstick brushes — you're using your fingertips to create this look. Start by dabbing an orange liquid lipstick across your top lip. Next, use a red liquid lipstick (ideally the same formula as the orange) using the same application technique on your bottom lip. For that watercolor effect, lightly tap the red onto the upper lip. Yadim, Maybelline global ambassador for Jason Wu, explained that using your fingertips makes "for a more natural application" and finish.
Shop the Look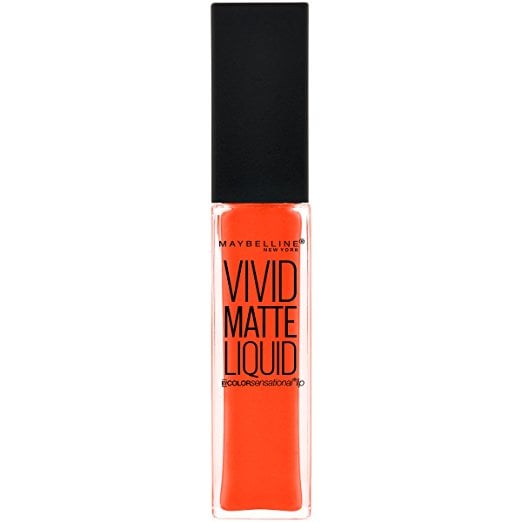 Maybelline Color Sensational Vivid Matte Liquid Lip Color in Orange Obsession [16] ($8)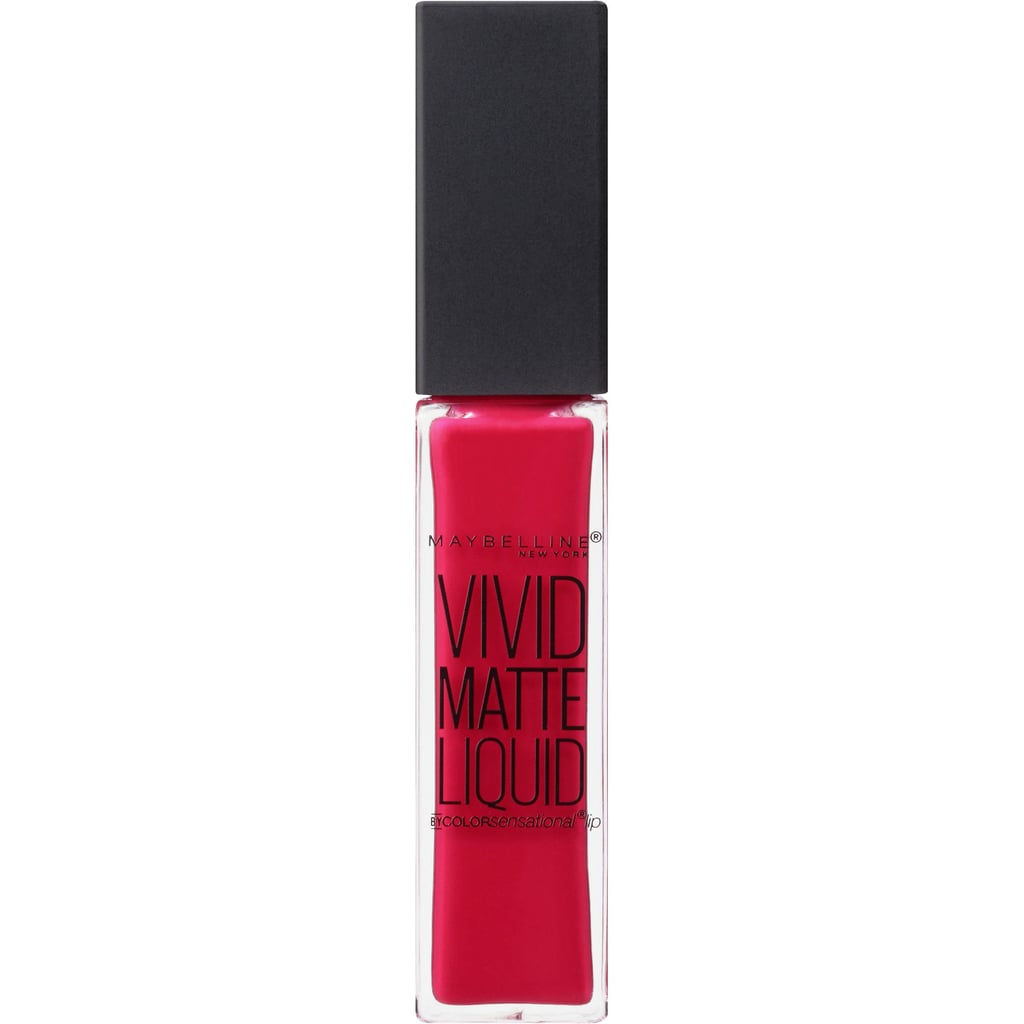 Maybelline Vivid Matte Liquid Lip Color in Rebel Road [17] ($8)
Pink on Pink on Pink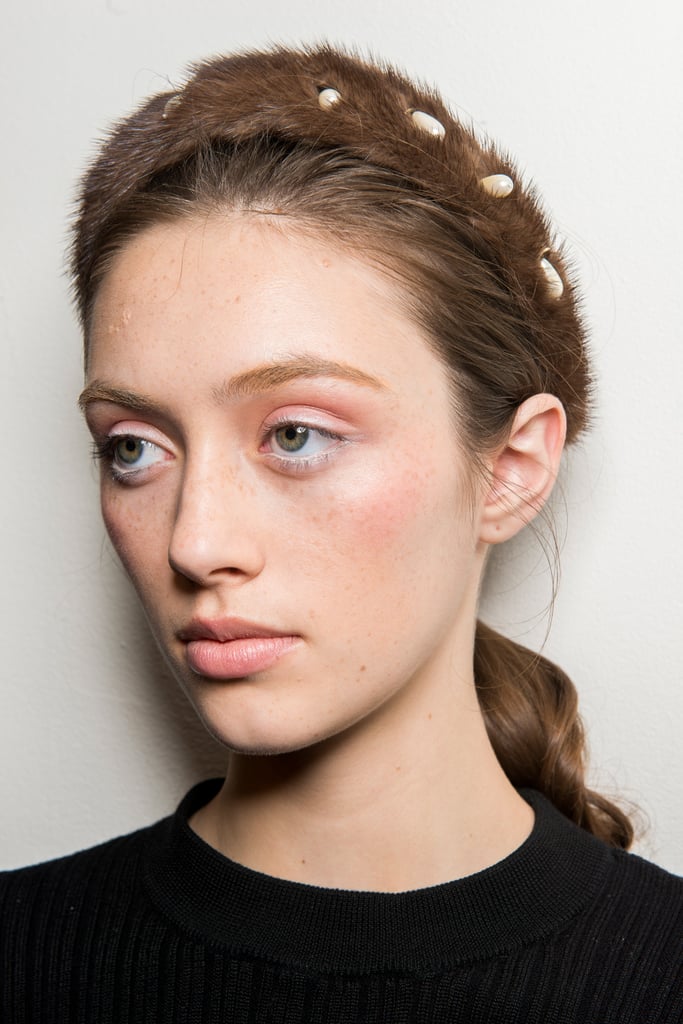 The Trend: Pink on Pink on Pink
The Breakdown: Step away from the liquid eyeliner and eyebrow pencil, and walk right into Fall 2017's ultrachic, ultrapink look. This look is the literal inversion of the drawn-on brows and lips and "cat eye for days" look. Instead, it channels "a very soft, very feminine" aesthetic with an "understated finish," explained Tom Pecheux, lead makeup artist for MAC Cosmetics at Altuzarra.
Get the Look: Start by applying a thin base on top of moisturized skin to even out your complexion. Next, reach for a pink blush (or highlighter) with a bit of sheen, but no sparkle. Using the same product throughout, dust the color onto the center of your lids with a fluffy brush, onto your upper cheeks, and then onto your lips. If you're feeling extra daring, you can even dab concealer on your eyebrows to "erase a little bit of that strong personality that eyebrows give," said Pecheux.
Shop the Look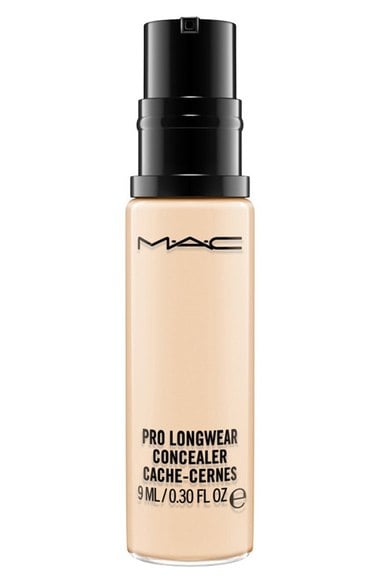 MAC Cosmetics Pro Longwear Concealer [18] ($22)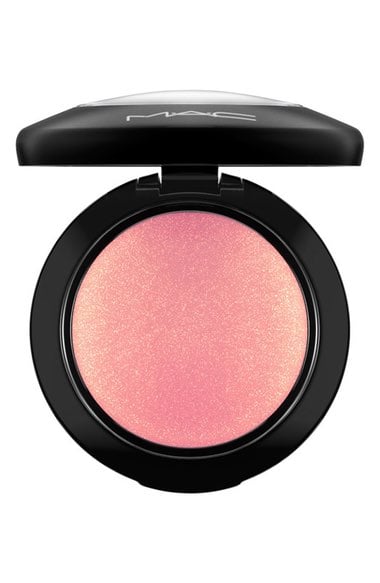 MAC Cosmetics Mineralize Blush in Petal Power [19] ($28)
Low-Slung Velvet Hair Ribbons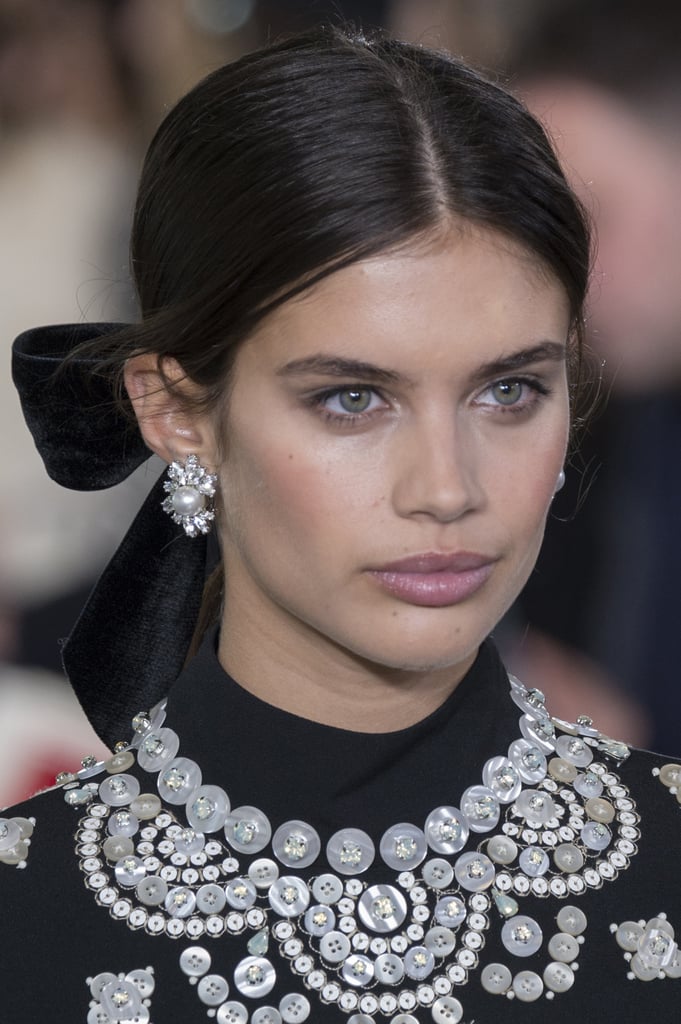 The Trend: Low-Slung Velvet Hair Ribbons
The Breakdown: We're calling it now! The hair accessory everyone's going to reach for come Fall is a velvet bow. It's as sweet as it is sexy and is simple enough for anyone to pull off. Not to mention, you can pair it with everything from an ornate gown to a casual blouse. "It's a really soft, really pretty look that's very romantic," Guido Palau, lead hairstylist for Redken, said backstage at Tory Burch.
Get the Look: To get a silky, sleek ponytail, you'll want to start with freshly-conditioned, superhydrated hair. You can achieve this with a deep conditioning treatment and a heat styling cream that adds even more moisture to your locks. Once dried and styled, scoop your hair into a low ponytail and wrap a long, inky-black velvet bow around the base. For that effortlessly chic "I'm demure, but watch out!" effect, allow the bow to droop and let the ribbon ends cascade down your back.
Shop the Look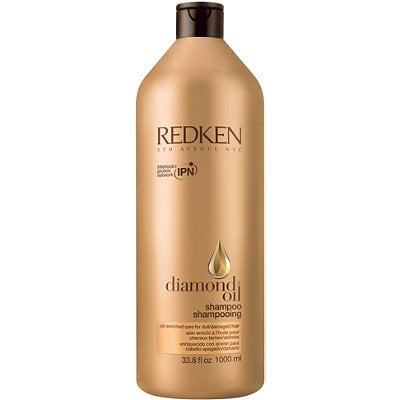 Redken Diamond Oil Shampoo [20] ($34)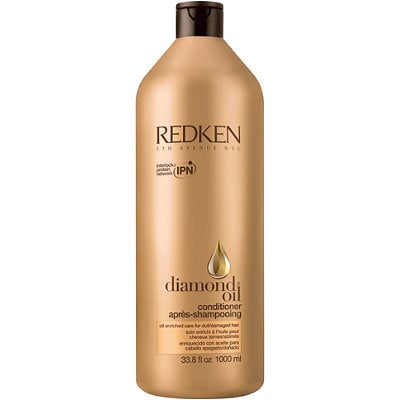 Redken Diamond Oil Conditioner [21] ($38)


Redken Satinwear Blow-Dry Lotion [22] ($20)

Splashy Eye Color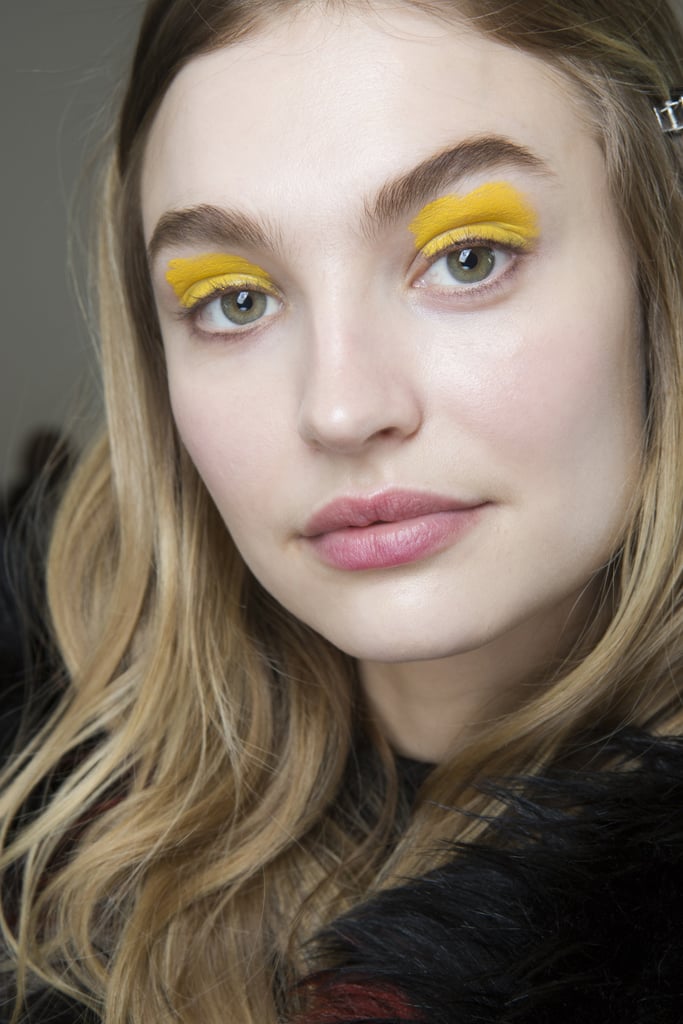 The Trend: Splashy Eye Color
The Breakdown: The woman who loves to make a bold statement — and has zero qualms about color on her face — is going to seriously embrace this Fall 2017 makeup trend. Like a true Mondrian painting, this graphic look is all about finding the appropriate balance of color. Dick Page, lead makeup artist at Zadig & Voltaire, referred to this splashy eye as "little interventions of color" that appear like "little accents . . . the same way as you would accessorize with something bright." Because the bright eye is paired with a neutral face, lips, and brows, it all works together without feeling like too much.
Get the Look: Before you even think about touching that colored eye shadow, repeat after us: it's all about that base. And that base? It's supersheer. In other words, load up on moisturizers, but don't "overdo it with concealer or foundation," said Page. Groom the brows and fill them in lightly if needed, skip the highlighter, and wear a lip color that's one or two shades darker than your own. As for the painted-on lid, select a cream eye shadow in a splashy color, and use a brush to paint it on at the center of your lid and above the crease. There's no method to this, except to not worry about making it look perfect or exactly symmetrical.
Shop the Look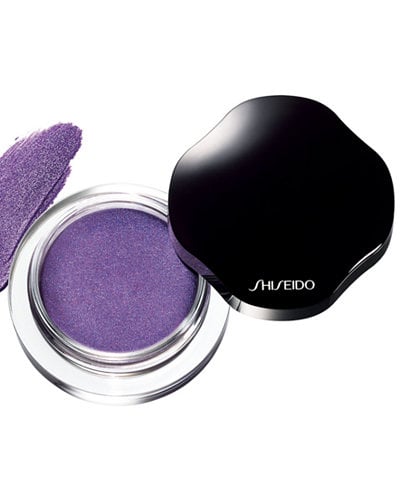 Shiseido Shimmering Cream Eye Shadow [23] ($25)
Minimalist Dipped Nails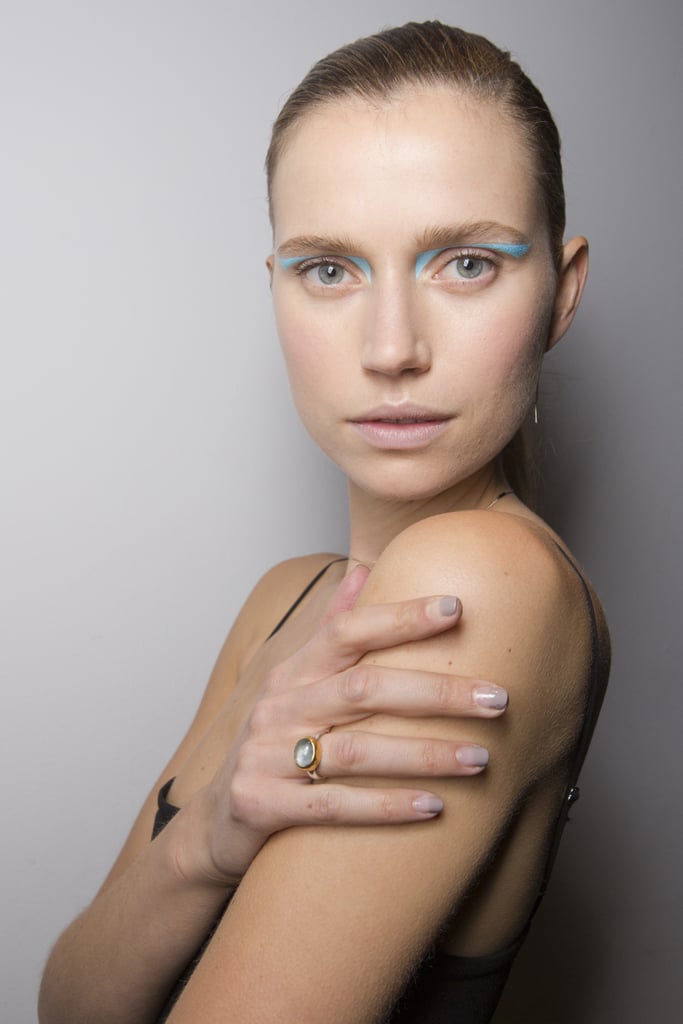 The Trend: Minimalist Dipped Nails
The Breakdown: Curb your nail lacquer budget and be on trend by rocking the dipped nail manicure, which was spotted on Prabal Gurung's Fall 2017 runway.
Get the Look: Apply nail polish starting halfway down the nail and to the tip. Jin Soon Choi of Jinsoon opted for a muted, minimalist gray, but other neutrals will work well, too. To pull this off, make sure the line between your naked nail and the polish is crisp and clear. The topcoat is optional.
Shop the Look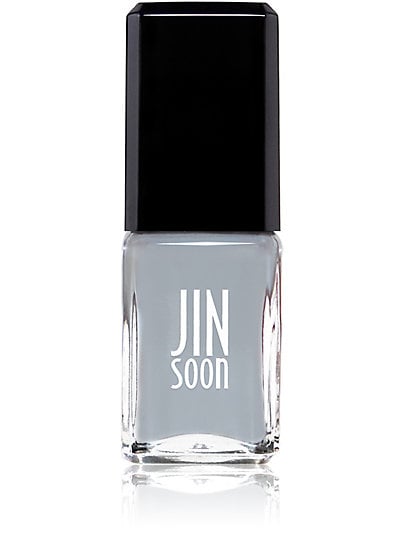 Jinsoon Nail Polish in Grace [24] ($18)