Fall Skin Care Tips | 2013
How to Transition Your Skin Care Routine Into Fall
The following post was written by Tiffany Nguyen, who blogs at Will Work For Makeup, and is part of POPSUGAR Select Beauty.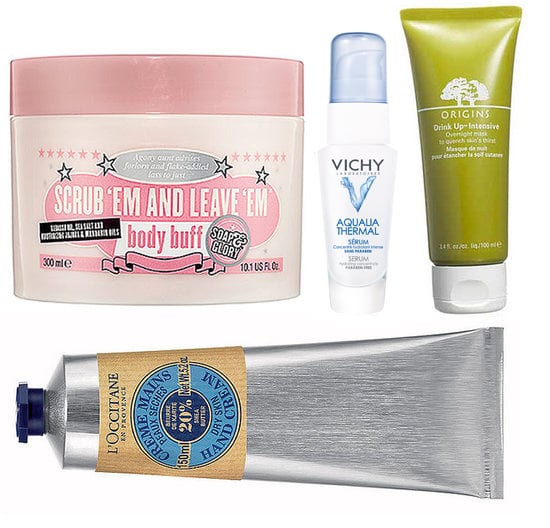 As the leaves begin to change and the temperature drops, warranting more sweaters and less bikinis, your skin's needs will likely change, too. Here are a few easy tips on how to transition your skin care routine into one that is more Fall-ready.
Exfoliate. Colder weather often means flaky, patchy, and rough skin. Exfoliating both the skin on your face and body will help to remove dead skin cells to reveal brighter, more refreshed skin. Limit yourself to once or twice weekly exfoliation sessions in order to allow your skin time to rejuvenate itself. A dollop of your everyday cleanser on the Clarisonic Mia ($125) will leave your skin feeling soft and supple in just two minutes. The best part? The Mia can be paired with an array of different brush heads, one of which is bound to suit your skin care needs. For the body, where the skin is thicker and can endure more intense exfoliation, Soap & Glory's Scrub 'em and Leave 'em Body Buff ($20) is a fantastic moisturizing scrub with a scent that lingers on the skin for hours.
Moisturize. In order to lock in that silky-soft feeling, apply a thick and luxurious body butter, like the Haus of Gloi Pumpkin Butter in Twice as Nice ($10), right when you get out of the shower, when your skin is still damp. For the face, applying a hydrating serum (Vichy Aqualia Thermal Serum ($36) is a great option) under your everyday moisturizer will give your skin an extra boost. Adding a facial oil, like the Osmia Organics Facial Calibration Serum ($50), to your nighttime routine will not only help to keep your skin hydrated throughout the night, but it will also work to balance the skin as a whole. An intensive hydration mask, like the Origins Drink Up Intensive Overnight Mask ($24), is great for when your skin feels particularly in need of some TLC.
Don't forget about your hands! Between the change in temperature and the constant hand washing, our hands often get overlooked and suffer the most. The L'Occitane Shea Butter Hand Cream ($28) is intensely hydrating and leaves hands feeling ridiculously soft and nourished. For hands that are especially dry, apply a generous amount of hand cream and wear mittens to bed to seal in the moisture overnight. Say hello to baby-soft hands in the morning.