Fall Weather Hair and Skin Care Advice
Here's Why Fall Weather Is Affecting Your Hair and Skin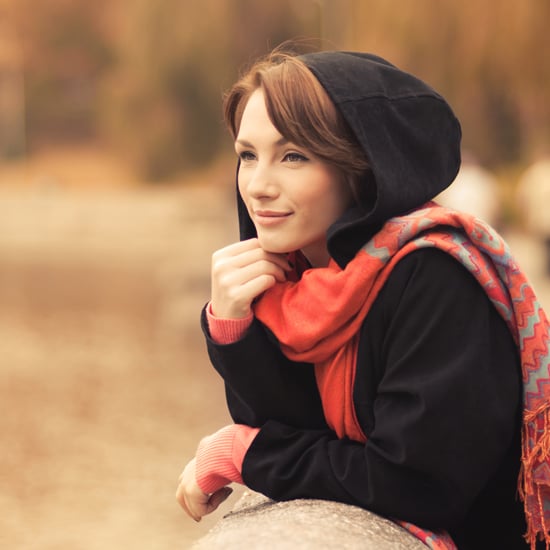 As the weather changes, you know what to expect: itchy legs, frizzy hair, and all that good stuff. Discover the science behind (and solutions for) common seasonal beauty woes like flaky skin and flyaway hair when you continue reading.
1. Cold air equals dry air, because the molecules can't hold water as well. Keep skin hydrated by using products with humectants, which will help draw water from the lower layers of skin to the surface. Look for ingredients like honey, glycerin, and urea. You should also seek out occlusive ingredients like paraffin, oils, and silicones that will create a protective layer over skin.
2. Cutting cold winds can strip the skin of protective lipids, making you more susceptible to UV rays. Save yourself from windburn by applying SPF 15+ sunscreen to all your exposed areas.
3. Yes, your heating system makes your home cozy. But it's also drying out your skin. The higher temperatures draw moisture from the air, which in turn takes moisture from your skin. Fight off a dehydrated complexion indoors with a humidifier.
4. As dry air and hat-wearing increase, hair suffers from static electricity. Combat the hair-raising effects by applying a hydrating leave-in conditioner after your shower. Too late for that? You can also tame flyaway strands with a laundry dryer sheet.
5. While humectants are good for skin in Fall, you might want to change the way you use these ingredients for hair. Humectant-heavy products draw moisture from the air into the hair for added hydration. However, when dry air hits, the opposite exchange occurs: your strands can become dried out. So use humectant-rich products before a shower, and then top with moisturizing serums to seal in hydration.
6. Cool weather and wind can increase facial redness and exacerbate rosacea — and excessive nose-blowing doesn't help matters. Prevent inflamed capillaries by shielding skin with a moisture-wicking scarf. (Steer clear of itchy fabrics like wool.)
7. If you are prone to dry skin, then avoid products that eliminate oil, such as toners, clay masks, and some stronger anti-aging ingredients. Instead, reach for moisturizing cleansers and creams to use twice daily.
8. You might see the added clothing coverage as an opportunity to quit shaving. But you could be missing out on a key exfoliation opportunity. In Fall, it is important to get rid of the top layer of flaky and dry skin cells to help moisturizers reach skin.