Fergie [1] turns 38 today, and the mom-to-be has a penchant for amazing manicures. Extralong, almond-shaped tips are her specialty, but we've seen the songstress don a variety of styles and hues over the years. Get a close-up look at 10 of her best polish shades and nail designs as Fergie welcomes in another year.
At the 2005 Teen Choice Awards, Fergie [2] decorated a plain white manicure with a simple black line drawn down the middle.
With a makeup palette and ensemble filled with warm yellows and golds, Fergie [3] opted for a cool pastel pink shade at the 2008 Grammy Awards.
Fergie [4] continued the pastel theme at the 2008 Teen Choice Awards wearing a lavender nail polish.
A dark-haired Fergie [5] tried her hand at nail wraps (in a fierce animalistic print, nonetheless) at the 2009 ASCAP Awards.
At the amfAR Inspiration Gala in 2011, Fergie [6] dressed up her manicure with a half-moon design.
Fergie [7]'s nude manicure was far from boring at the Beauty Detox Solution launch party in 2011. The extreme almond shape gave the appearance of claws.
It was another neutral color for Fergie [8] at the 2011 New Year's Eve premiere, but it was the best pick to go with her heavily embellished dress.
For her appearance at an event celebrating Sundance Channel's All on the Line series last year, Fergie [9] complemented her Chanel gloves with triangular nail art.
While attending Emporio Armani's fashion show in Milan earlier this year, Fergie [10] decided on a sparkling crimson lacquer.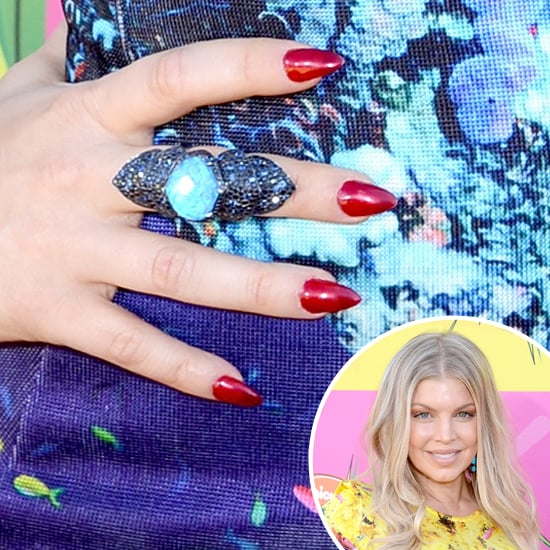 Fergie [11] put the spotlight on her ruby red nails at the 2013 Kids' Choice Awards, wearing them in her signature almond shape.