The Fierce Five Talk Beauty and Inspiration
The Fierce Five Inspire and Talk Olympics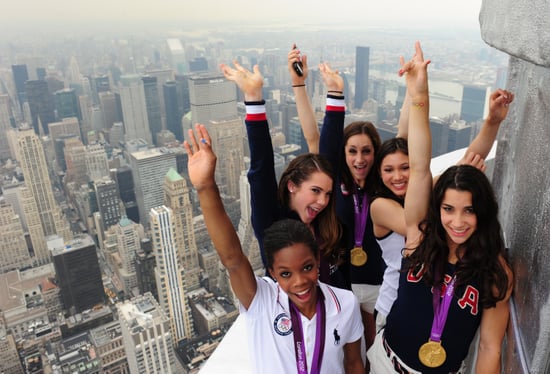 The Fierce Five are just like many other teenage girls: they listen to Selena Gomez and Justin Bieber, watch The Vampire Diaries, and paint nail art. But like any young girls thrust into fame, they're still getting accustomed to the spotlight. From the Gabby Douglas hair haters to McKayla Maroney's viral scowl, the girls are experiencing all sides of their newfound celebrity status.
"I couldn't believe that making that face for just two seconds could turn into that, but in my head I was just disappointed that I fell on my butt at the Olympics," McKayla said of her Internet meme. "I try not to regret anything because everything happens for a reason, and it's funny now to look back at what I did."
And as for all those complaining about Gabby's hairstyling, she's more focused on her history-making win and her possible next Olympic appearance in Rio de Janeiro in 2016. "I've always wanted to inspire a nation and for young girls look up to me and know that everything is possible," she said at a press event at the Empire State Building earlier today.
That uplifting attitude is something the entire US gymnastics team takes on. Sure they don't have the same experience as your typical high-schoolers, but in their eyes they didn't miss a thing. "You can't really look back and regret any of it because we have the gold medal and that's what we've been working for our whole lives," Kyla Ross said.
"We all are really lucky because we got the best of both worlds. We all got to go shopping and had great social lives while we were training for the Olympics," Jordyn Wieber said. "I think that was really key for our success."
Photo courtesy of the Empire State Building