Five Easy New Ways to Update Your Makeup and Hair For Fall
5 Easy Ways to Update Your Look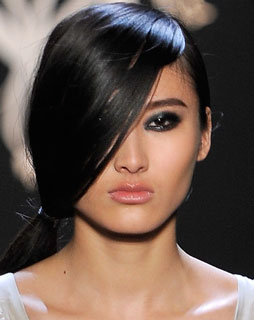 Fall is almost upon us, and with it will come new color trends, hairstyles, and tons of fun, exciting products. But just because there are a million things out there, that doesn't mean you should have to spend a million dollars on them. If you're trying to get a hot look for less, we've got some suggestions on what you can do to get plenty of fashion cred (and have fun with your makeup) without going into debt. So to find out what to do, just keep reading.
Purple is the color of the season, and a pretty gray-purple polish like Goddess CR Nail Polish in Purple ($4) is an inexpensive way to be trendy.
Get a luminizer. Summer looks tend to be all about a warm, natural glow, but the new season's skin will be more moon-glow pearlescent. Instead of ditching foundation or powder you love, just add an inexpensive luminizer like Maybelline Mineral Power Illuminator Powder ($11), and you've got the look. Cue Roxette.
Duo tone makeup was all over the runways, and it's definitely a look you can source from stuff you already have. Use two of your favorite eye shadows — one on your upper lid and one on your lower lash line — for an eye that's tailored to you and on trend.
That matte red lipstick you bought when it was so hot a few months back? It's still definitely fashionable. Just a light swish of gloss across the top to keep it up to date.
Want to keep your hair, but also don't want it to go out of style? Consider getting some sideswept bangs like the models at the Mackage show sported. They look good on most face shapes, they're easy to grow out, and they're low maintenance.