Five Smart Ways to Fake Beauty Looks
Five Smart Ways to Fake It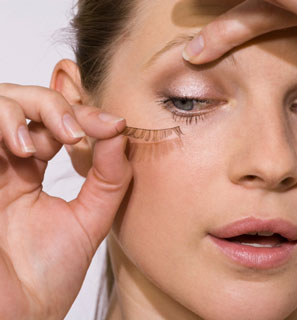 We here at Bella HQ are big fans of the fake out. Want crazy hot eyes? That's what false lashes are for. Hungover and bleary-eyed? Visine still loves you. There are a ton of tricks like these, so to find out how to pull the wool over everyone's eyes without spending a lot of money, just keep reading.


Big hair: Don't torture yourself with backcombing. If your hair's already long, just use a medium-sized Bumpit ($6). (I promise it won't look crazy.) If you have shorter hair but want the Dallas socialite look, inexpensive clip-in extensions are definitely the way to go. Try HairUWear's falls ($33-$37).
Mile-long legs: Just swipe some luminizer in a vertical line down the center of your legs. It's the same idea as wearing pin stripes to lengthen, but sneakier.
Bright eyes: If your eyes are tired or you need a pick-me-up, try using an eyeliner pencil that's just slightly lighter than your skin tone.
Fuller lips: Fill in your cupid's bow with a bright color to make it look like you have significantly more upper lip. A dab of gloss in the center of your lips will maximize the poutiness.
A more defined jaw: If you want to give yourself more dramatic facial angles, try dusting bronzer under your chin and around the underside of your jawline. This simple trick will create the illusion of a sharper contour.