Flight Skin Care Tips
Why You Shouldn't Take the Window Seat and More in-Flight Beauty Tips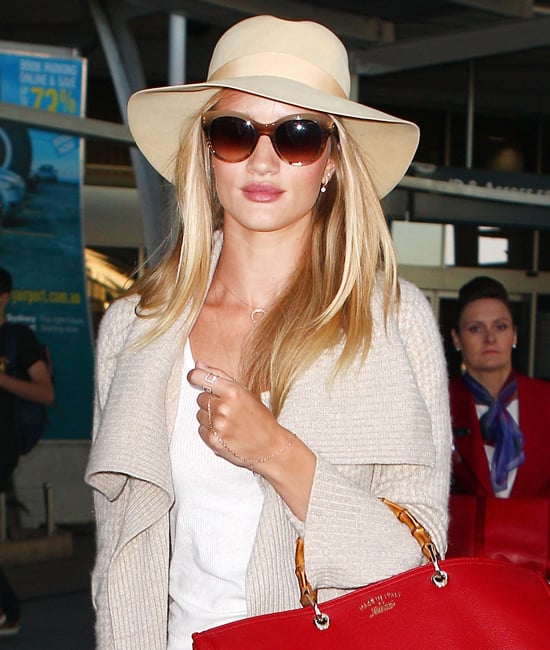 Flying may be the first step to your vacation, but you could be starting your trip on the wrong foot if you don't take care of your skin en route. The humidity-free air in a plane cabin actually dehydrates skin — the dry environment draws the moisture right out of your skin. Jet-setting women know the importance of hydrating while in flight, and with these tips, you'll look as fresh as Rosie Huntington-Whiteley when you step off the tarmac.
Before the Flight
When it comes to skin care, you want to exfoliate before you get to the airport. Then, slather on a thick moisturizer (and pack a travel-size portion to reapply on the plane). For added hydration, you can also do a mask like Origins Drink Up Intensive Overnight Mask ($23) before you apply your moisturizer.
During the Flight
UV protection: Sitting in a window seat might sound nice with the view and all, but the higher altitude mixed with the tiny cabin windows magnifies the detrimental UV rays from the sun. You should have sunscreen as part of your daily regimen, but make sure to keep the shade closed too.
No pretzels, please: When the snack cart comes rolling by, skip the alcohol and soda, which can dehydrate you even more during the flight. Instead, you want to purchase a liter (or two, for longer flights) of water before you board. Also stay away from the complimentary pretzels and cookies. The salt will make you appear more bloated, and you already know how bad sugar is for your skin. Pack your own protein-rich or veggie snacks to help you resist the temptation.
For more in-flight tips and what do when you finally land, just keep reading.
Get moving: Yes, you might step over your fellow passengers, but it's a good idea to walk the aisles at least once during your flight. That way you can get your circulation going, which means you won't have to worry about puffiness in your face and body.
Moisture control: The one thing your skin craves while you're flying high is moisture. Combat the dry air with moisturizer throughout the flight. Pack a travel-size facial mist, moisturizer, eye cream, and lip balm in your carry-on to stay hydrated. When you're ready to hydrate, spritz your skin with the mist, and then apply your lotion. As a special treat on an overnight flight, pack an under-eye mask like Masqueology Revitalizing Eye Gel ($24). Apply before your in-flight nap, and cover with a sleep mask.
After the Flight
Once you get off the plane, cleanse with a moisturizing wipe, and dab on a brightening serum like Ole Henrikson Truth Serum Collagen Booster ($48). Reapply your moisturizer, eye cream, and sunscreen before putting on your makeup. You can also pack an individual sheet mask like When Essence Mask Travelmate ($28) for added hydration once you reach your destination.