Fourth of July Makeup: Do or Don't?
Is Fourth of July Makeup Cute or Cheesy?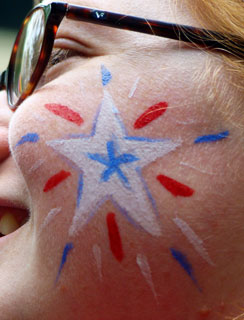 With Independence Day just around the corner, people will be showing off their patriotism in lots of different ways — flag waving, parades, barbecues, and, yes, makeup. There will be people sporting face paint, flag-hued manicures, and all manner of variations on red lipstick, white eyeliner, and blue eye shadow.
It's always cute on little kids, who get an understandable free pass for this sort of thing. When you're an adult, do you think getting all made up for the holiday is still sweet and fun, or just kind of corny?