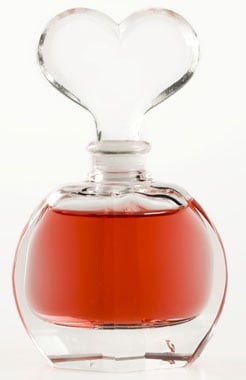 Victoria's Secret and Valentine's Day go together like the perfect pairing of fine wine and artisanal cheese. And when it comes to fragrance, the sexy brand's got it down pat. In fact, its Dream Angels Heavenly Eau de Parfum ($39—$59), which consists of notes of cardamom, quince, freesia, white peony, sandalwood, white musk, and vanilla, is America's top-selling scent.
So who better to ask about the sensuality of fragrance than Mark Knitowski, vice president of product innovation at Victoria's Secret? Lucky for us, the brand's in-house expert on all things perfumed has offered up his words of wisdom, from everything to picking a scent for your significant other to where to apply scents for the most alluring results. Find out what he had to say when you keep reading.


What types of scents are proven aphrodisiacs?
Vanilla for sure. It is the most popular and most wearable and seems to have a really broad appeal.
Where are the best places to apply scents for the sexiest results?
The pulse points (wrists and just behind your ears), the cleavage area of the breast, and just below the belly button. These all create great interaction of your skin's heat and the fragrance, which is very alluring, seductive, and sexy.
How can one successfully pick a new scent for their significant other?
Experiment, experiment, experiment. Fragrance is really subjective. The fun of fragrance is playing, [and] that's why I love what I do. There isn't a better job to have. My suggestion would be to spray a fragrance on a blotter to see if it is something you think they may be interested in — understanding their personality and likes. Many women, when buying a fragrance for their significant other, buy a fragrance their significant other will like, but also a fragrance that they like since they will be smelling it.
What's a universally flattering scent to gift to a man?
Very Sexy for Him ($49). It was developed with a masculine edge with a freshness and a clean feeling that really wears well on a man, but also a fragrance that she will love on him and love to smell because it has a sexy masculine feel.
What's the best way to go from day to evening when it comes to scents? Do we just pile on more, or switch it up, or just do nothing?
Much is dependent on the individual and how they feel comfortable wearing fragrance. What we have learned from our consumers at Victoria's Secret is they wear fragrance different ways and consider body care from us as much of a fragrance as they do our more direct fragrances. Many women layer body care scents on for the day, starting with a wash, then a lotion, finishing with a Body Mist ($9). Then [they] reapply the Body Mist during the day. Then in the evening, they step it up and add on a fragrance. We also have customers who wear our fragrance morning, noon, and night, reapplying throughout the day when needed. It makes them feel confident and sexy.
Why do you think Heavenly has been such a success?
It is a great fragrance that is balanced extremely well. It is easy to wear year-round and any time of the day. It has a freshness off the top of the fragrance that wraps and balances a with nuzzly warmth in the background. It is has a romantic, ethereal feel in wear and it's sexy.
Oh la la. Stay tuned for more behind-the-scenes fragrance tips from Knitowski and have a wonderful Valentine's Day!