Funny Twitter Hashtag Fashion Week Problems
The Top 5 Fashion Week Problems on Twitter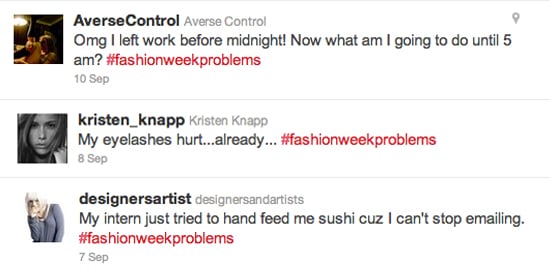 Fashion Week Problems is a hilarious hashtag that's trending on Twitter right now, detailing the trying days of fashionistas rushing around Manhattan. These poor ladies have issues with their eyelashes, trouble with models, and no time for out-of-towners. To see our five favorite "quandaries," just keep reading.
"God I hate it when out of towners refer to it as an event. It's a show or a presentation okay? #fashionweekproblems"
"Flight undelayed. Just sprinted through the airport in 5 inch heels. I now am a puddle of sweat and fur. #fashionweekproblems"
"My eyelashes hurt...already... #fashionweekproblems"
"Being this sick for New York tomorrow would really suck for my outfits. Please send some good healthy vibes my way... #fashionweekproblemss"
"I know there is 'Fashionably Late' but is there such as thing as 'Fashionably Exhausted'??? #fashionweekproblems"