Gabby Sidibe Golden Globes Makeup Tutorial
Get Gabourey Sidibe's Golden Globes Look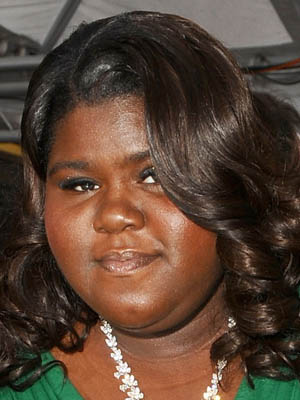 Precious star Gabby Sidibe glowed at the Golden Globes, and her makeup look came courtesy of legendary makeup artist Bobbi Brown. "She doesn't need a lot of makeup," Bobbi explained. "So we added some sparkle shadow, lashes, and color to her lips and cheeks, and she was perfect. I love this look because she has a natural glow and looks like the prettiest version of herself."
For Bobbi's tips, including the face chart she used, keep reading.

Step 1: Prep skin with Soothing Face Tonic and Hydrating Face Cream.
Step 2: Apply Chestnut Concealer under eye. Use Concealer Brush to get an even application.
Step 3: Apply Oil-Free Compact Foundation in Chestnut with a sponge and/or Foundation Brush
Step 4: Use Blush Brush to apply Poppy Blush and Flame Shimmer Blush to cheeks.
Step 5: Apply Chocolate Lip Gloss to lips.
Step 6: Use Brow Brush to apply Mahogany Eye Shadow to fill in brows and give definition.
Step 7: Use Eye Shader Brush to apply Toast Eye Shadow as a base color all over lid. Apply Black Plum Shimmer Eye Shadow all over lower lid with Eye Shadow Brush. Use a fine eyeliner brush to line lashes with Black Ink Long-Wear Gel Liner.
Step 8: Apply false lashes or a few coats of mascara.