You may be hooked by the intricate plot turns and magical mystery of Game of Thrones, but it's partly the woven and twisted hairdos [1] that keep us coming back. Since it's easy to miss a great hairstyle [2] when you're focused on the show's shocking plot, we've rounded up some of the most intricate styles from the series. Brace yourself for all the (hair) twists and turns of season six! These braids are so complex, you'll need a lady-in-waiting to assist.
— Additional reporting by Emily Orofino and Sarah Siegel
Source: HBO [3]
Romantic Curls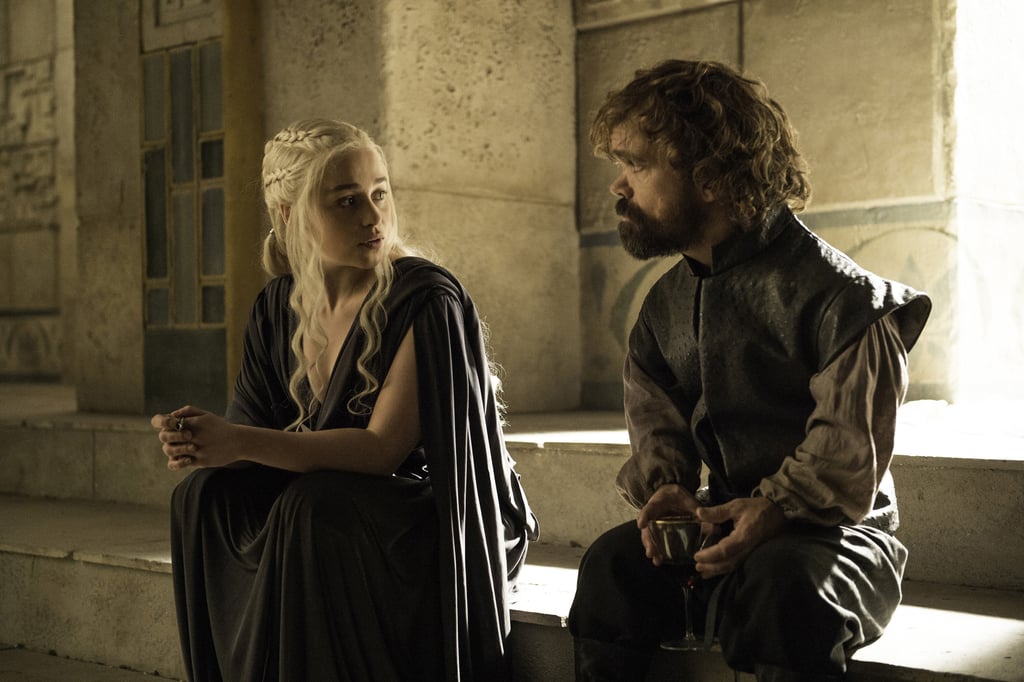 Daenerys continued to rock her signature french braids and curls in the season six finale, but she pulled her hair back, leaving just a few face-framing ringlets.
Blinged-Out Pixie
Cersei is giving off serious Daisy Buchanan vibes with this tiara and pixie combination.
French Braid Ponytail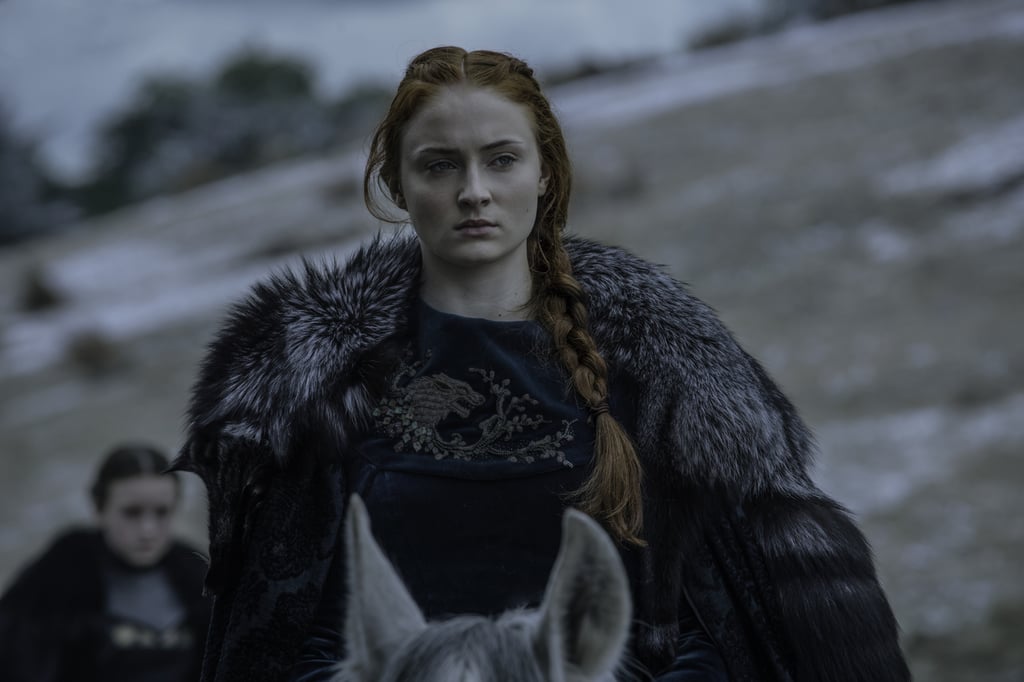 Sansa's signature braid makes a pretty Summer hairstyle and is easy to re-create. French braid the front sections of your hair backwards toward the nape of your neck, then join the two pieces and continue plaiting until you have just a few inches left at the ends. After securing with an elastic, untuck some face-framing strands for a more relaxed look.
Double Buns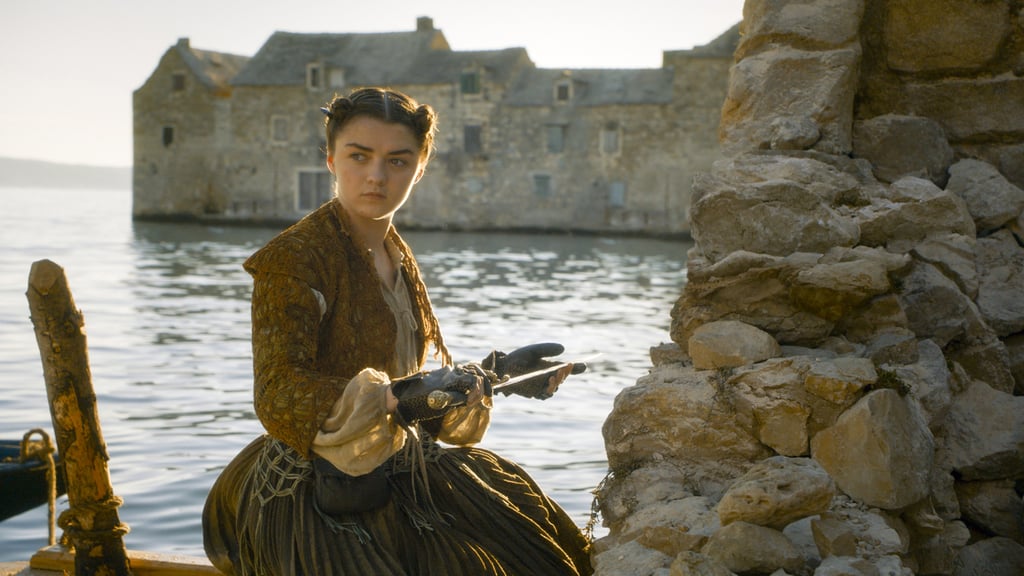 Arya's buns are a great way to keep short hair up this Summer.
Classic Braids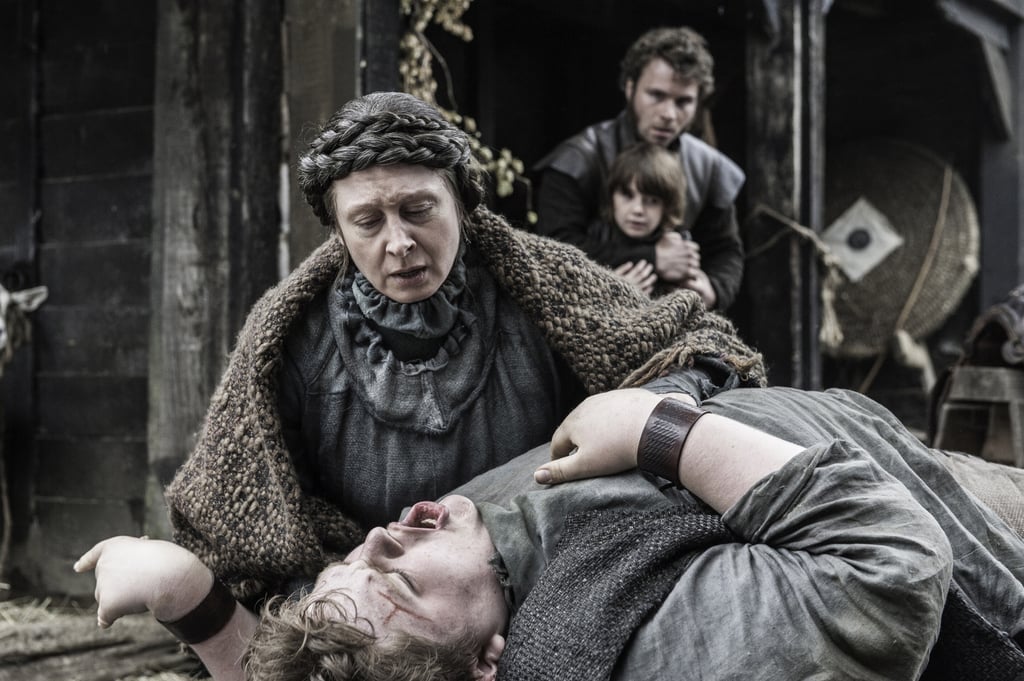 Old Nan sported a classic milkmaid braid that looked pretty and polished.
Earthy Updo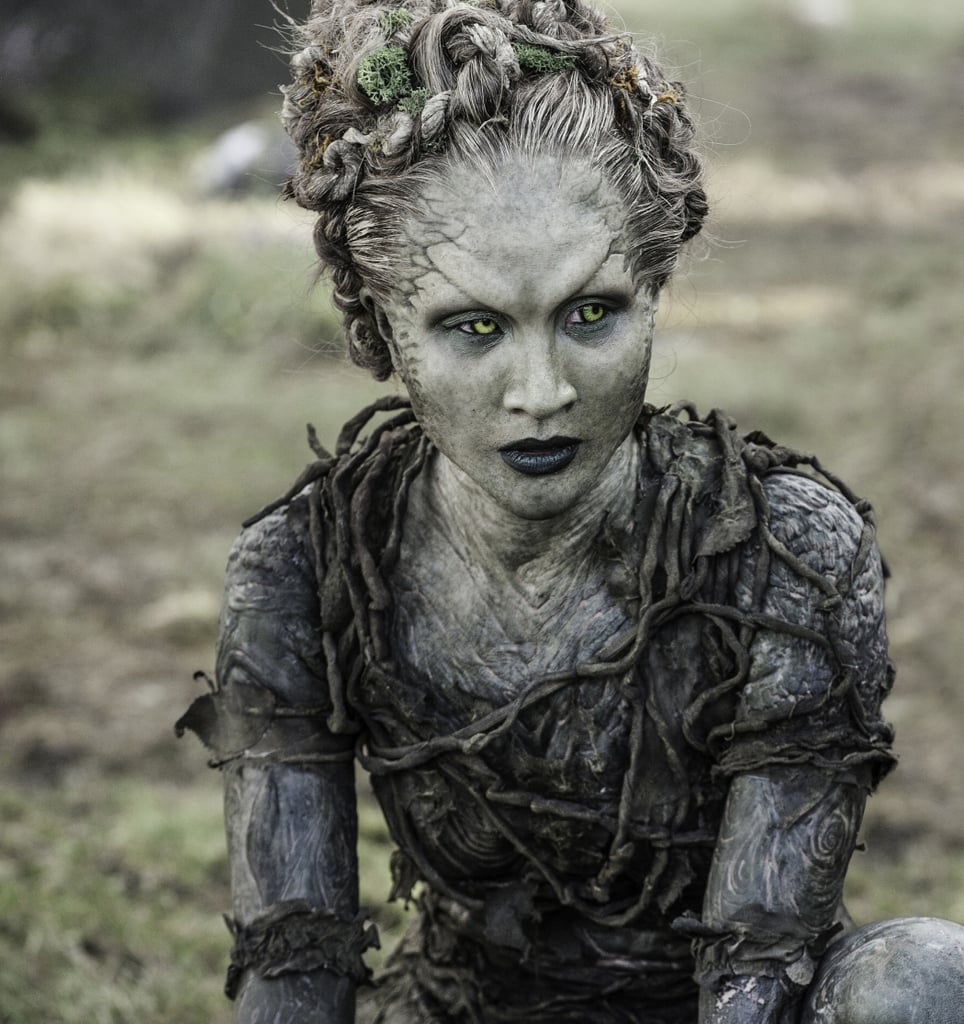 Leaf's updo was adorned with moss and grass.
Kickass Braids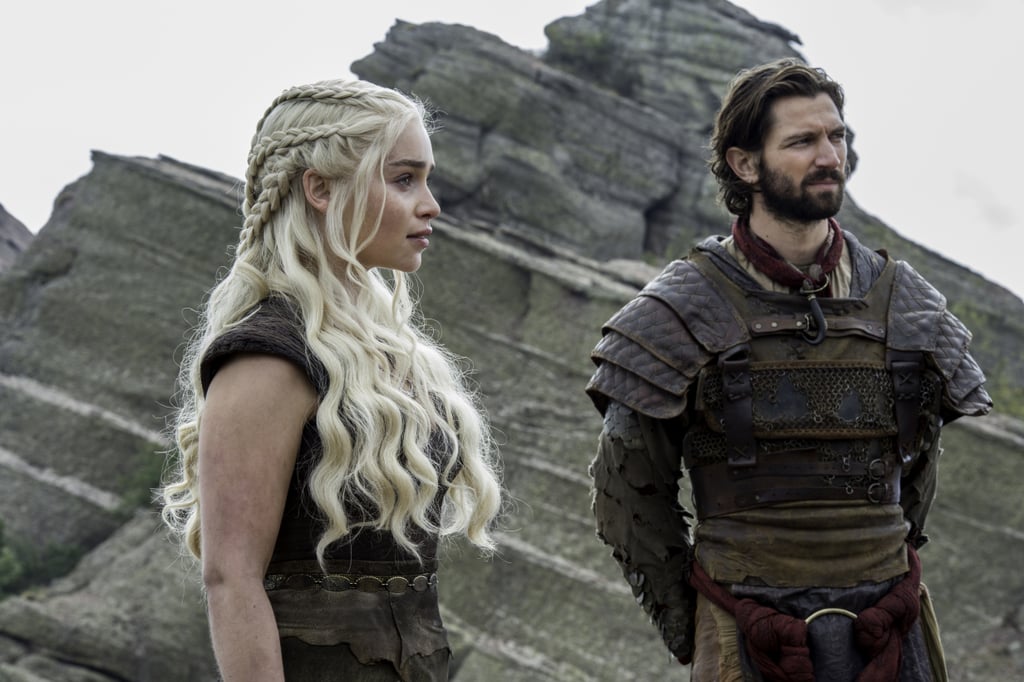 Daenerys's tight braids look tough and feminine when paired with loose waves.
Arya's Twisted Lob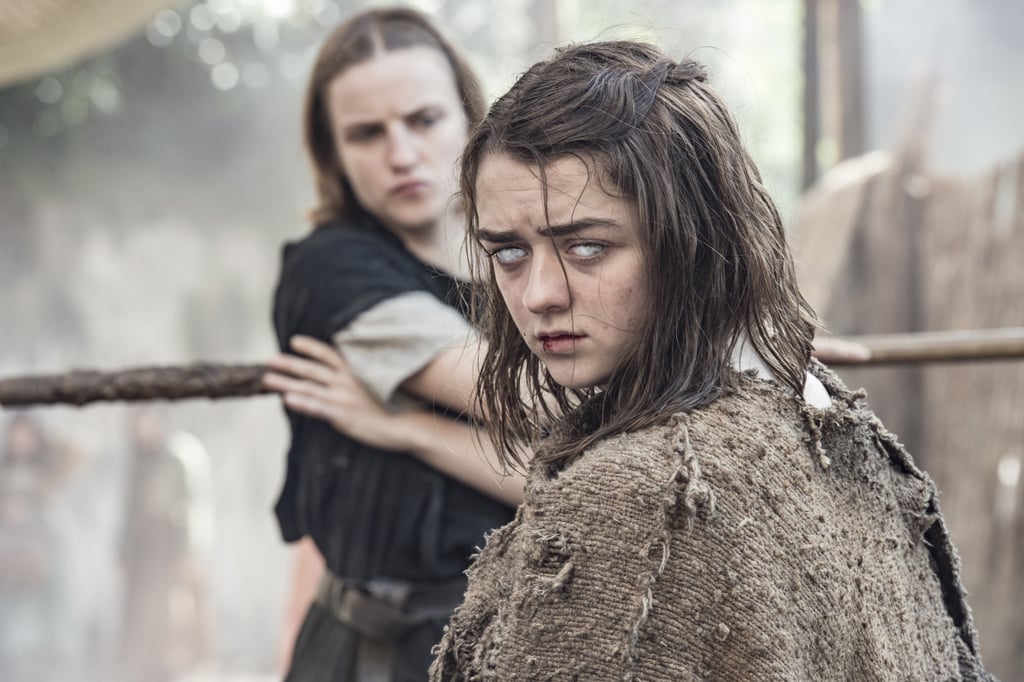 Arya's twists are a great look for shorter hair and lobs.
Sansa's French Braid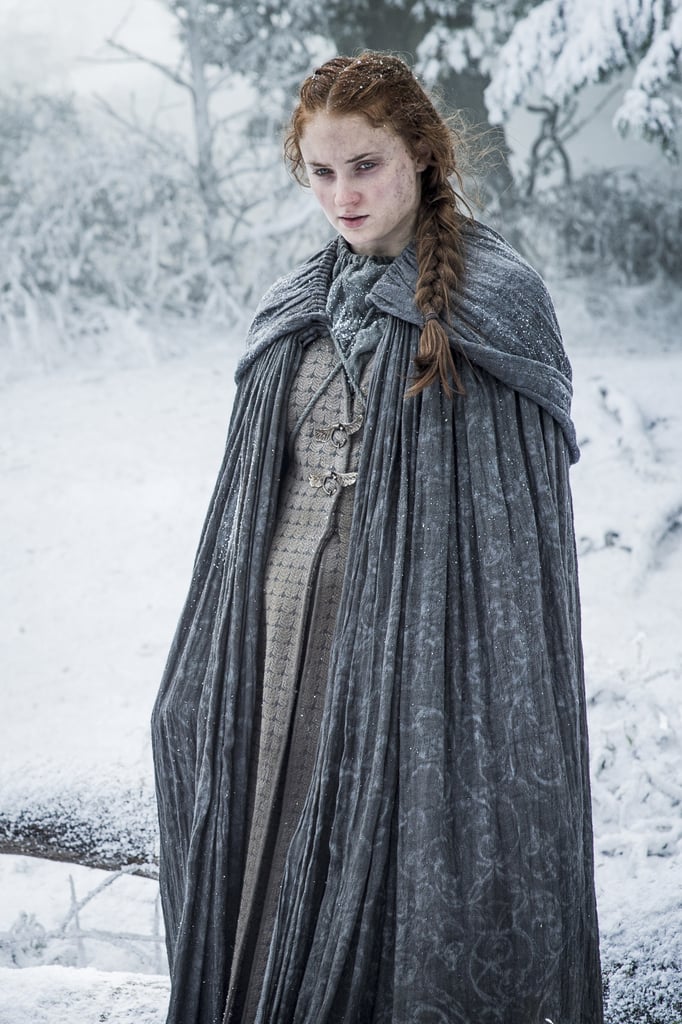 Sansa's messy french braid is casual yet elegant in the snowy backdrop.
Boho Festival Look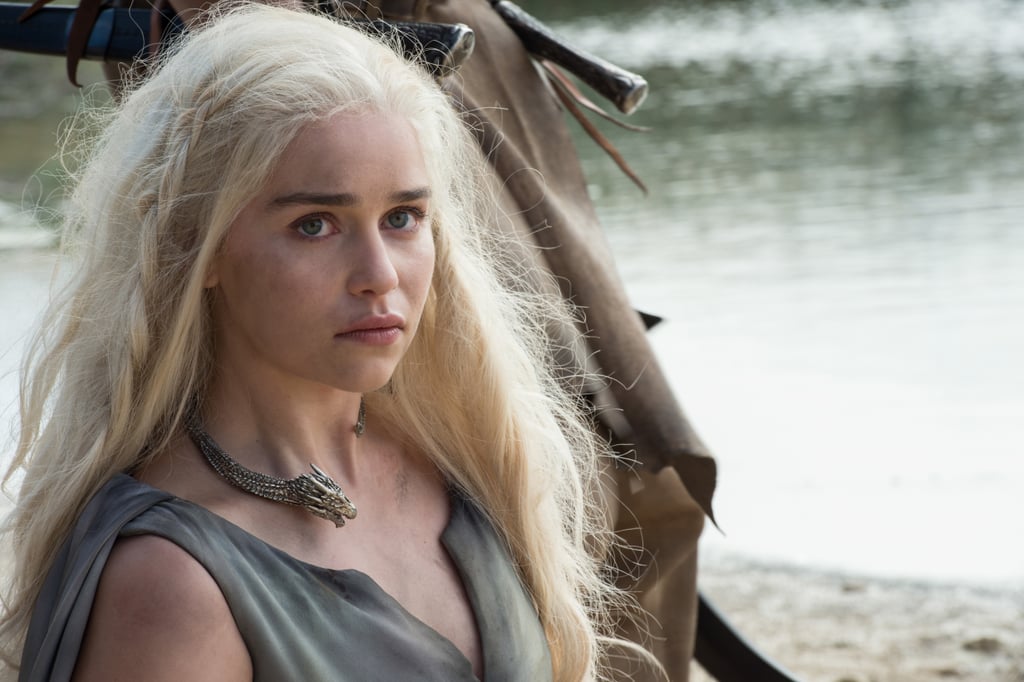 Daenerys's loose waves waves paired with smaller braids would be a perfect look for a music festival.
Move Over, Rapunzel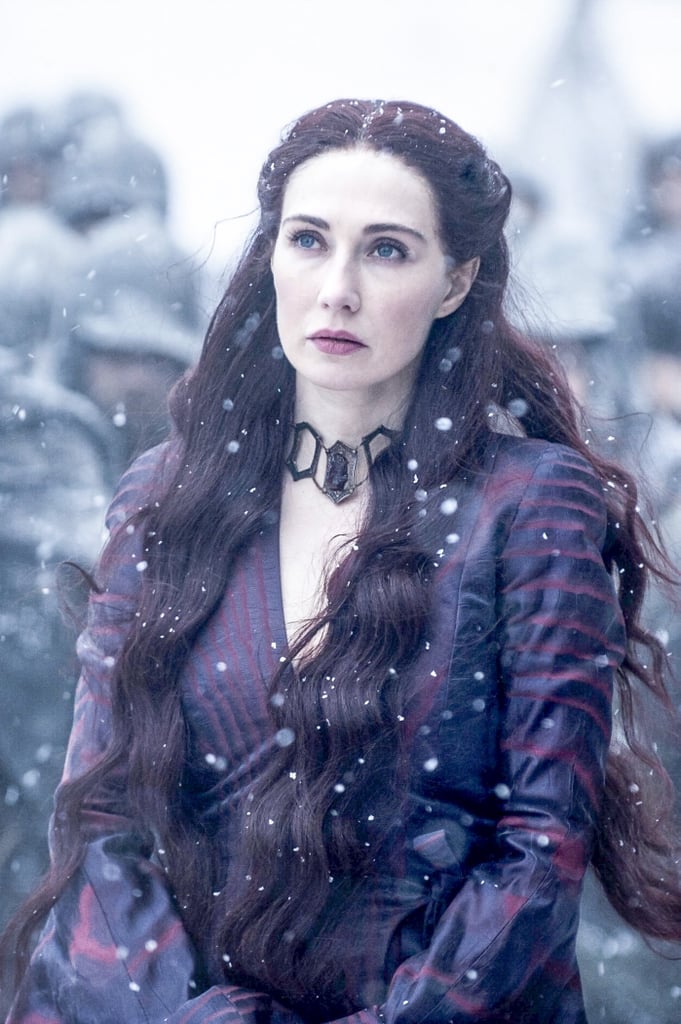 Melisandre matched her lipstick to her waist-grazing waves for a polished yet ethereal look.
Crisp Coif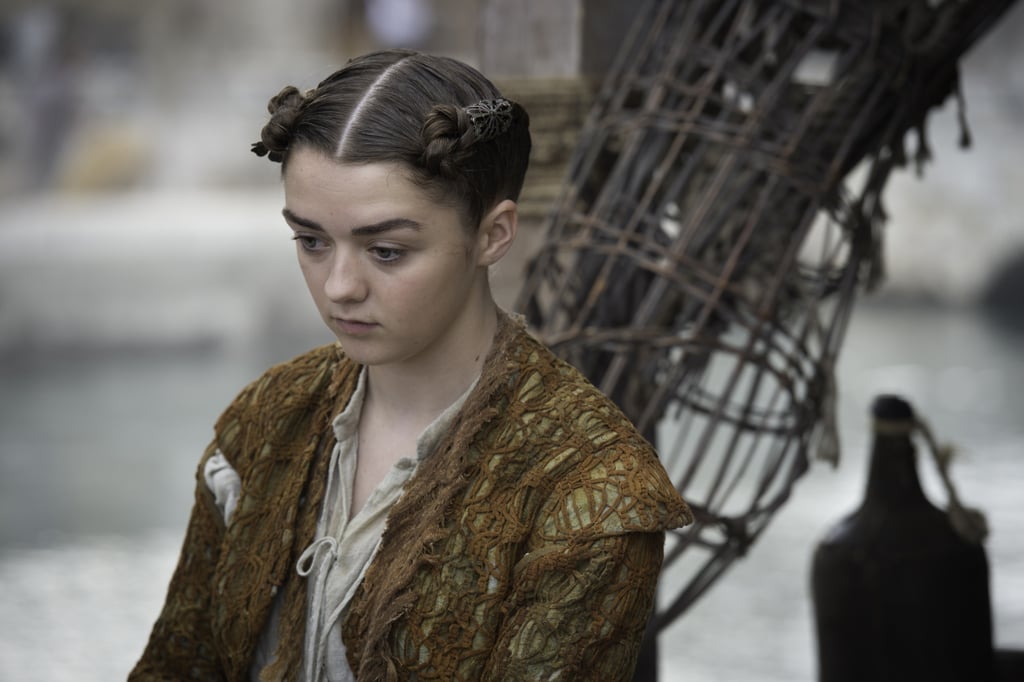 Arya's tight side braids were accented with delicate floral filigree cuffs.
Dare to Be Dreamy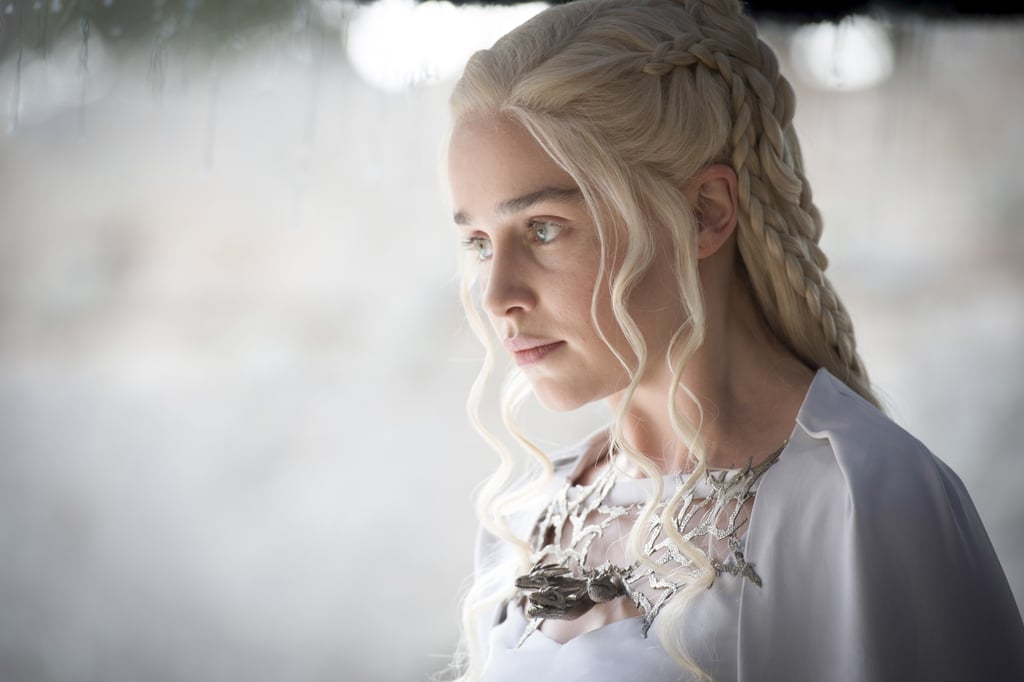 Daenerys's elegant platinum braids would look stunning on a bohemian bride.
Poignant and Pulled Back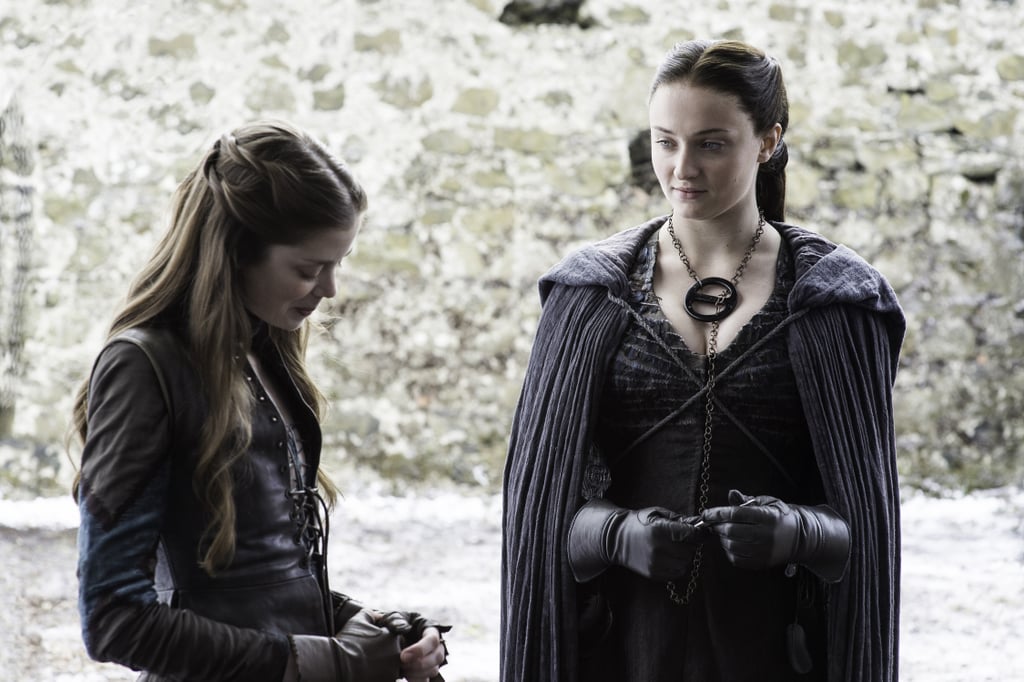 Myranda and Sansa share similar half-up hairstyles and an intimate conversation.
Sunset Spirals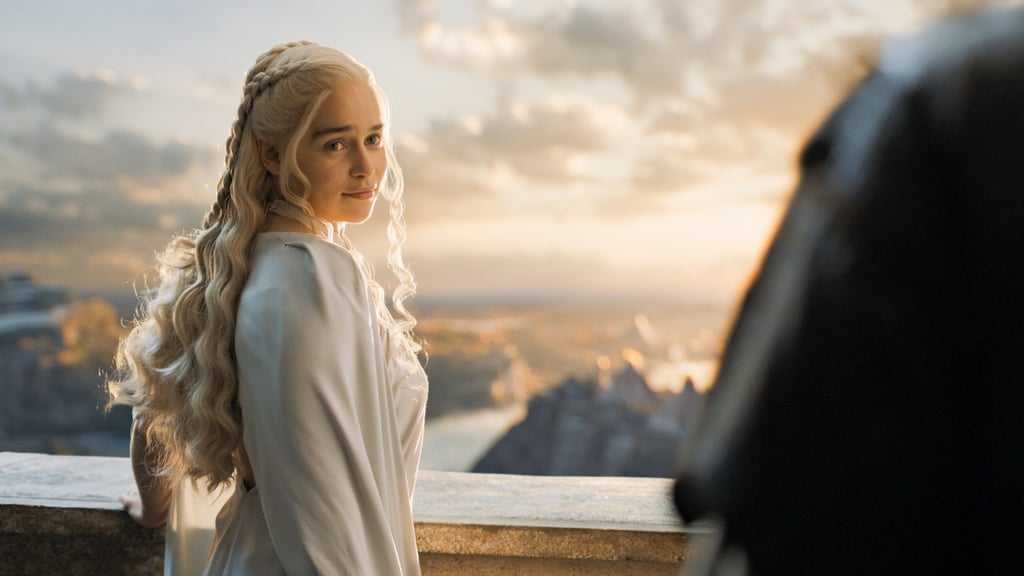 Daenerys's dreamy hairstyle looks even more romantic with the sunset backdrop.
Badass Braid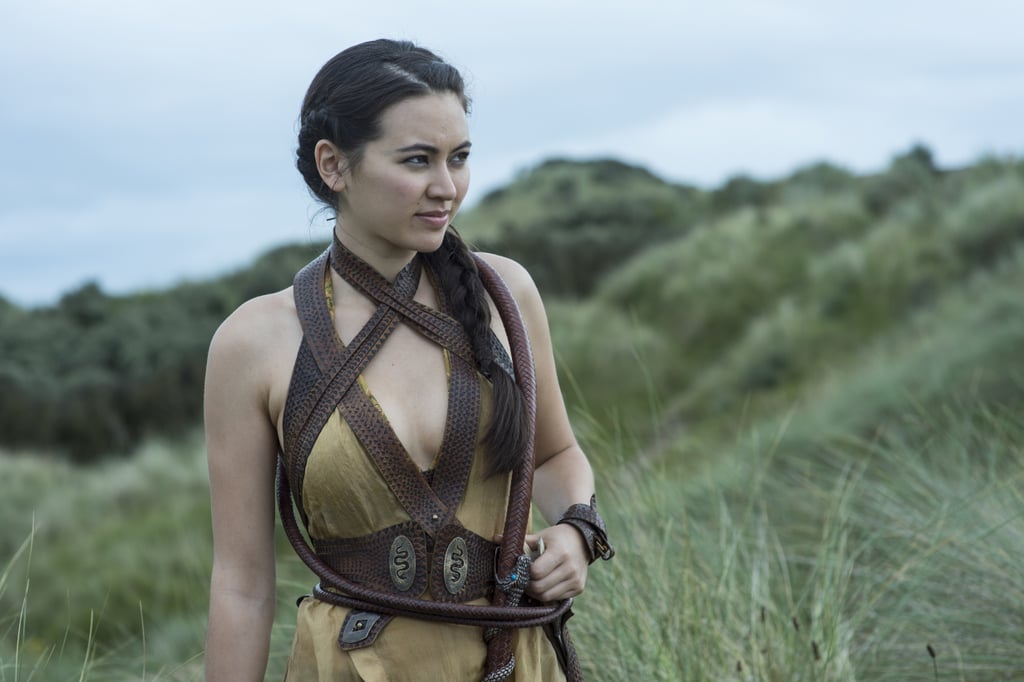 The twisted, over-the-ear details of Nymeria's hair are a fierce pairing to her braided leather accessories.
Twists and Turns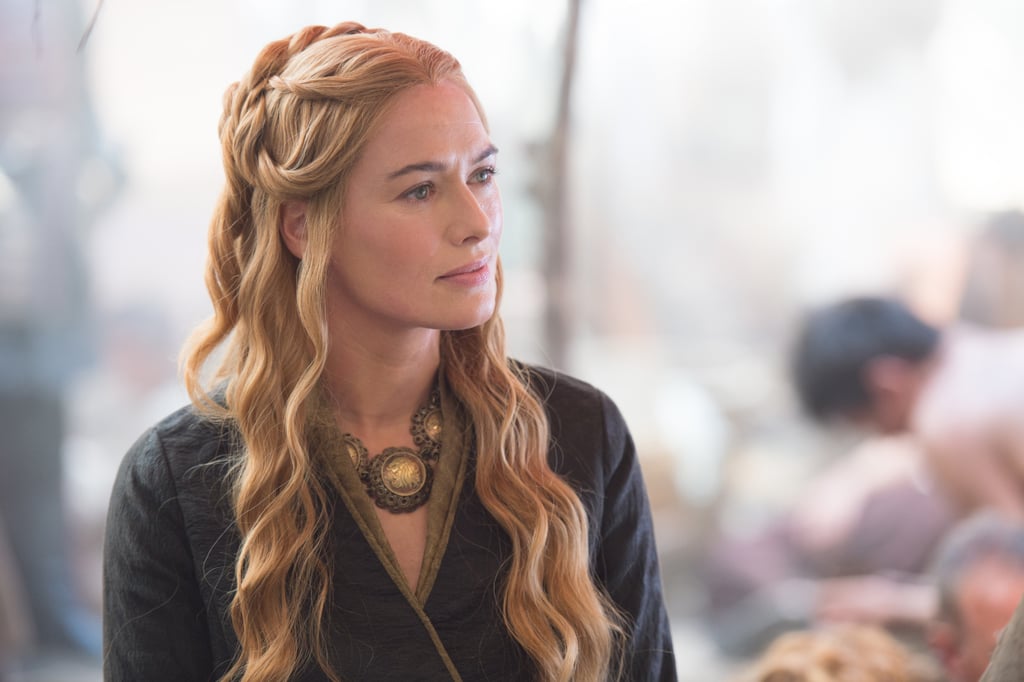 Cersei's strawberry-blond waves mimic the careful draping of an elegant gown.
All the Queen's Curls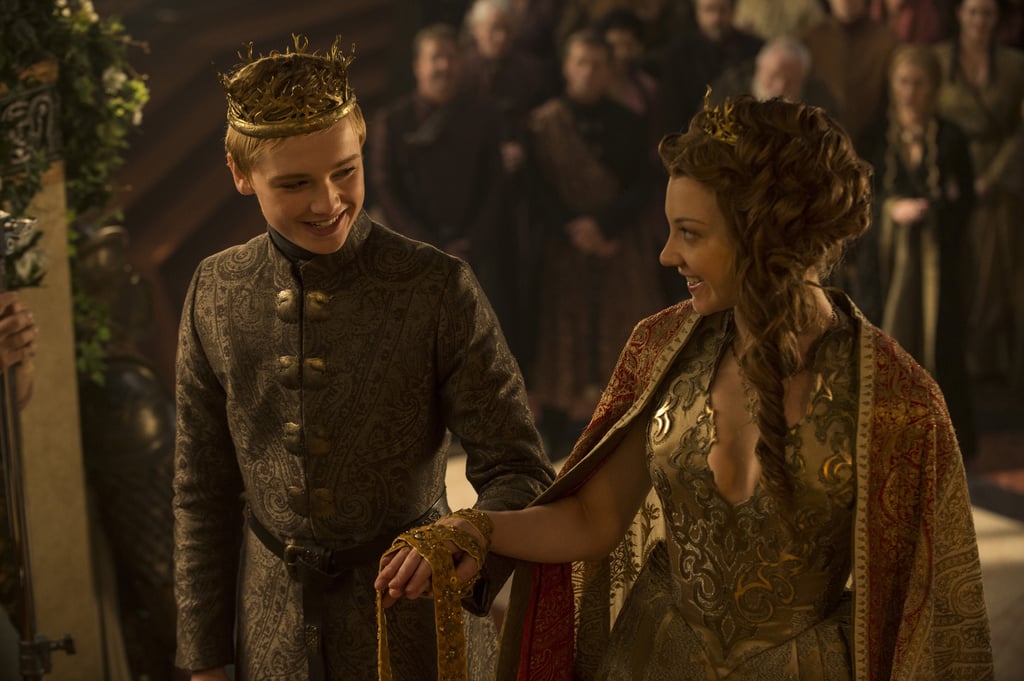 Margaery's intricate updo looks especially stunning when topped with a regal crown.
Platinum Plaits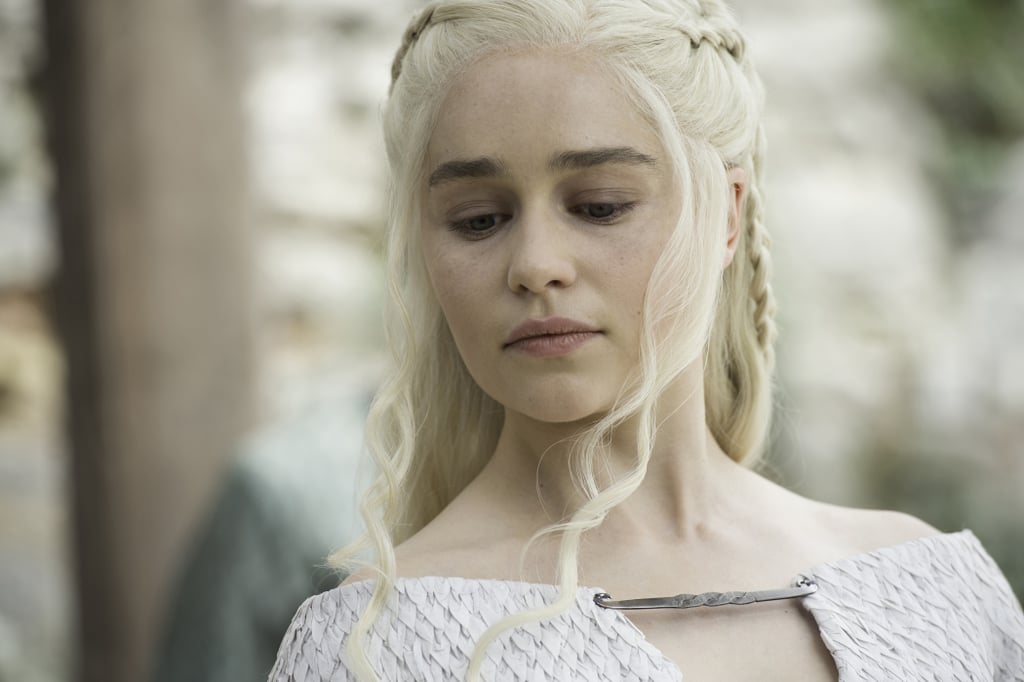 Daenerys's dreamy braids would make for a gorgeous bridal style.
Cascading Queen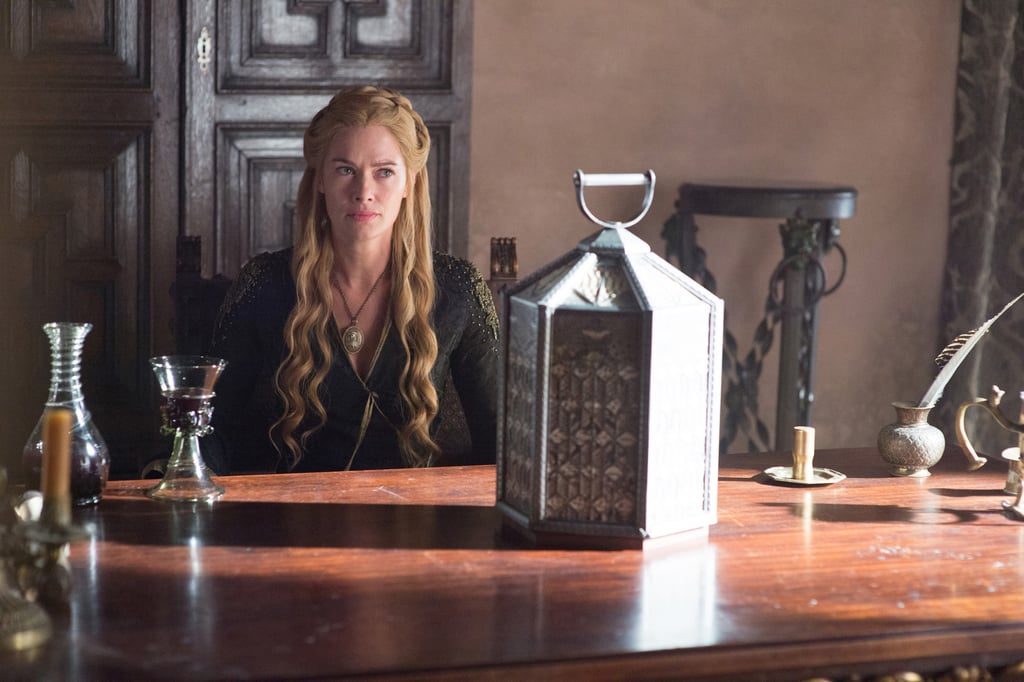 Cersei's half-up braided style featured sculpted, cascading waves.
Queen Curls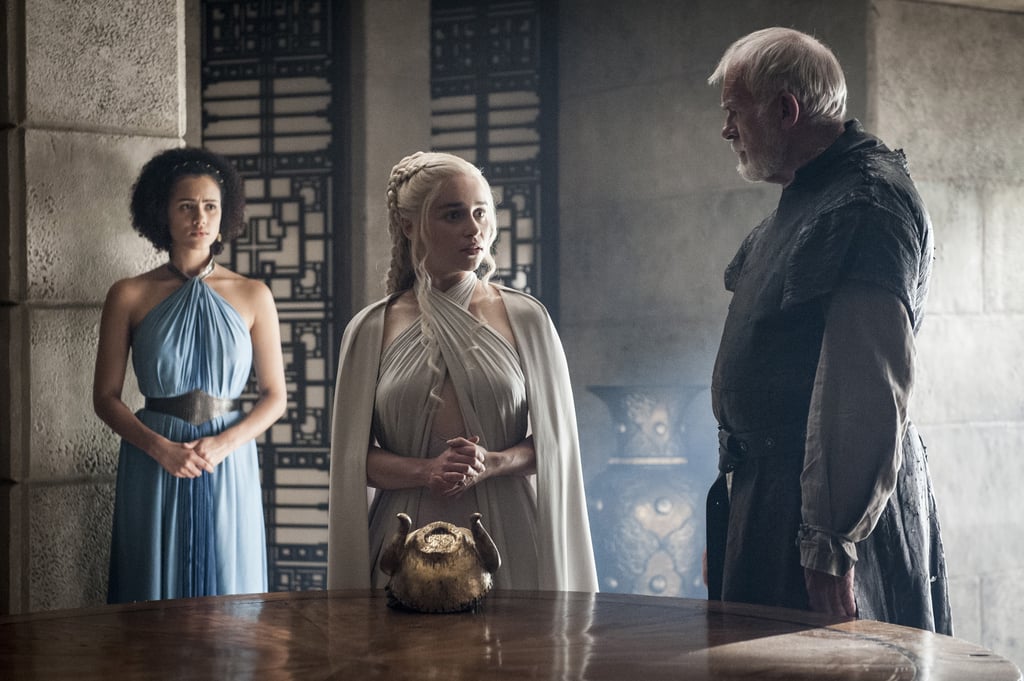 Daenerys meets with Barristan wearing her hair in platinum plaits with loose, gently curled tendrils framing her face.
Into the Woods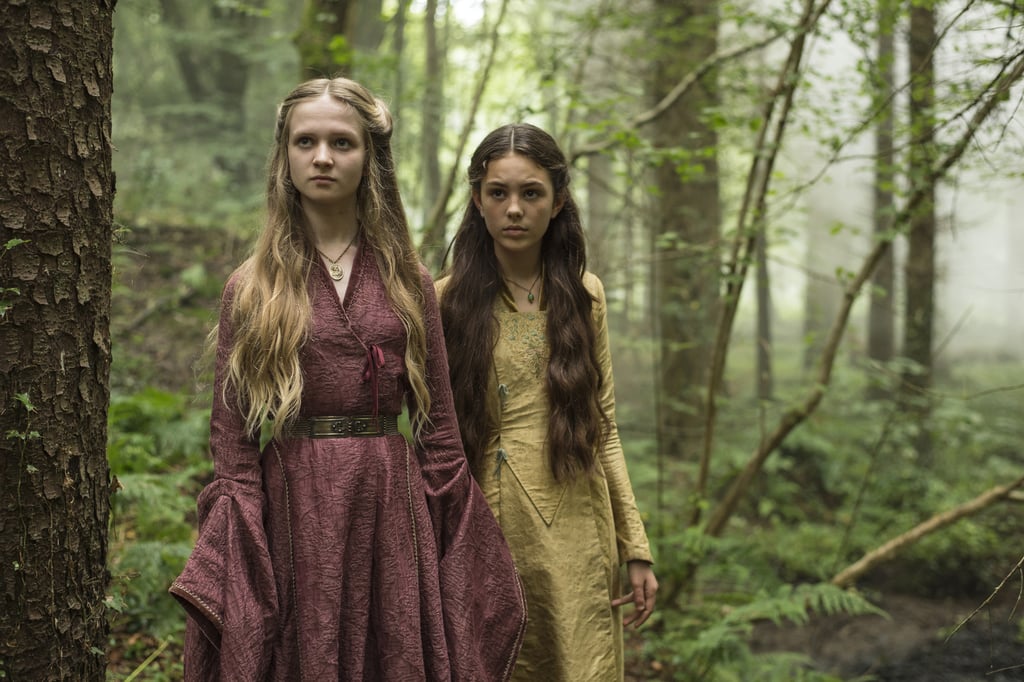 No braids here! A young Cersei and Maggy the Frog keep their long hair pinned off their faces.
Farewell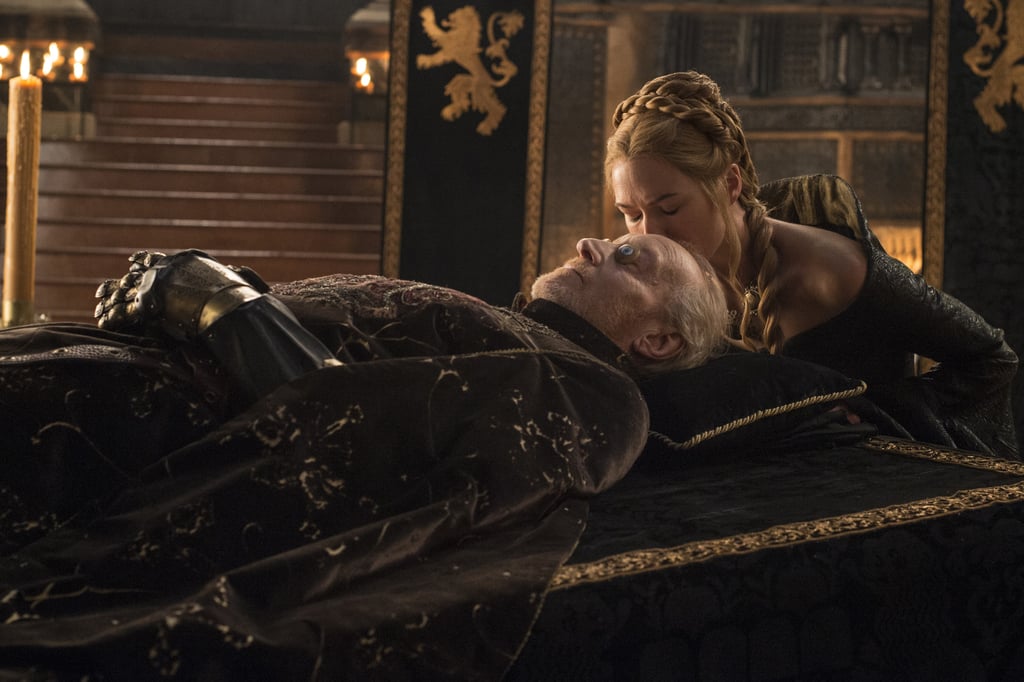 As Cersei says goodbye to her father, Tywin, we get a closer look at her beautiful updo.
Bow Down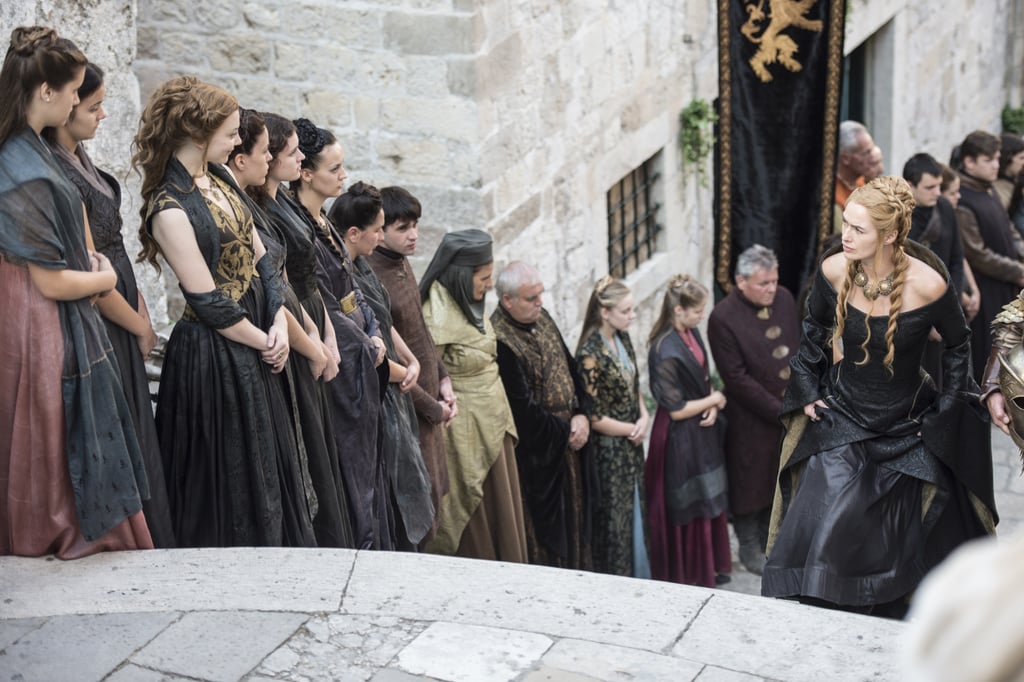 All of the women of her kingdom have impressive locks, but Queen Cersei's intricate, half-up style rules them all.
Short and Tough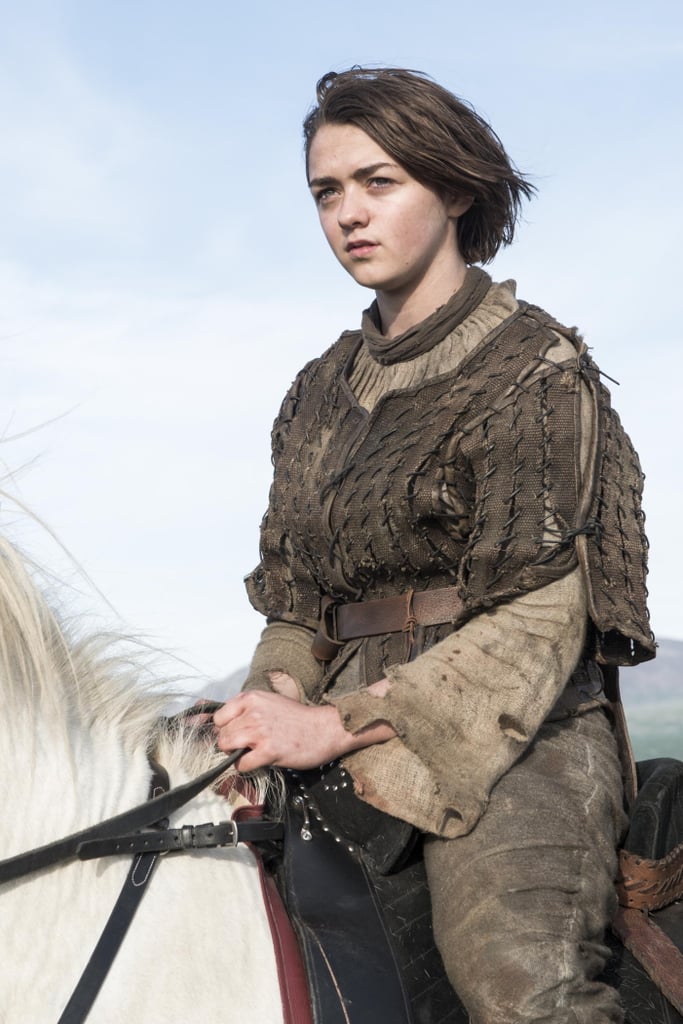 As Arya finally goes out on her own, her short haircut keeps her identity under wraps.
Complex and Elegant
Daenerys continues her fight for the throne, but her elegant twisted updo reflects the complexities that have kept her so far from reaching her ultimate goal of rule.
Can't Be Tamed
Shae's wild style fits her untamed personality, which ultimately leads to her untimely end after Tyrion catches her sleeping with his father.
Fighting Style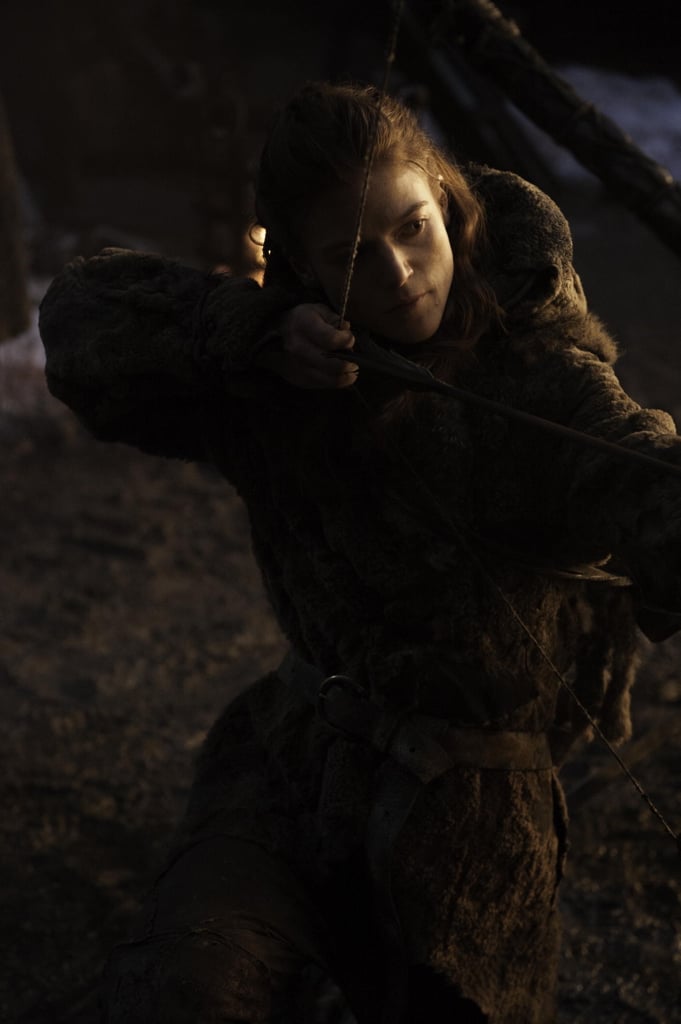 The wildling Ygritte is fit to fight in a practical hairstyle that was made for battle.
Knight Watch Waves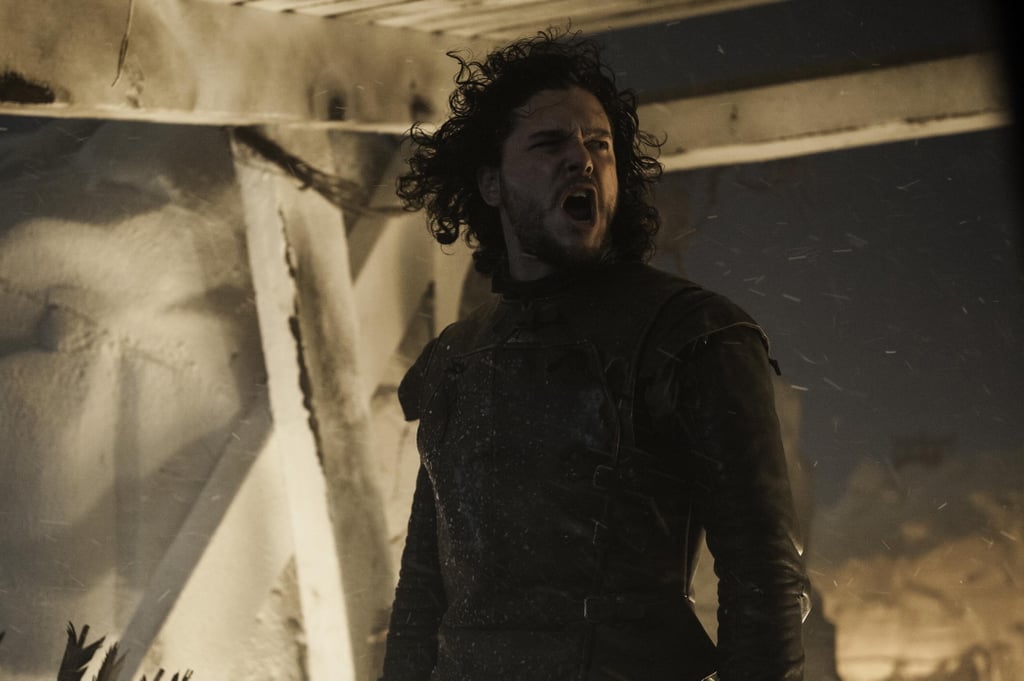 Jon Snow's locks are flying wild as he is deep in battle at Castle Black.
Dark and Brooding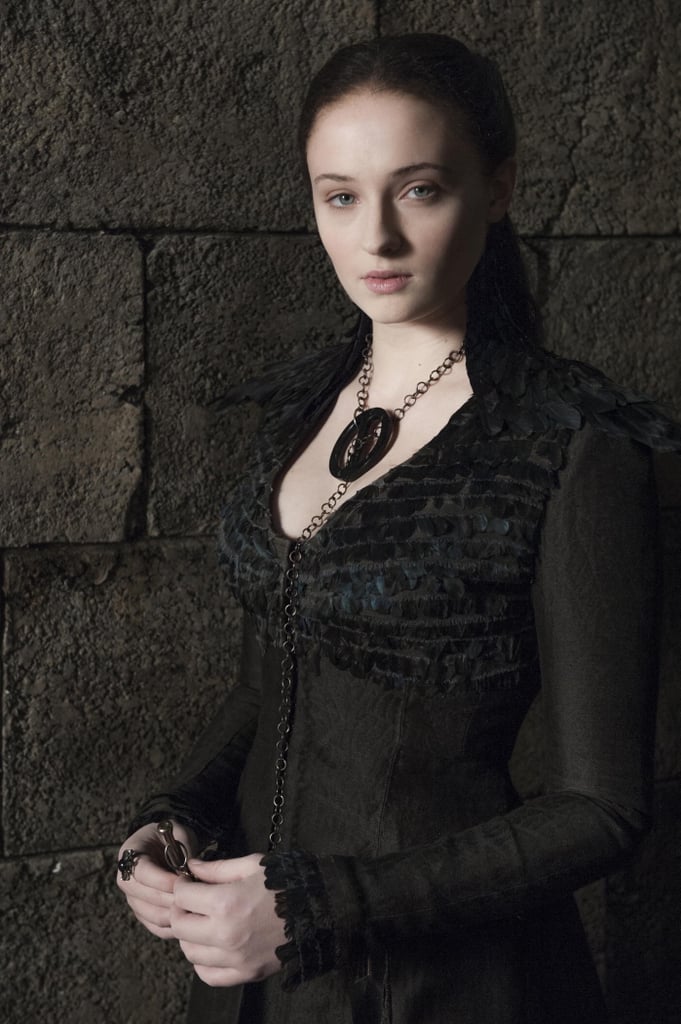 Sansa's newly darkened locks give her a more mature and serious look.
A Heavenly Halo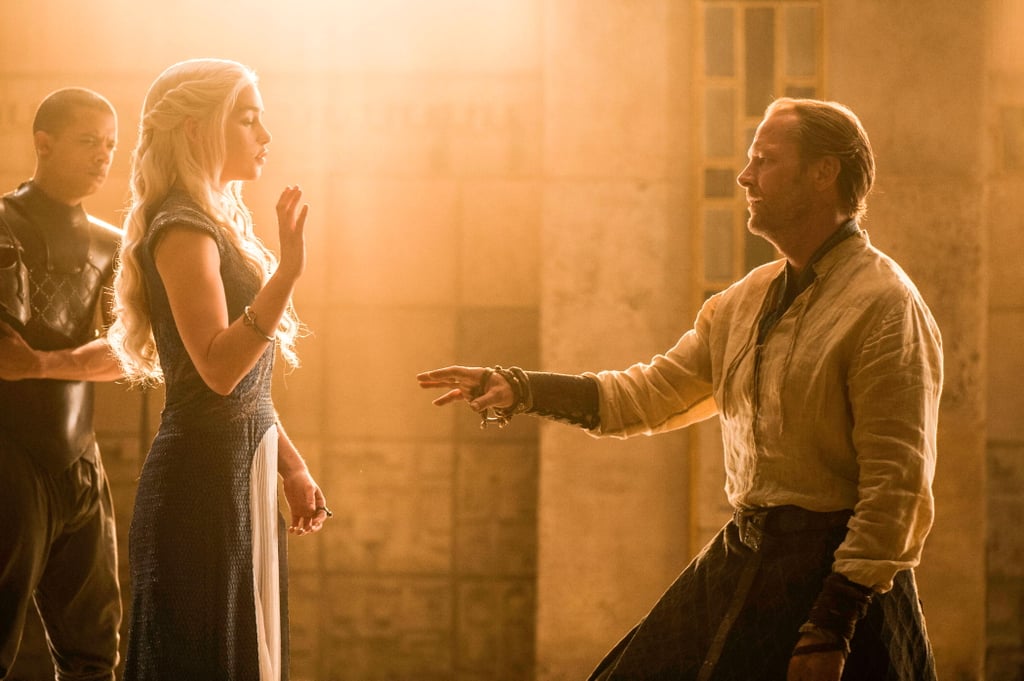 Daenerys is bathed in light while banishing Ser Jorah Mormont.
Wild Waves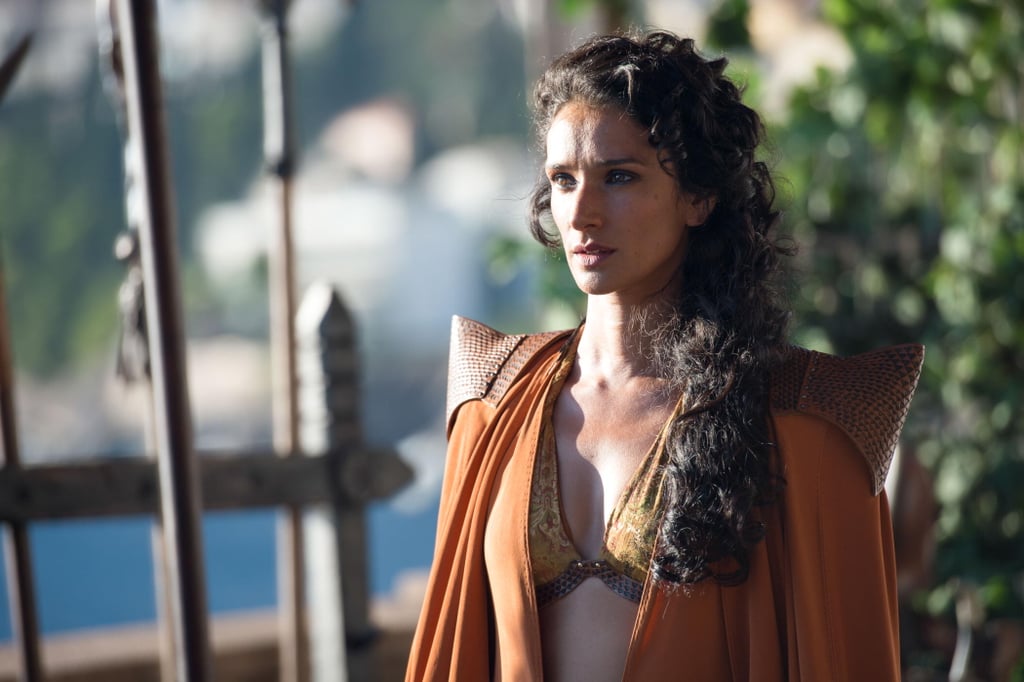 Ellaria Sand's cascading curls can't be tamed as she is forced to say goodbye to Oberyn Martell after he is brutally killed in battle.
Goodbye to Fire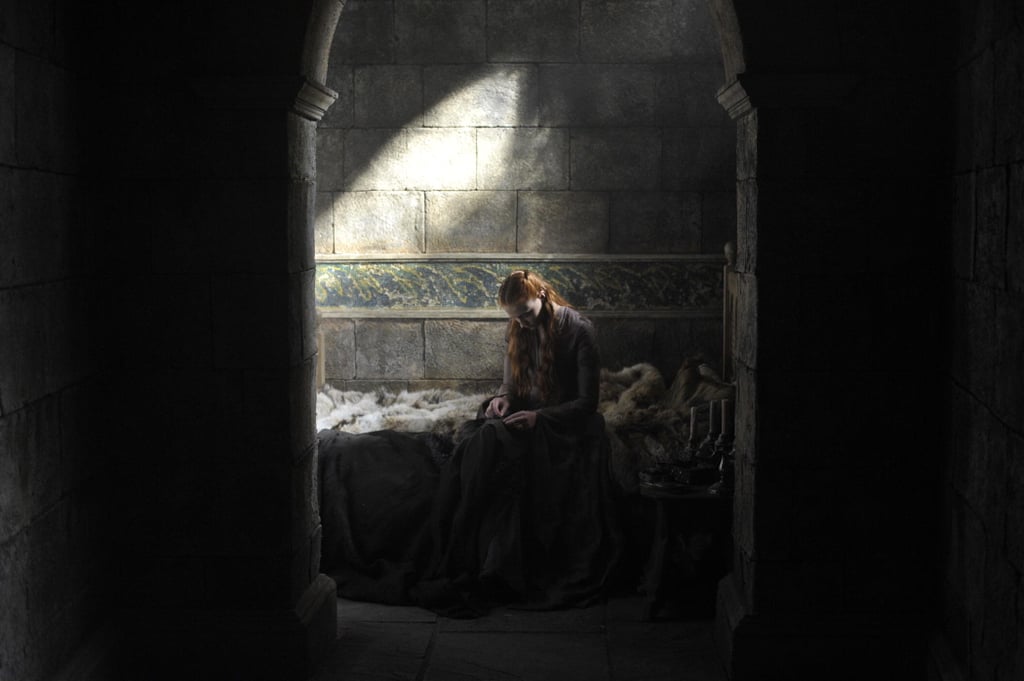 Sansa reveals that she is no longer a little girl when she makes the decision to change her bright red locks to a moody black instead.
Under Attack
Sansa's long auburn hair comes under attack after the vicious Lysa Arryn catches Sansa being kissed by her husband.
Natural Waves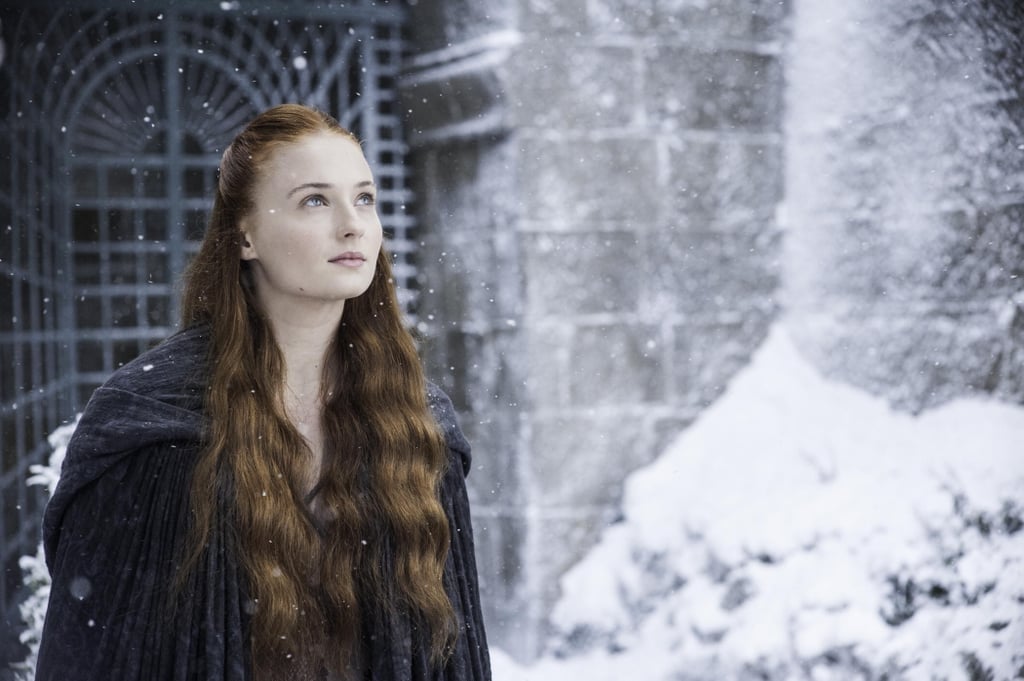 Sana keeps her hair natural while spending time out in the snow at the Eyrie.
No-Fuss French Braid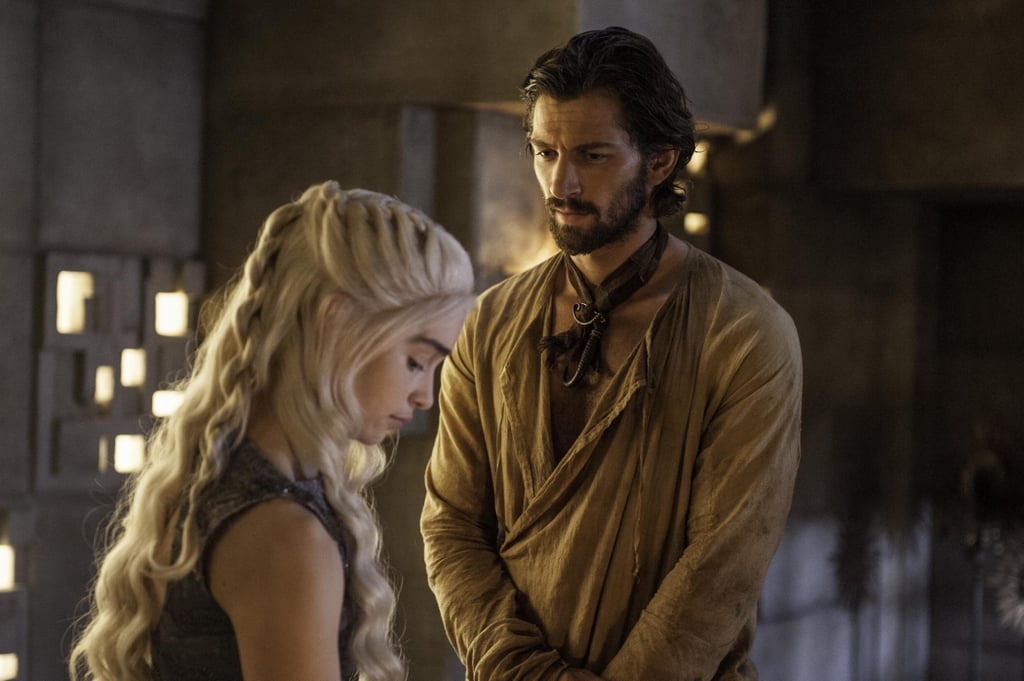 An elegant braided updo keeps all eyes on Daenerys during an intimate moment with sellsword Daario.
Light and Bright
Daenerys's cascading curls are a more relaxed look than her typically complicated braids.
Tight Twists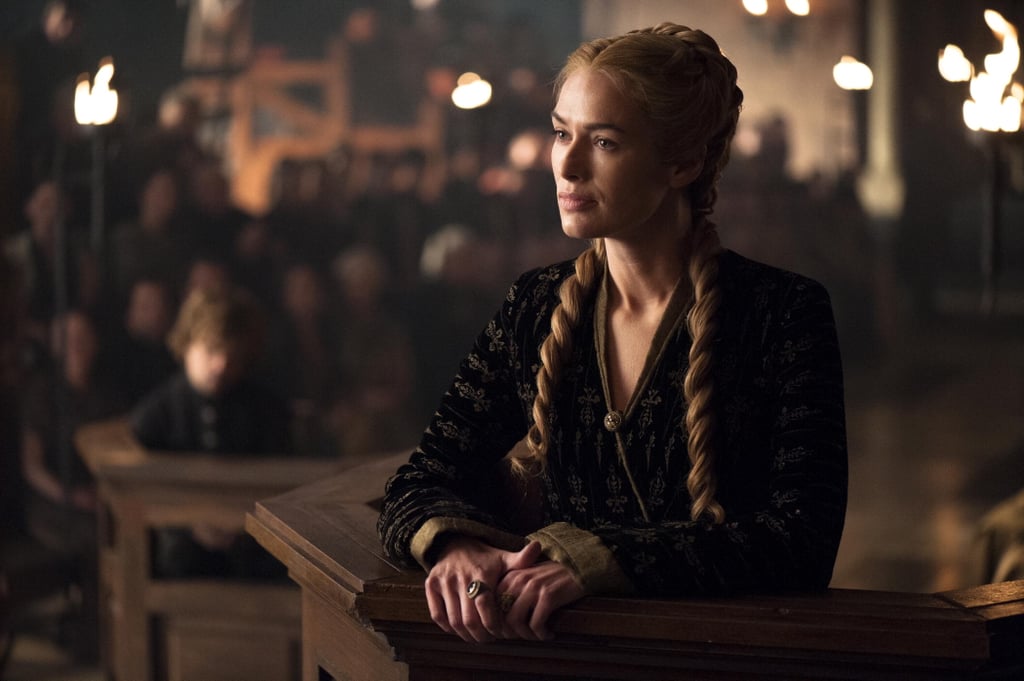 During Tyrion's trial, Cersei departs from her usual cascading curls for a twisted and curled style that is as tightly wound as the royal.
Elegant Yet Complicated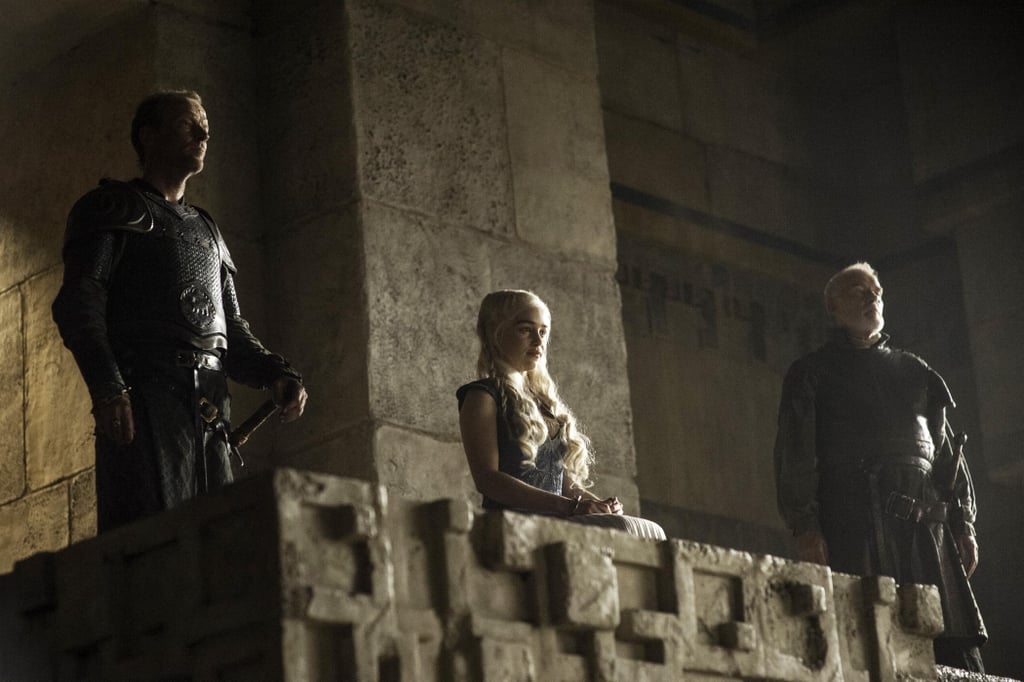 Daenerys may look confident in her throne room, but her twisted, curled, and braided locks reflect the complexities of her position leading the Unsullied.
Simply Regal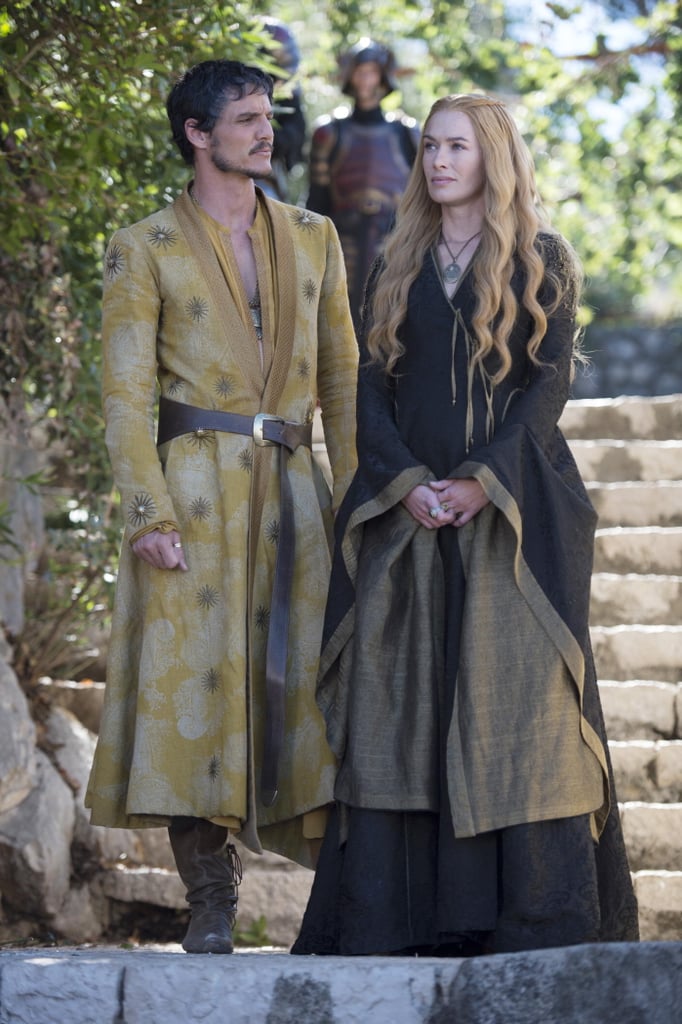 Strolling through the garden with Prince Oberyn Martell, Cersei continues to stay true to her signature hairstyle: soft curls with face-framing pieces pulled back.
A Crown of Braids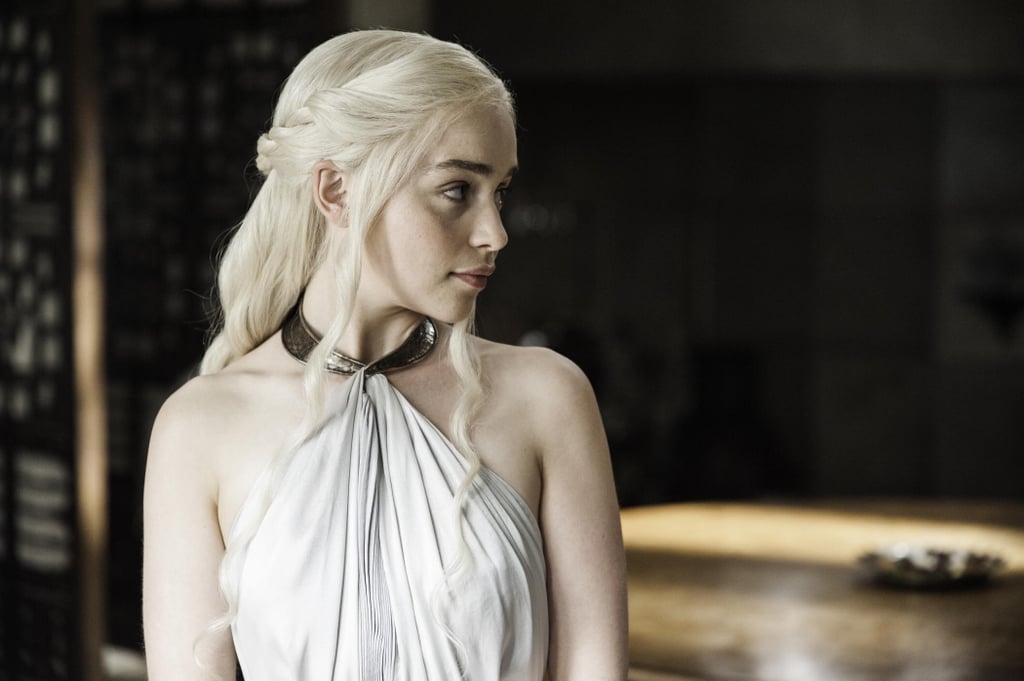 Taking a break from warfare and travel, Daenerys decides to govern the city of Mereen, and her elegant, pulled-back braid demands attention while showing off the elegance of the Khaleesi.
Hiding in Plain Sight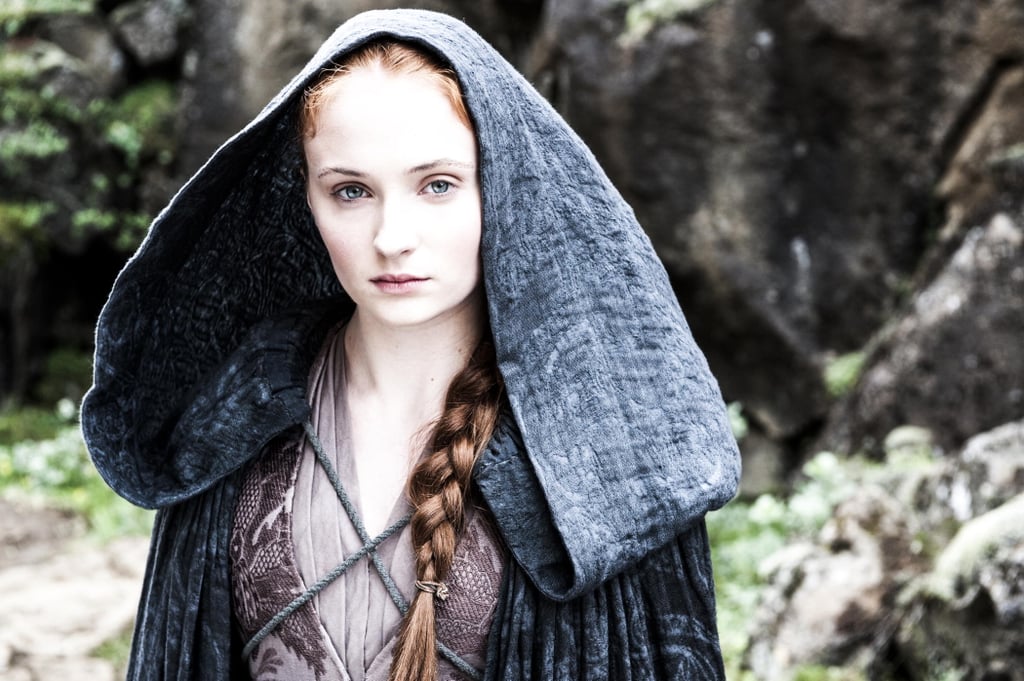 Sansa arrives at the Eyrie with her braided hair tucked under a travel-worn hood. On the run after the death of King Joffrey, Sansa's style is understated to keep her from detection.
In Mourning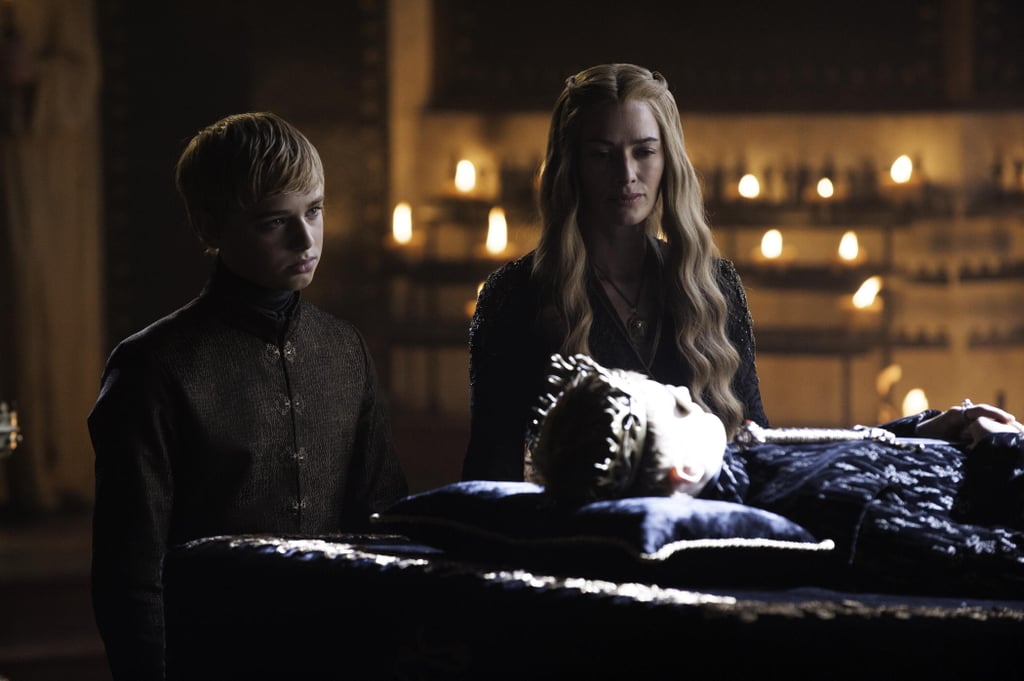 After the death of beloved son Joffrey, Cersei maintains a simple look while visiting his body. Sporting her signature style, Cersei simply pulls her curls back out of her face.
Styled to Rule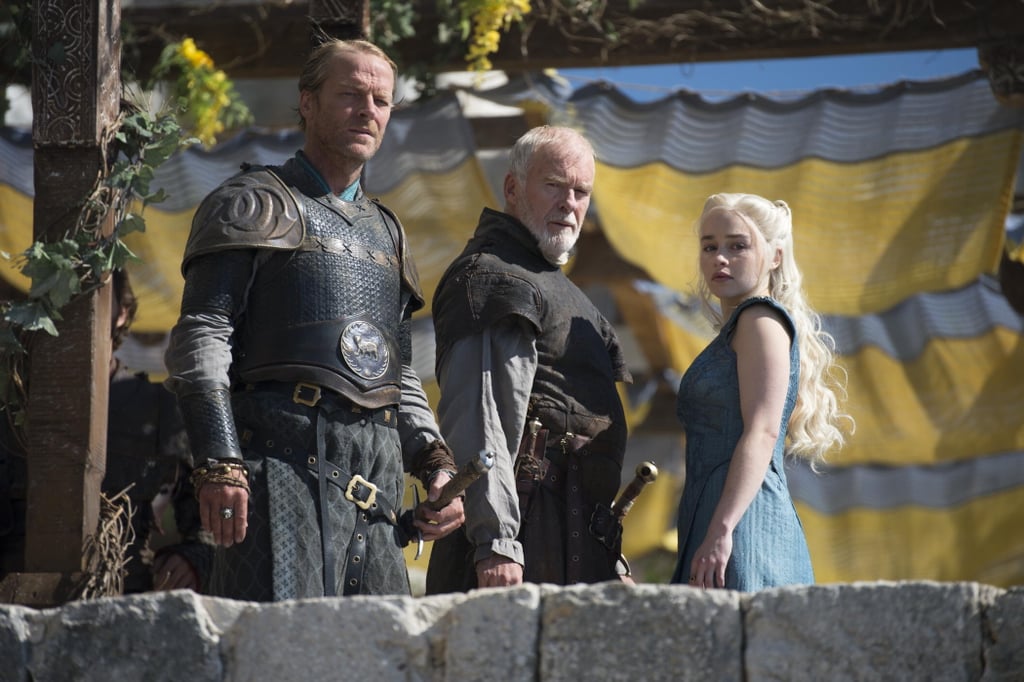 While talking to her trusted advisers, Daenerys's bright blond hair is pulled back and twisted into a style that is practical yet elegant, perfect for a warrior queen.
On the Run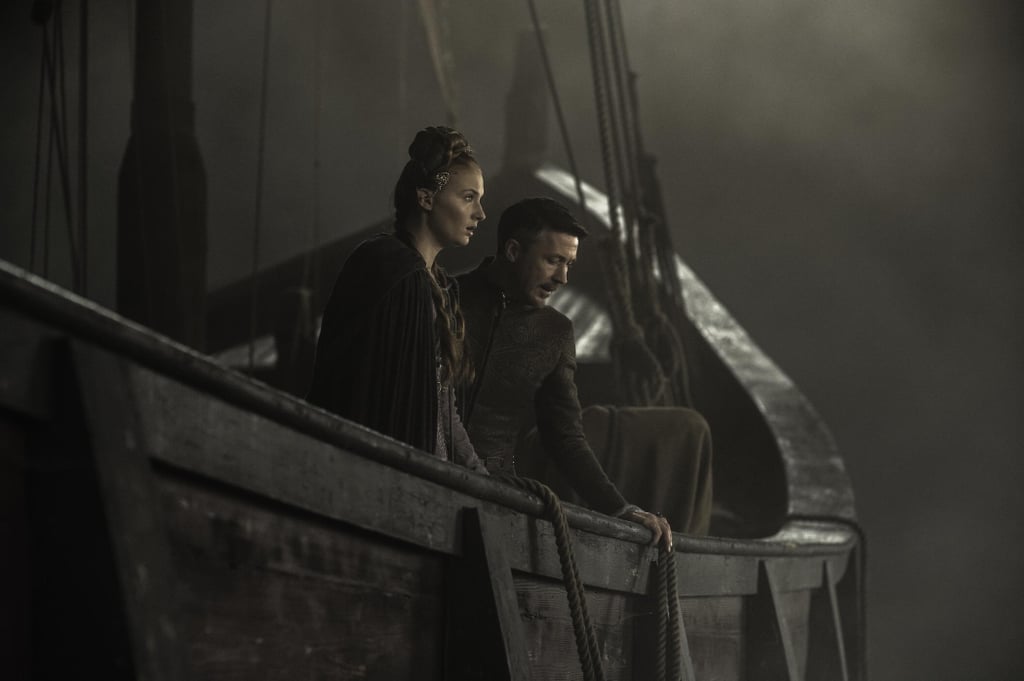 After escaping King's Landing, Sansa Stark still sports an elegant updo, complete with a sparkling hair piece. Now that she is on the run, it's not clear how long her more intricate styles will last.
A Regal Twist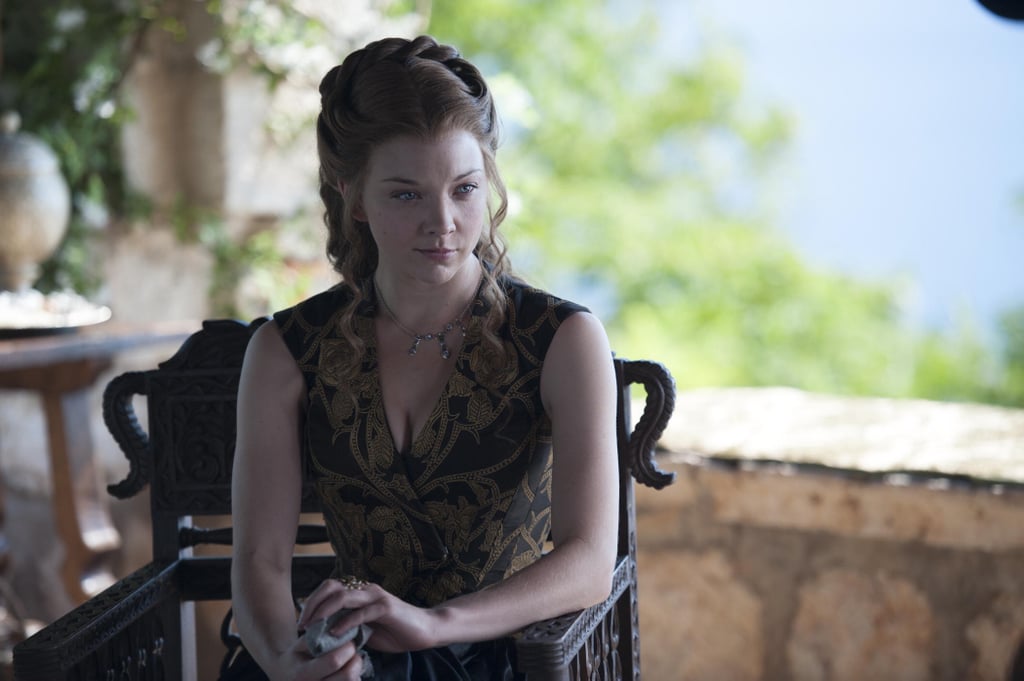 Though Margaery Tyrell may not be wearing her crown, a twisted updo looks almost tiara-like, wrapping around the top of her head.
Ready For Action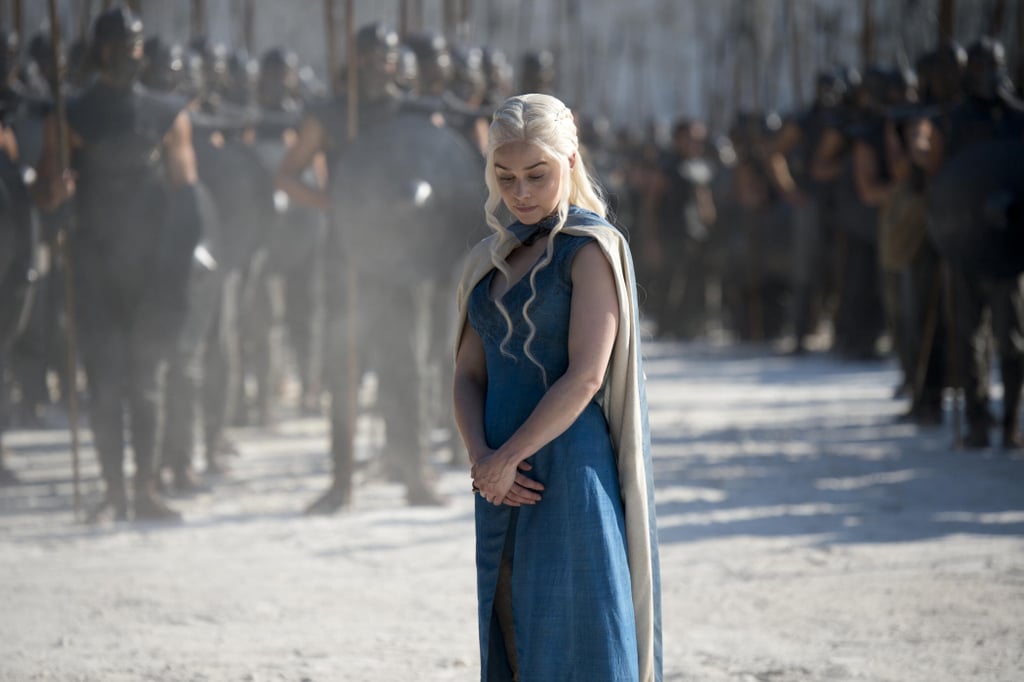 Daenerys's braided half-back hairstyle is elegant but functional, the ideal look for a royal who is always ready to head into battle.
Fit For a Queen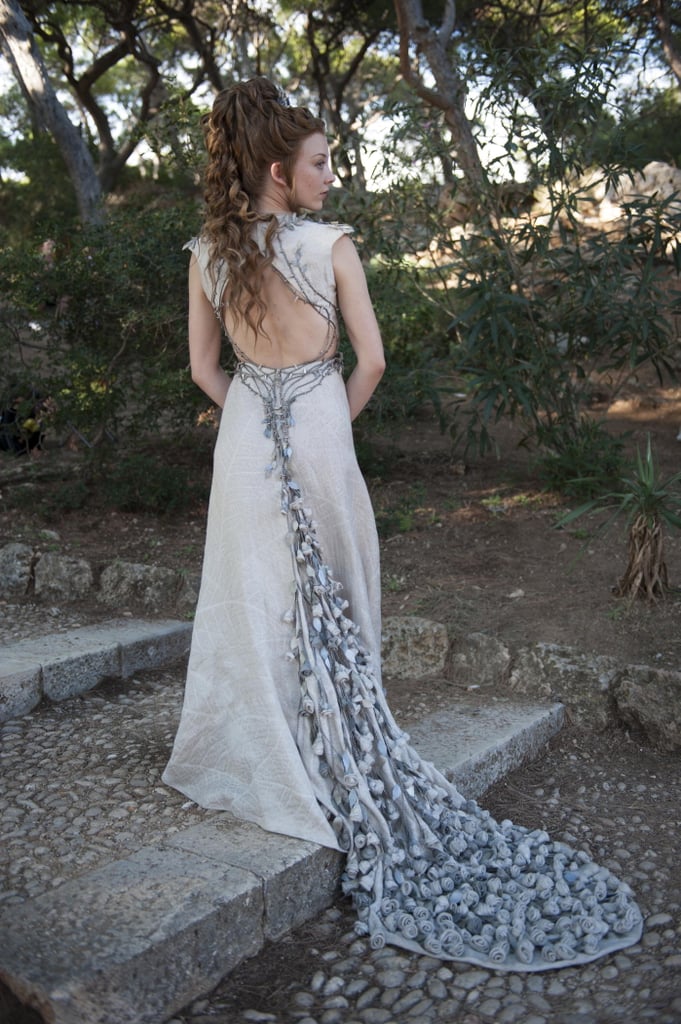 Newly crowned (and widowed) Margaery's wedding [4] may have ended on a somber note, but her long, cascading curls are a look fit for a regal celebration.
Sky High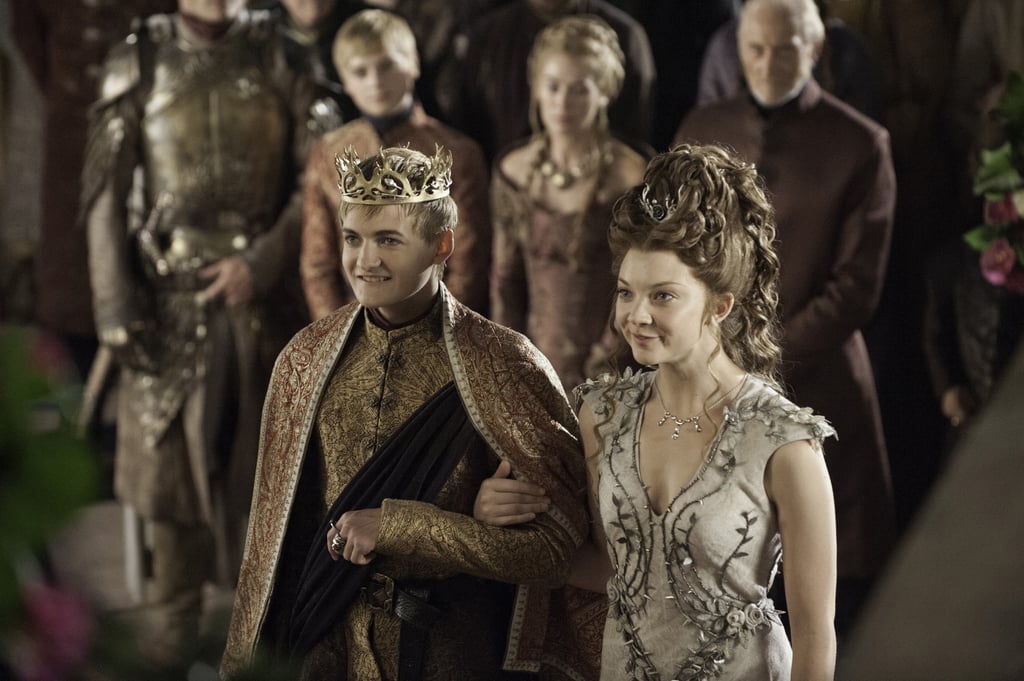 After much planning and plotting, the royal wedding [5] day finally arrives, and blushing bride Margaery Tyrell appears in a high-volume hairstyle that shows off her silver rose crown.
Cascading Curls
A wedding [6] day is the perfect occasion for an over-the-top twisted style and Margaery Tyrell's romanitic updo was a look not to be forgotten.
With a Twist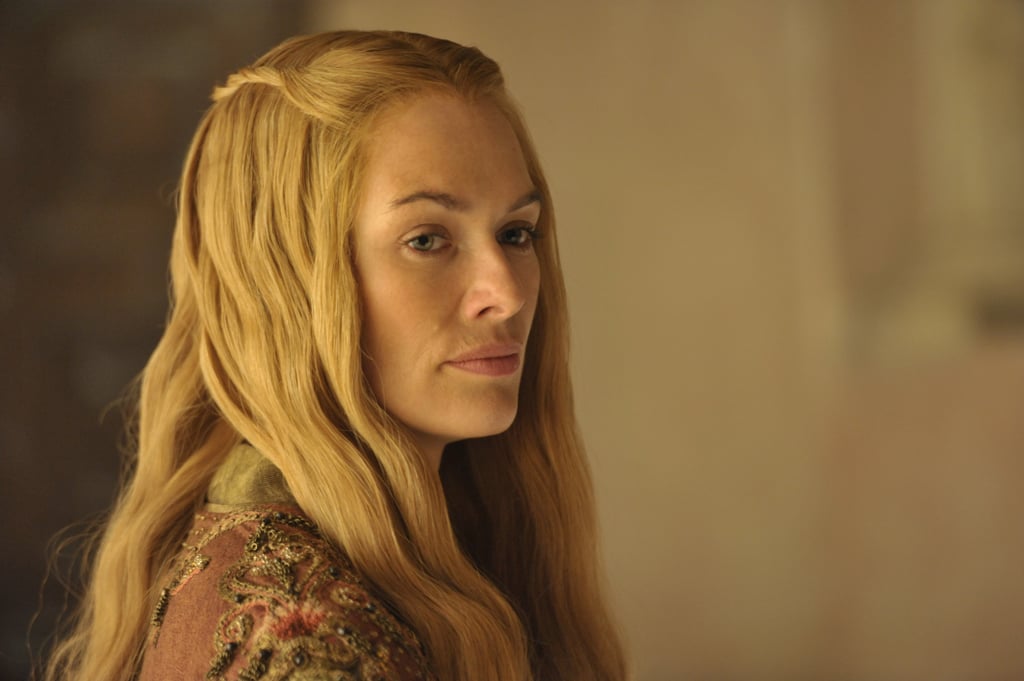 This twisted halo style, while simple in design, looks lovely on Queen Cersei. In the back, the medieval style includes gorgeous, intricate twists interwoven into a single braid.
Crowning Glory
This plaited half-up hairstyle with a braided bun and waves is one that works for medieval times or your Spring break beach trip.
Straightlaced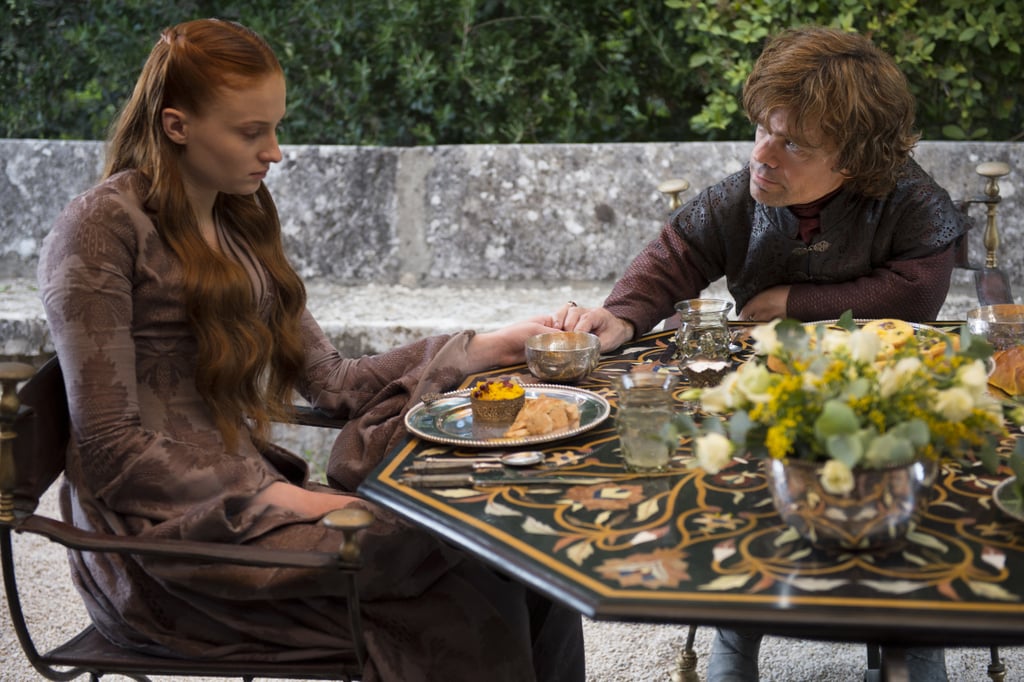 Sansa's signature style is one Game of Thrones look you can easily copy at home. Just make two twists alongside a center part, then twist the two sections together in back. So feudal chic, no?
Taking Sides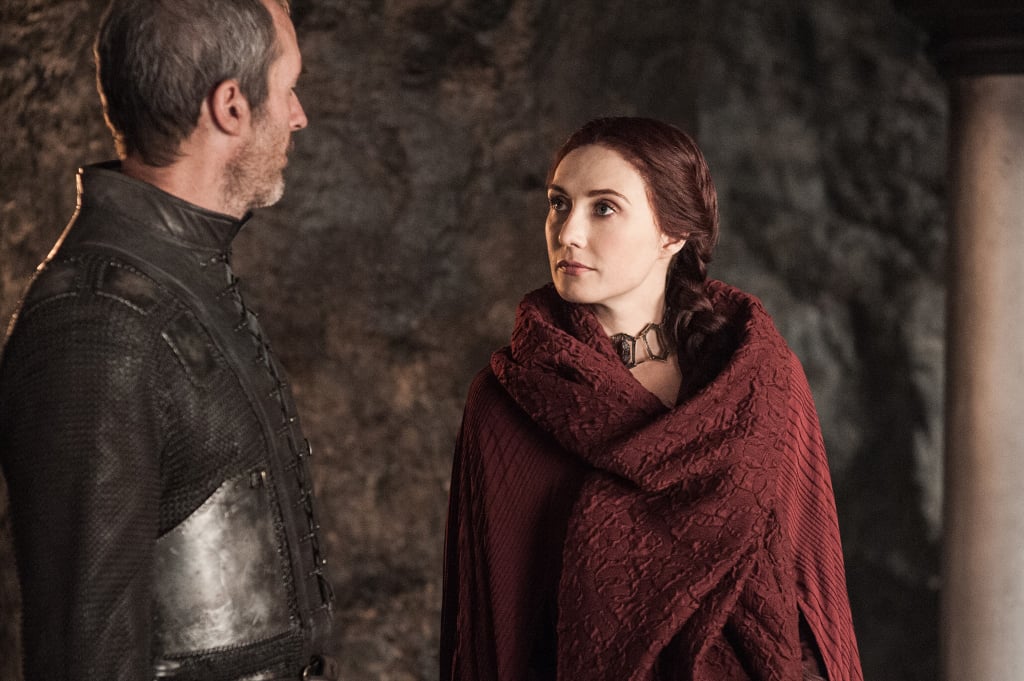 This side braid style on Melisandre looks pretty good with a hood.
Source: Facebook user Game of Thrones [7]
Fit For Function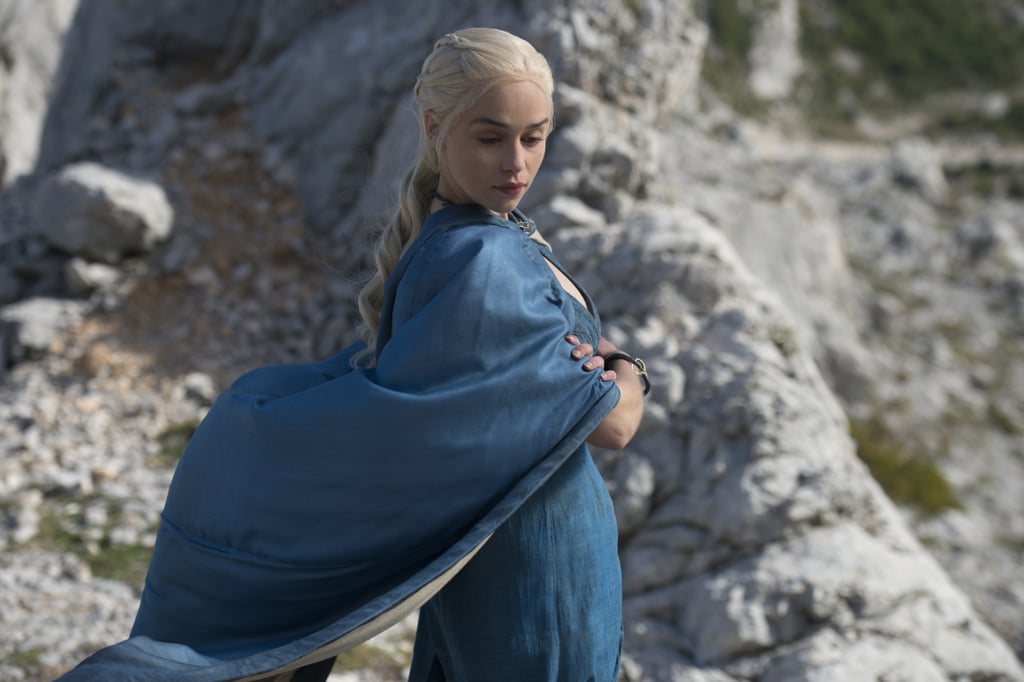 A life on the go (or in exile) requires a hairstyle that's good for a lot of physical activity. This tiered, braided style keeps Daenerys's white-blond strands out of the way during her most intense moments.