Gel Nail Art Tips
Make the Most of Your Gel Manicure Appointment With These Expert Tips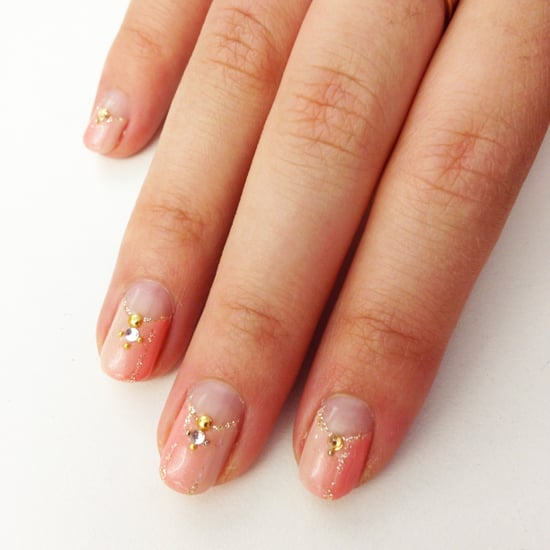 Japanese gel nails have fueled both the nail art and gel manicure trends that have hit salons across the US, and in case you're looking to get your own gel nail art treatment, we have helpful tips to make the most of your next appointment. I hit up SpaNail in New York City to experience Japanese gel nail art firsthand. The intricate designs and hand-painted details are just the tip of the iceberg. The gel formulation is long-wearing, providing a shiny finish that keeps your manicure looking fresh. Not all gel manicures are created equal, however, so to learn how get the most out of a Japanese gel nail art session, just keep reading.
Make an appointment: While some salons offer walk-in treatments, if you want a true gel nail art experience, your best bet is to call and make an appointment. You should ask if there is someone who specializes in gel nail art, so you don't show up for just a regular gel manicure. Also be sure to allow for the time in your schedule, as a session can easily take an hour or more depending on the design your hoping to achieve.
Bring inspiration: SpaNail's NailQuick Nail Catalogue app lets you virtually try on and browse a variety of designs, which you can use for any salon as inspiration. You can also bring images you've found online, fabric swatches, or any other inspiring designs. Note: Moon manicures like mine above don't show the growth as much as color that goes all the way to the base. Now, that's a score.
Extensions: If you don't naturally have the nail length or shape you desire, gel can be used to create nail extensions. These do require upkeep, and SpaNail recommends having your extensions regularly cared for by a nail technician every three to four weeks at the most.
Embellishments: No matter how extreme or subtle you want your look to go, be sure to consider or ask for embellishments. Most nail salons should offer a range of add-ons, from a variety of crystals to glitter and charms. Have something in mind? Don't be afraid to ask.
Removal: Once your gel nail art has grown out, it's time to face the removal process. Every salon is different, but all gel needs pure acetone for removal. Be sure to ask if your salon has a gentle removal process that features foils to avoid acetone vapors, plenty of cuticle oil to combat the drying effects of acetone, and a wooden stick over a metal pusher for less abrasive removal.