George Orwell Perfume
Ever Wanted to Smell Like Animal Farm? Now You Can.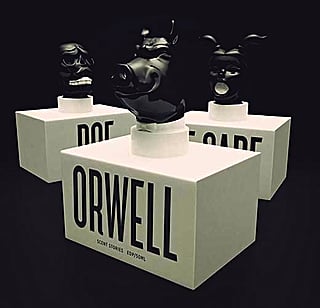 If you love George Orwell's writing, here's your chance to smell like his most famous work. Perfumers Ah & Oh Studio have come out with clever "scent stories" meant to embody the tales of four much-loved (and fairly scary) writers. You can choose from Orwell, the Marquis de Sade, Edgar Allan Poe, and Pierre Laclos (he wrote Les Liaisons Dangereuses, or, as you may know the story, Cruel Intentions).
The creators say the scents are designed to "describe the dark sides of men's nature," which sounds like it would make for some very dirty, sexy, and dangerous scents. Plus, the packaging is gorgeous. I can imagine what de Sade probably smells like — leather, pain — but would you be interested in catching a whiff of any of these scents?