Get Julia Louis-Dreyfus's Emmy Awards Hairstyle
Get Julia Louis-Dreyfus's Sleek Emmys Hair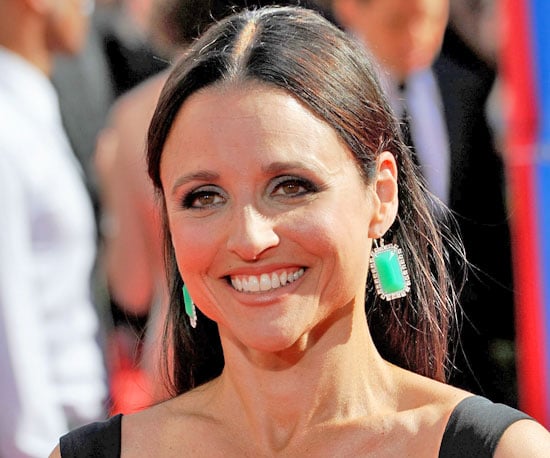 Julia Louis-Dreyfus's glass-smooth hair at the Emmys was a far cry from her days playing big-haired Elaine. Such hair alchemy could only be performed by someone like super-stylist Oscar Blandi, but he says that we can all get a similarly fluffy/shiny look in six easy steps. To find out what he did, just keep reading.
On wet hair, Oscar sprayed his Volumizing Spray ($18) at Julia's roots and distributed a touch of his Pronto Gloss ($19) throughout her hair to prevent frizz.
Then, he blew her hair dry with a round brush and created more shine by rubbing a drop of his Jasmine Oil Serum ($16) throughout her hair.
Oscar then gently ran a flat iron through her hair, keeping it one inch from the roots and leaving the ends softly bent to keep it looking natural.
He applied another dime-sized amount of Pronto Gloss to control frizz, then took the front section of her hair from the sides and tucked it behind her ears, securing with a pin to keep the hair in place.
To finish the look up, Oscar gave it a healthy spritz of hair spray for hold.