Get Nicole Richie's French and Fishtail Braid 2011-07-29 12:14:54
Get Nicole Richie's Cool French-to-Fishtail Braids Look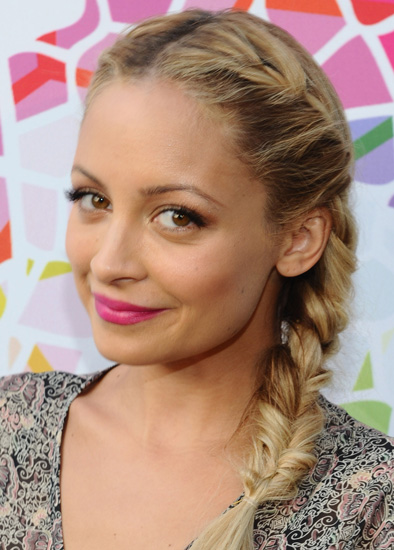 Nicole Richie always wears the coolest-looking braids, and at Ella Moss's 10-year anniversary celebration in LA yesterday, she showed off yet another impressive, plaited look. What makes Nicole's textured version so hip (besides the fact that we just saw a similar look on the runway) is that it starts out as French braids at the top and flows down into fishtails toward the ends. Keep reading to see some tips for re-creating her fun style.
Start by applying a mattifying, texture-enhancing cream, such as Bumble and Bumble Texture Hair Dressing Crème ($26), to damp strands. Blow-dry the hair with your fingers for a tousled effect.
After parting hair down the middle, French braid one side beginning about an inch-and-a-half down the part. (Conversely, you could create a single side braid.)
Once you've French-braided the hair about an inch or two past the ear, now start your fishtail braid. Repeat on the other side of the part. Tip: to keep the style looking perfectly imperfect, you can always alternate the thickness of the strands woven into the braids.