Gina Brooke's Favorite New Makeup Products
Makeup Artist Gina Brooke Previews Hourglass's Fall Launch
Editor's note: This is the final blog post from our amazing guest writer, Gina Brooke, who created the makeup look seen here on Madonna.
As a beauty expert and as a makeup artist, I depend on the skill of application and technique. That's why it is essential to use the right tools to achieve my artistic vision.
One of the most exciting parts of consulting for a makeup brand is the product development process. At Hourglass, we plan our lineup a year in advance — scouting new ingredients that are unique and focusing on products that women really want. I love working with Carisa Janes, Hourglass's CEO and founder. She is an absolute perfectionist and truly understands the need for creating quality products that are innovative and effective. See Gina's favorite new products when you keep reading.
Here are some of my favorite new products to look out for:
Hourglass Script Precision Liquid Liner ($32)  — it is unlike any eyeliner on the market. It's an ingenious pen with the smallest tip — measuring just 0.5 mm. It allows for complete precision and control. I'm obsessed.
---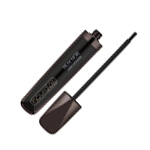 And launching this Fall, be on the lookout for Film Noir Lash Lacquer — an ultraglossy, top coat for your lashes that adds volume, length, and extraordinary shine. Worn over mascara, Lash Lacquer has a small brush applicator that enables you to paint your lashes in decadent black color. It's truly a one-of-a-kind product. I even use it as a liner. I've been testing and using this product on my clients and at editorial photo shoots and the results are phenomenal — as you can see in this picture of Madonna. Hold tight for its release. 
Sharing these types of innovations with clients is always a thrill, and next week, I'll be making an appearance at Sephora Fifth Avenue in New York. Given it's Summer, I'll be focusing on tips for waterproofing your makeup, enhancing your eyes, and achieving quick and simple ways to a luminous glow. If you're in the neighborhood, please stop by for a consultation. I've enjoyed these past few weeks of blogging on BellaSugar.
Please check my website for weekly updates on my personal blog. Until the next time, take care, everyone!
Gina Brooke will be at SephoraFifth Avenue (between 48th and 49th Streets) on Friday, May 13 from 1p.m. to 7p.m. Call 212-980-6534 for an appointment.