Gisele Bunchen's Skincare Line Sejaa
Gisele Bündchen Launches Eco-Friendly Skincare Line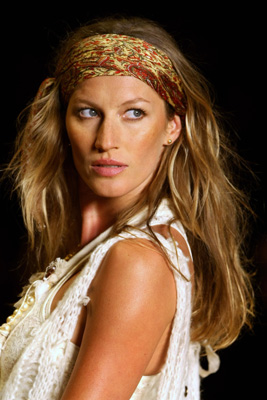 Can a $70 skin cream make us look like Gisele Bündchen? Probably not, but its eco-friendly bent could make you feel all warm and fuzzy inside. Today, the supermodel launches Sejaa, a 100-percent natural line by every stretch of the imagination, from the manufacturing process (windpower) down to the soy-based VOC-free inks used on the packaging.
Gisele, who was recently named the UN's Goodwill Ambassador for the Environment Program, decided upon the brand's name as a play on the word seja, meaning "to be" in Portuguese, her first language. The extra "a" was added at the end because "words have a vibration, and aaah! is an exhalation, what you feel when you let go," she told Vogue.
The three-product line, which is sold solely on the brand's website, consists of a Day Cream, Night Cream ($70), and Mud Mask ($56). It also features a Pure Skincare Kit ($120), which includes a two-ounce jar of each product, a spa towel, and a mud applicator. Find out what else the model had to say about her new endeavor when you read more.
Gisele told Vogue:
On developing the line: "I wanted to teach girls to love themselves and take care of their bodies. What is the first thing you see every morning? Your face! What do you put every day on your face? Cream! I have made the simplest, purest cream — an everyday cream — but it comes with an affirmation."
On why she wanted a mud mask: "When I was a teenager, I had pimples — oh, God, every time someone looked at my face I thought they were looking at my pimples. I put mud on my face to dry them out, and it worked."
On why Sejaa will be sold online to create a community: "So I can give my little tips, and it's not me telling anyone to have an awakening."
On her secrets: "The first is wake up in the morning and be grateful you are here, alive and healthy. And the second is: Give."