Glow in the Dark Makeup Like Kesha 2010-04-19 13:00:11
Is Black Light Makeup the Next Big Thing?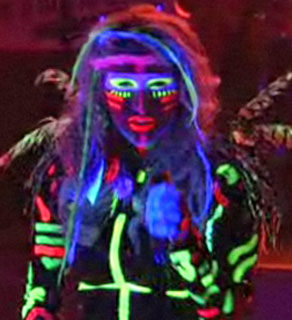 If you saw Ke$ha's performance of "Your Love Is my Drug" on SNL over the weekend, you know what I'm talking about. Glow-in-the-dark makeup has been showing up all over: the Black Eyed Peas wear it in their "I Gotta Feeling" video, Australian singer Sia has been known to use it in performances, and a new DKNY 20th anniversary video features a model dancing around in it.
Black light was huge back in the '80s, and in fashion, everything old eventually becomes new again. If I were going out, I think I'd definitely wear Ke$ha's red lipstick—it would look cool and it's pretty wearable. There's also black light eye shadow, temporary hair color, and nail polish. So what do you think? Is this a trend you'll be trying, or do you think it should stay back in 1984 with frizz perms and single earrings?
Photo courtesy NBC