Will Going Vegan Make My Skin Better?
Will Going Vegan Save My Skin?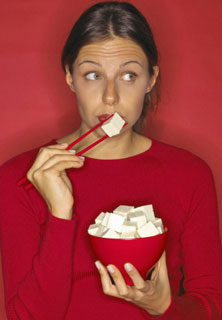 I love cheese so, so very much. In fact, I recently downloaded a handy nutrition tracker app and discovered that it comprises a wildly disproportionate amount of my daily food intake. And while my gouda habit keeps my tummy well-satisfied, it may not be doing such great things for my skin. There's a proven link between dairy consumption and acne (although we all know correlation doesn't necessary equal causation). Lately I've been wondering whether my never-ending battle with my skin might be related to my romance with dairy.
I've been a lacto-vegetarian for years, so dropping the dairy will make me a vegan. I'm prepared to test the theory out starting today, and I've been checking out all YumSugar's delicious-looking vegan recipes for ideas. Have you ever cut out dairy and seen good skin results? And do you have any recommendations for making the transition to a cheese-free diet? (I'm looking at you, lactose intolerant people.)