Gold Pomade and Hairspray For the Holidays
What We're Sweet On: Putting on the Glitz
As POPSUGAR editors, we independently select and write about stuff we love and think you'll like too. POPSUGAR has affiliate and advertising partnerships so we get revenue from sharing this content and from your purchase.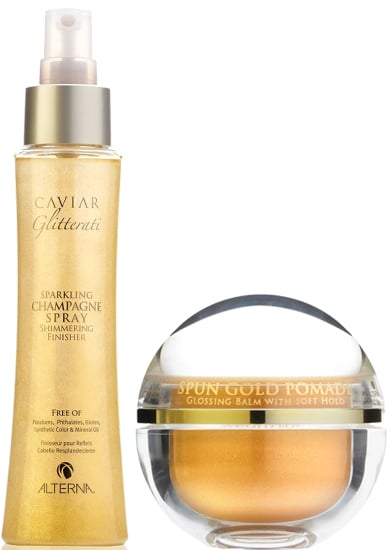 What smells like grapefruit, holds everything in place, and sparkles like gold? Alterna's limited edition Glitterati hair products, dressed-up versions of their finishing spray and pomade packed with flecks of gilt shimmer. The most subtle product in the collection, Sparkling Champagne finishing spray ($20) is full of soft white gold and adds a little shine and minimal hold without being stiff or noticeable on blonde or brown hair. It smells like grapefruit and coconut, and it's a wonder at smoothing down light frizz or keeping fine hair in place without flattening it.
On the other end of the spectrum, we have the heavy hitter: Spun Gold pomade ($20). This stuff is full of old-gold sparkle, and it's extremely noticeable in dark hair (less so in blonde or titian shades). It's also a heavy-hold formula, so if you've got flyaways or dry, thick hair, this is your best choice for keeping everything in place.