Gorgeous Christina Hendricks Pictures and Makeup Tutorial
Get Christina Hendricks's Gorgeous Makeup Look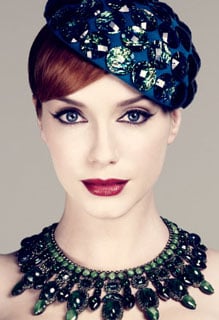 We were totally bowled over when we saw Christina Hendricks's shoot in this month's LA Times Magazine. We love everything about it, from the amazing winged liner to the perfectly defined lips. If you love it too, you're in luck: makeup artist Angela Levin has shared her step-by-step instructions on creating the look with the same colors she used on Christina. For her guide and more photos, just keep reading.
Eyes:
Lips:
Angela began by applying Chanel Precision Lip Definer in Natural ($25). She suggests that when you wear bright lipstick, you apply a liner shade just a little darker than your natural lip color.
Angela used several different shades of Rouge Coco Hydrating Crème Lip Colour ($30) to create Christina's various looks. In the first gallery photo, the shade is Camelia, in the second it's Paris, the third is Legende, the fourth is Vendome, and the shade used in the picture that's above right and at the end of the gallery is Rivoli.
Photos courtesy LA Times Magazine