Groom Wedding Gift Ideas
5 Gift Ideas For the Groom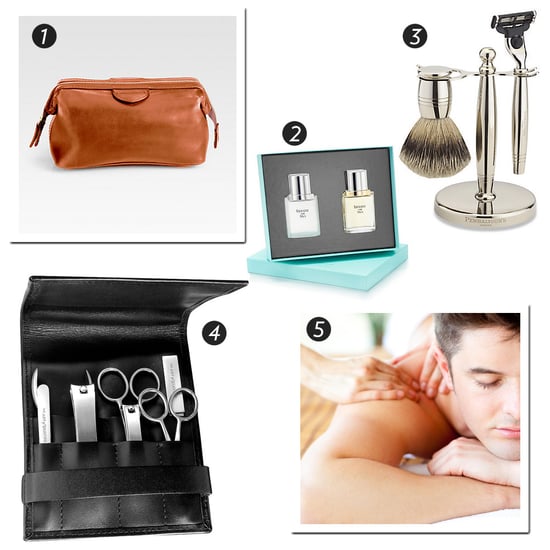 You have the engagement ring, you got your wedding dress, you bought your bridesmaids' gifts, and now it's time to find a present for your groom. Your soon-to-be husband will appreciate any of these thoughtful gifts.
1. Dopp Kit: No man should be without a sturdy, reliable bag for stowing all his toiletries. Ralph Lauren's Gents Leather Dopp Kit ($395) comes in two classic shades, and it will be his go-to bag for years.
2. Cologne: Sure, he has a bottle of something he's been using, but it's time to class up his act with the Tiffany For Men Gift Set ($120). It comes with the brand's signature men's scent and a matching bottle of aftershave. The sophisticated blend of citrus and woody notes is timeless.
3. Shaving Stand: Upgrade his bathroom counter with this sleek Penhaligon's Nickel Shaving Set Stand ($170). Every shave will feel more refined than his bachelor days.
4. Manicure Set: Art of Shaving Seven-Piece Manicure Set ($160) comes stocked with all the stainless steel tools he'll need for trimming his nails, hair, cuticles, and facial hair. He's always be well kempt with this in his Dopp kit.
5. Couple's Massage: Treat your new husband to a decadent couple's massage. Book an appointment at your hotel, or find a spa with a couple's package at your honeymoon destination.