Hair Battle Spectacular Review
A New Hair Styling Show Debuts Tonight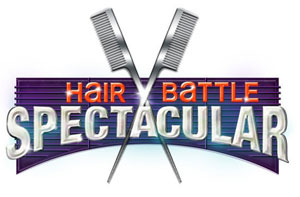 If you're a fan of Shear Genius, you might enjoy Oxygen's new Hair Battle Spectacular. The amped-up version of a reality TV hair competition pits 10 fantasy hair stylists against each other to compete for the grand prize of $100,000. In the premiere episode, "Go Big or Go Home," we get to know stylists Minista (a real ordained minister!), Cajmonet (or cash money), and Fingaz (she says she has the fastest fingers).
In the first challenge, the artists work with unconventional personal items like a pink stuffed dog, a hot pink stiletto, and a soccer ball. Then, in the second challenge, stylists sculpt fantasy hair using cocktails as their inspiration. The show, hosted by Brooke Burns, feels a tad long at an hour. And the final battles, which take place in a shimmery glitter "boxing ring," may be a bit showy, but it's entertaining nonetheless. The amount of talent and creativity makes it a fun watch, so check it out and let me know what you think.
HBS also features judges, award-winning fantasy hair designer Derek J of Good Hair fame and celebrity stylist Lindsay Albanese, who has worked with Britney Spears and Mary J. Blige. The show premieres tonight at 10 ET/PDT. Will you tune in?
Photo courtesy of Oxygen