The Hair Dryer With the Ferrari Engine 2010-08-13 11:00:00
The Need For Speed: The Hair Dryer With a Ferrari Engine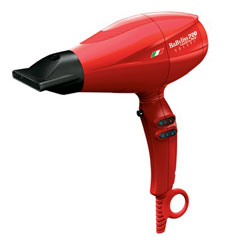 Conair's BaByliss Pro has totally pimped its ride — so much so that the engines in the brand's new Volare model (about $400) are made with real Ferrari parts. "The industry has been dominated by advancements in the straightening iron category, and nothing has really been done with blow dryers," BaByliss's David Gardiner told WWD.
Volare is the first dryer to use a ball bearing design, which is especially useful to keep it running nice and smooth. It also has precision insert-molded construction for a lightweight feel and a turbo boost button to make airflow rev up, of course.
While most dryers' lives last 500-700 hours, the Volare runs 2,000 hours. It also packs an impressive 2,200 watts of power. Unfortunately, the dryer, which comes in a compact or medium size, is available for pros only, but if you had the chance, would you like to take it for a test ride?