Hair and Nails at L.A.M.B. 2010 Fall Runway Show 2010-02-12 09:30:00
Bella Exclusive! Clip-On Bangs and Short Dark Nails Rock the Runway at L.A.M.B.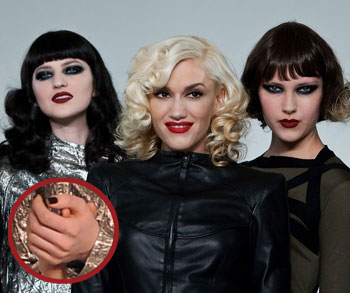 Yesterday, a member of Team Pop was lucky enough to have a one-on-one interview with none other than the Gwen Stefani. But that wasn't all. Hairstylist Danilo, who used MoroccanOil products on the models' hair, gave us the scoop on the inspiration behind these curly-haired looks, and CND's Roxanne Valinoti gave us the rundown on the nails. Get the behind-the-scenes information at the link below.
To find out what Gwen's hair and nail artists had to say about their work on the show, just keep reading.
Hair by Danilo:
On the inspiration: We really embraced a retro inspiration, but we wanted her to be modern. You can see she's young, she's modern. She has the retro, but she has the today.
On coming to a consensus with Gwen: We talked inspirations for a couple weeks. . . throwing pictures back and forth. She sent me a bunch of pictures that I actually worked on years ago with Ellen von Unwerth — all that sort of period girl/little bad girl inside, but cute. We played with a couple different versions, but the fact that the clothing has a modern line to it, we really liked the idea of little touches of retro would make it very Gwen. Because people really want to see that element. They really want have that tie to her somehow.
On the hair: I work a lot with the company Hair U Wear, and they created a new fiber. It's called True2Life ($29). This particular product is in the HairDo line. They finally created a bang that is thin. You know how they used to be so bulky it was like wearing a hat on your head? They finally made what I call "skinny," and the great new thing about this is you can [use a] curling iron [on it], you can flat iron it, blow it dry — make it like hair.
On bangs: The great thing now is that you don't have to commit. You can have a faux one, then take it out and put it on the table.
Nails by CND's Roxanne Valinoti:
Inspiration: Our inspiration is Gwen, of course. She is the inspiration. She's actually wearing a dark, sort of chic, short nail right now. Also the makeup is very young, dark, and edgy with a smoky eye and dark red lip so we're doing a color called Dark Ruby ($9) . . . The shape is short. It's not long. It's not pointy. It's short — almost like a menswear sort of look — not too feminine.
On Gwen's input: We had a meeting with her two days ago. We've done red. We've done white. This is what she's into. It's very young and edgy.