Hair Under a Microscope
We Put Our Hair Under a Microscope!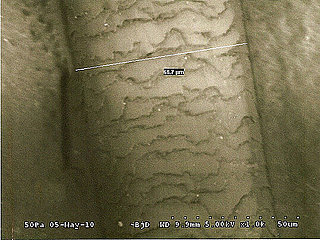 Oh yes, I am looking fine these days — or at least my hair is. Earlier this year, Procter and Gamble invited me to tour their headquarters in Cincinnati. Among the sights that intrigued the science geek within: a scanning electron microscope. These high-powered microscopes are used to measure minuscule items, and P&G uses theirs to analyze hair texture. That research went into the reformulation of Pantene hair care, which now comes in formulas that target fine, medium-to-thick, curly, and colored hair.
While in the lab, a P&G scientist snipped off a few locks of my hair to be analyzed under the microscope. What you see here is an up-close look at a single strand. It measures 68.7 micrometers in diameter, so it's classified as fine hair. Disappointingly, the hair damage includes "slight cuticle edge chipping," but it's cool. My inner Ms. Wizard is still excited, and the mild damage means there's just one more reason to use conditioner.