Hairstyle Ideas For Bad Hair Days
3 Cute Styles That Disguise a Less-Than-Stellar Hair Day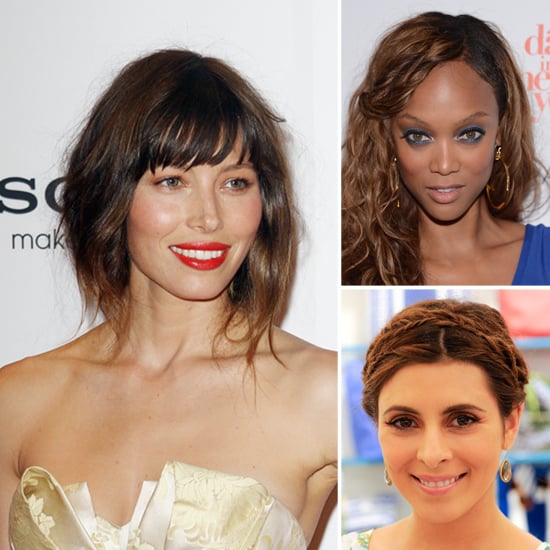 Wonky weather patterns, sleepless nights of tossing and turning, or simple lack of time can all contribute to less-than-stellar morning hair. But before you default to a topknot, bun, or ponytail, let your slightly askew texture work to your advantage. Learn three cute fixer-upper looks now.
1. The faux bob: The saying fake it till you make it applies to coiffures, too. To give blah hair new life, take a note from Jessica Biel, who recently wore this tousled, faux bob style. Start by applying dry shampoo where needed to degrease and add volume. Then, pin longer strands from the back up to the nape for a quick make-pretend 'do.
2. The pinned fringe: Whether you have fringe or you don't, create a carefree and casual look by twisting bangs (or face-framing layers) off to the side, loosely pinning them à la Tyra Banks. Finish by running a curling iron through random sections to stylishly accentuate your already-existing roughed up texture.
3. The multibraided, multibanded updo: Using braids as hair accessories? Now that's smart. Just look how cute Jamie-Lynn Sigler looked donning a variety of wraparound plaits: one a few inches in front of the crown, and two separate ones on the opposite sides of the part. Lackluster strands, be gone.