Halle Berry Hair Tutorial: How to Get Her Soft, Spiky Hairstyle
How to Get Halle's Sexy, Soft, Spiky Hairstyle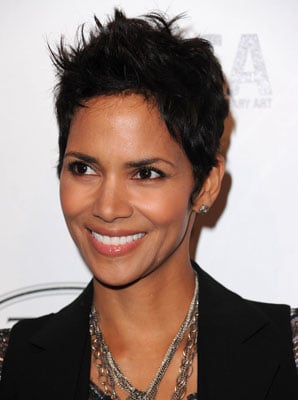 It's hard to look bad when your name is Halle Berry, but it's easy to look just as good even if your name isn't Halle Berry. Her short, sexy spikes are fun and feminine, and they work well because of their softness. Avoid the dated crunchy, gelled-up look and you'll be well on your way. Get my tips for working this hairstyle when you read more.


The cut: Have your stylist create texture in your fringe and crown. Texturizing allows for shorter strands to be hidden within the cut, which supports the longer strands. Plus, when you're in the mood for a tamer style, your hair will still lie nicely for low-key looks.
Drying: Once your hair is about 80 percent dry, apply a medium-hold texturizing gel, like Fekkai Coiff Bouffant Lifting and Texturizing Spray Gel ($23), throughout the hair. Note that if you put gel in just-out-of-the-shower soaking-wet hair, it's more likely to look hard and slick. Psst: one other benefit of having your stylist texturize your hair is that you'll actually need less product, since your haircut is already set up to stand up with very little coercing.
Setting: Set the style by lifting the hair you want to spike straight up with your fingers, using a hair dryer to activate the gel. Focus on lightly scrunching your hair with your fingers to give it a tousled appearance.
Finishing touches: Apply a pliable hold wax, like Kim Vo Sculpting Shaper Texturizer ($23), to the spikes, avoiding adding too much to the roots or scalp. Twist individual strands to customize your look, and you'll have soft, spiky hair in less than 10 minutes.