Halloween Beauty and Safety Tips
4 Ways to Prevent Frightful Beauty Mishaps on Halloween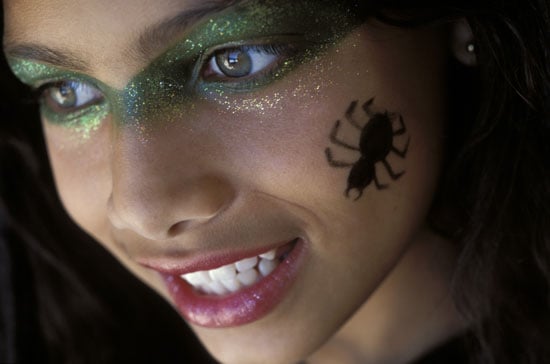 Growing up, your loved ones probably told you to check the apples for razors and beware of strangers while trick-or-treating. Now that you're an adult, there are a whole other set of Halloween-related mishaps just waiting to happen. Sure, you have to be careful with the amount of mulled cider consumed in an evening, but there are beauty hazards to be cognizant of as well. From irritated skin to sore feet, find out how you can prevent Halloween horrors when you read more.
Testing, testing: With so many colorful Halloween makeup kits available, it might be a good idea to perform a patch test to be sure you don't have a bad reaction. The last thing you want is to actually scare kids off for all the wrong reasons. To perform a patch test, apply a bit of product to an inconspicuous area (like the inside of your arm by your elbow, or at the back of your ear) and let it dry. Leave on for about 24 hours and remove. If your skin reacts with bumps, redness, or itchiness, do not use the product. Remember, just because something is labeled nontoxic doesn't mean it's going to work for you.
Spare your hair (and the air): If you're using temporary spray-on color for your Halloween costume, it probably goes without saying that you should stay away from flame-bearing items (such as Tiki torches and cigarettes) until your hair is dry. During the application process, protect yourself by ensuring you have plenty of ventilation (go outside, even) and that you're wearing a safety mask. Also, consider wearing a wig or extensions instead.
When glitter isn't so glamorous: Going as Ke$ha? To avoid having glitter particles scratching your eyes, be sure you use cosmetic-grade glitter not craft glitter. Also, if you wear contacts, put them in first before doing your makeup to keep glitter from sliding into your peepers. But before bedtime, take your lenses out first and then remove makeup.
Bye-bye blisters: So you decided to wear sky-high, Lady Gaga-style heels, did you? Or perhaps all you could find for your totally amazing '80s costume was a pair of half-size-too-small jelly shoes. Whatever the case, help stop blisters from forming with a blister prevention product, such as Band-Aid Active Friction Block Stick ($6). You can even use baby powder or petroleum jelly to keep friction, and therefore blisters, under control. So do the Monster Mash all night long. The only thing you should fear is the guy next to you with two left feet.