Halloween Costumes With Braids
4 Halloween Costumes That Require Braids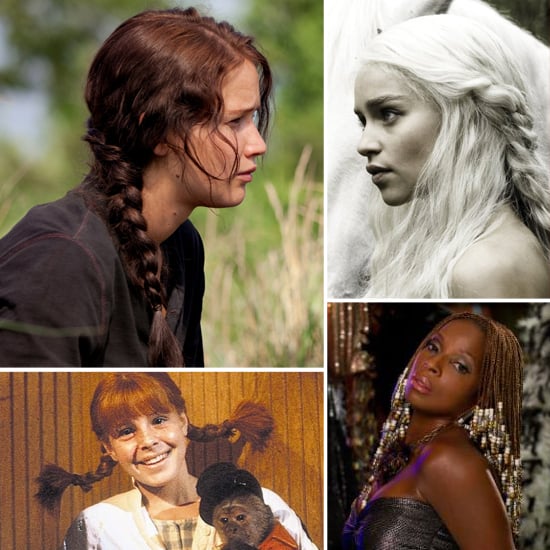 Bring one of the biggest beauty trends of the year to your Halloween costume: braids. From Katniss Everdeen to Pippi Longstocking, there are plenty of options that even a styling novice can create. Get tips on how to transform into these braided characters when you keep reading.
Katniss Everdeen
The Hunger Games was a huge box-office hit, and the film solidified the side braid as a must-try style. This wraparound French braid is easy to re-create using your own hair or extensions. And since Katniss traipsed through the arena for most of the film, all you probably need to purchase is a bow and arrow set to complete the look. Let the Halloween games begin.
Daenerys Targaryen
Becoming the dragon princess of The Game of Thrones requires a white-blond wig, amethyst contacts, and a white stallion (two out of three isn't bad). Braid together multiple twists into a mussed, half-up style to get this nomad's look — and drag your best guy friend along as Viserys or Khal Drogo.
Pippi Longstocking (or Wendy)
Recapture your childhood (or your favorite burger joint) with this costume. Pippi wigs are easy to come by, but if you have the lovely red strands to pull this one off, you can use pipe cleaners in your braids for the hair-raising effect. Finish off with freckles, blush, and ribbons. Then, dust off your overalls and stripes for a night of ill-mannered adventures.
Justice Charlier
Mary J. Blige rocked the house as a gentleman-club madam in Rock of Ages. And while getting these Bo Derek braids could take hours (and tons of beads), if you're feeling ambitious, remember to use plenty of gel to keep the style smooth. Finish by slithering into some metallic spandex to complete this '80s revival. If you can't belt out Journey's Anyway You Want It on the spot, though, dig up a vintage boombox and leave the singing to Steve Perry.