Heidi Klum Hair and Makeup Tips
Heidi Klum: "One of My Biggest Beauty Products Are My Sunglasses"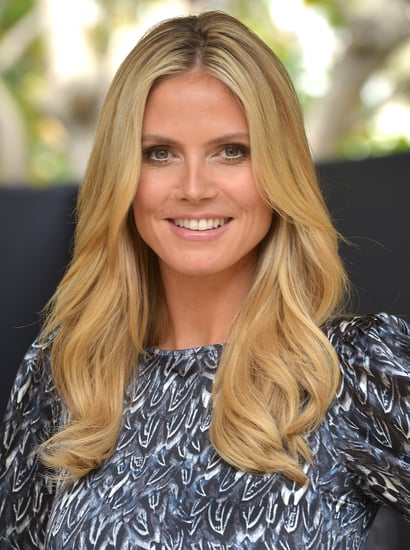 As a longtime model and TV personality, Heidi Klum knows a thing or two about putting her best face forward. And Heidi, the spokesperson for Clear Scalp and Hair Beauty Therapy, recently shared with us a few beauty tips and tricks she's garnered over the years. Find out her favorite products, her go-to look, and a what fashion accessory she counts as a beauty must have when you keep reading.
POPSUGAR: What have you learned about hair care from working with Clear?
Heidi Klum: "What I thought was amazing is that no one has thought of nourishing the scalp before. Once the hair is already split, it's split. You have to cut it. But because I have colored hair, I think it's especially important to nourish hair from the scalp. Even if you don't color your hair, it's good to do that, because your hair gets stronger and shinier. You're basically feeding your scalp and therefore your hair."
PS: Do you like playing with your hairstyles?
HK: "I always like to play with my hair, with my styles, and haircut — I go from bangs to growing it out again. I usually cut it and then I want to grow it out immediately! I think hair is our accessory. It's like a great pair of shoes, like a great purse, or a bracelet. So I think you should take care of your hair and play with it and not always have it the same. You don't always want to wear the same shoes or the same handbag either, so I think it's fun to change it up."
PS: What's your go-to look when you're not working?
HK: "When I go on the red carpet or if I go to dinner, I dress up. I always try to do something special with my hair. When I'm just running around during the daytime, not so much. I'm usually wash-and-wear; I put it in a bun or ponytail."
PS: Any makeup tips for the real woman?
HK: "What I think is most hard for women is to find the right foundation. I think the BB creams really help because they're much lighter with SPF, and they have coverage. My favorite is from a European company called Astor. It enhances your beauty, but it's not necessarily completely covering you up. You don't have to go crazy and wear too much makeup. Just pick a brown or shimmery eye shadow, always a little bit of mascara, and I think an eyelash curler is key. Have a nice glossy lip, and maybe a little rosy cheek. If you have a special date night or event, then try a little bit more with a cat eye or something, but not too much."
PS: What's your favorite skin care product?
HK: "I do like Mario Badescu Buttermilk Moisturizer ($18) because I don't like a lot of perfume on the skin. It's not very complicated and fake and heavy."
PS: Is there a beauty product you always have in your handbag?
HK: "Not really so much but I have a lipstick that I like, just to have a bit of sheen on the lips so they don't look too dry. I'm low maintenance. One of my biggest beauty products are my sunglasses."