Helena Christensen Interview About Modeling For Bali and Reebok Ad
Helena Christensen's Secret to Nude-Body Confidence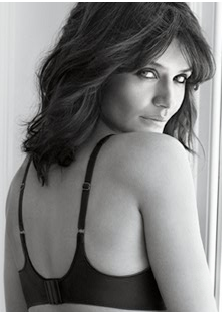 Helena Christensen is an O.S. — original supermodel. Since rising to fame in the '90s, the former Miss Denmark has been on countless magazine covers and fashion runways. (And then there's her iconic turn in Chris Isaak's Wicked Game video. Rrrowl.)
But there's more to Helena than a beautiful face: the longtime photographer recently worked with Oxfam to raise awareness about climate change, and she's currently promoting Bali lingerie's initiative to support the Breast Cancer Research Foundation. She recently opened up about modeling in the nude, her photography, and the best beauty tips she's picked up from modeling. For the full Q&A, keep reading.
When you're modeling in underwear for Bali or in the nude for Reebok, is it old hat to you, or are there any tricks to keep yourself confident for the camera?
I think it's a combination of both. I still get challenged and inspired by the jobs I do. It's definitely not about going into an office and working on the same stuff every day, so in that sense, you work with new people all the time and there are new tasks given to you. When I worked on the Reebok campaign, it was just a very inspiring way to do different kind of photos. I don't really think too much about, "OK, you're showing your body," because I'm a model and that's what you do.
I look at it from photographer's point of view, maybe because I'm a photographer myself. You know: "How can we work with this and make it new and different and interesting?" Obviously, when you're doing nude, there are moments of feeling slightly intimidated or self-conscious about it. But again, I've done this for 20 years. If I thought too much about it, I probably would not be working.
I was impressed by the photos you took in Peru. What subjects are your favorite to shoot?
A lot of nature, landscapes, children. I always like working in that element, but to me, the most important thing is the light. Dusk is my favorite time. There's a very special, almost supernatural light that happens just before it gets dark. Especially when you work with film, you get this very eerie atmosphere when there's barely any light left. The camera tries to grab every detail, but it doesn't quite get it. Anything I shoot in that light I really like because everything looks different, and in a way, magical.
You were a photographer before you were a model, correct?
Actually, yes. You're the first one who said that. I always have to tell people it's the opposite way around because they think I started working as a photographer only a few years ago, but it's actually been 22 years.
How has working with fashion and editorial photographers influenced the way you take pictures?
To be able to work on both sides of the camera is incredibly inspiring in so many ways. I feel like I've been educated in photography all the years I modeled because it was probably the best photography school ever that I could have attended. I was surrounded by icons of our time: Irving Penn, Richard Avedon, Bruce Weber, Peter Lindbergh. It's unbelievable the talented photographers I've worked with. I subconsciously gained so much knowledge about how to work with light and setups and backgrounds and how to deal with the subject you're shooting — because I was the subject. I feel very grateful that I've been working as a photographer and a model for all this time.
You have beautiful skin. What's your secret?
I always wish that I had a specific answer for that, and thank you for the compliment about my skin. I'm half Peruvian and half Danish and I feel like I inherited my mother's skin tone. People are always surprised that I'm dark-skinned in photos and in real life, but I am — I'm half Peruvian, I take the sun very easily. I protect myself [with sunscreen]. I haven't always protected myself as much as I should have. I'm a huge sun lover and I just love being outside. Now, I always make sure my face is covered, but even so, I always get tan. It just happens naturally.
What's the best beauty advice you've ever received?
Having worked in this business my whole life, I've heard a lot of little tips. But at the end of the day, if I sift through it all, I think that drinking a lot of water and sleeping really well are the two best tips. Sleeping always, always works. It just does. Your body needs to totally slow down. I need eight hours at least; if not I feel totally exhausted. Drinking a lot of water, I've never really followed that to be honest, because I'm not really ever thirsty and I have to force myself. I have to force myself to drink water all the time. I sometimes even write it on my hand — "drink water" — because I don't drink enough. So that's my best advice.
For Helena's workout routine, check out the scoop at FitSugar.