Hippie Beauty Products
Are You OK With the Term "Hippie" When It Comes to Natural Products?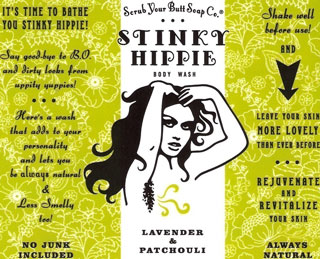 I'm a big proponent of going natural when you can, but confused by the term "hippie" when it gets thrown around to talk about ecologically conscious products. There are instances where it can be funny, like this cute Stinky Hippie Body Wash ($13.50), whose illustrated "hippie" girl with fragrant underarm is meant to be amusing. However, a lot of times when people use the term it's pejorative, and suggestive of being not as clean or as well groomed as other people. This is despite the fact that most who use natural products actually take great care with their appearances.
I think being an actual hippie in the late 1960s could have been pretty cool, but I don't know about the term now, especially when it comes to cosmetics and personal care. What do you think? Is it rude to call someone a "hippie" just because they like eco-beauty, or is it just one of those terms that's connected to the green movement and unlikely to go away?