Somebody has been good this year, which is why we've rounded up the ultimate guide to gifting the loveliest finds out there. From designer fragrances to must-have nail polish sets and sparkling hair accessories, you can make her holiday the most beautiful time of the year. Behold 100 beauty gift ideas, each under $100.
Source: Shutterstock [1]
Fashionable Find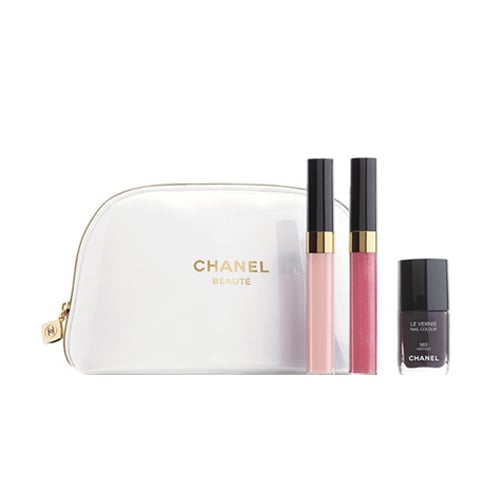 Gift the label snob this chic white cosmetics case with Chanel goodies inside. The Chanel Essential Trio For Lips and Nails [2] ($88) features two pink glosses and Chanel's latest manicure must have, Vertigo.
Pony Express
If she's always tying her hair up, then she'll love the Jennifer Behr Thin Leather Ponywrap [3] ($65), which is like the stylish evolution of a scrunchie. Available in cognac, black, or dusted gold.
Lip Service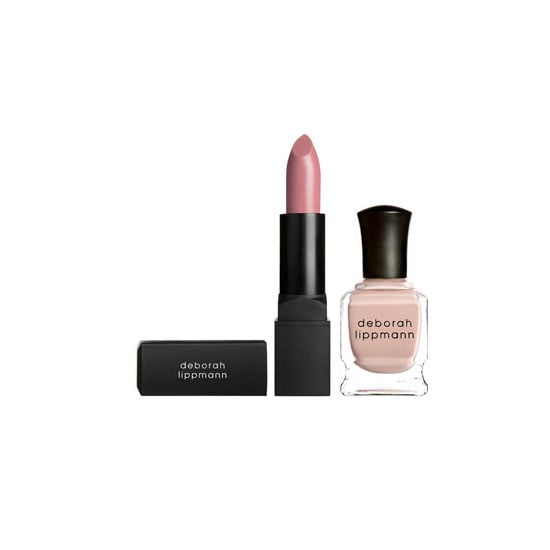 Leave it to Deborah Lippmann to make sure you're matchy-matchy. Her My Touch My Kiss Lipstick and Polish Set [4] ($38), which contains a sheer, nude-mauve lip hue and a sheer beige polish, is perfect for everyday wear.
Roll With It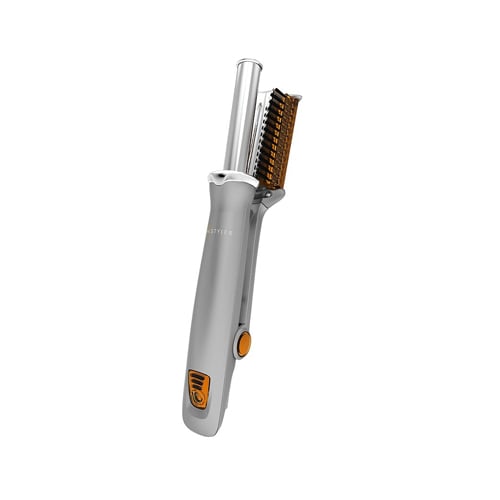 Pick up the InStyler Rotating Iron [5] ($100, originally $140) for the girl who's always changing her style. This do-all iron curls, straightens, and adds volume instantly.
Buff It Out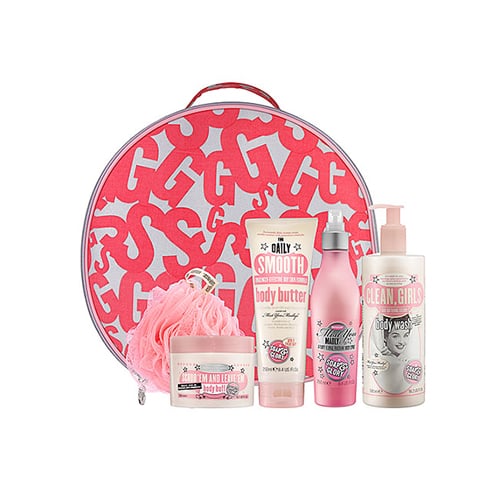 Soap & Glory has created the ultimate pampering kit with its Smooth Over Darling body care set [6] ($65, originally $85) — ideal for any woman who's looking to smooth things over.
Festive Remover
Make her at-home manicures more festive with the Butter London Seasonal Remover Trio [7] ($19). With scents like Pumpkin Warrior and Sergeant Peppermint, she won't mind swiping away her lastest polish.
Star Light, Star Bright
For your friend wishing on a star for a body wash set that does it all, gift her Molton Brown Women's Orion Body Wash Set [8] ($50).
Bless This Nest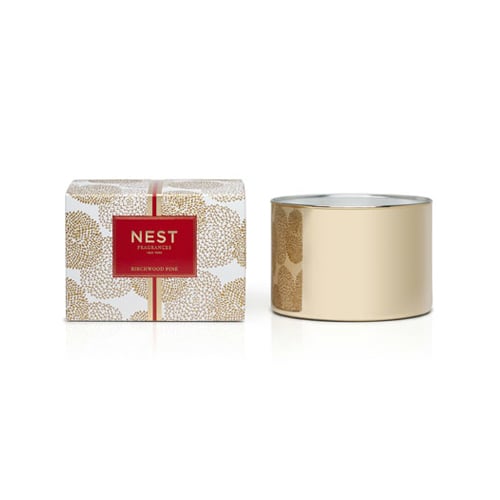 For the candle enthusiast in your life, pick up Nest's Birchwood Pine Three-Wick Candle [9] ($42). The woody scent is holiday-worthy but will smell just as nice no matter the season.
Color Theory
Expand her lacquer collection with the StrangeBeautiful Volume 10 — Super Chroma set [10] ($85). The colors look wonderful on their own or incorporated into nail art designs.
Manicure in a Snap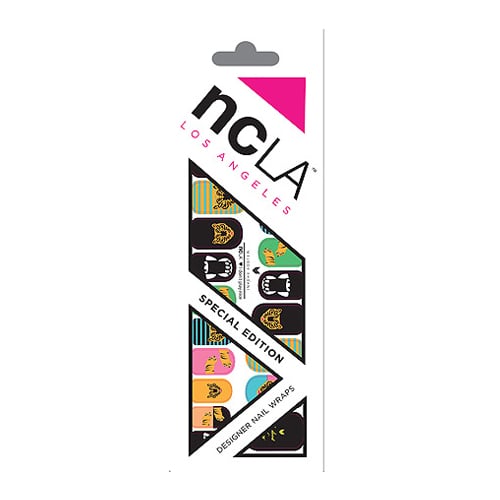 Your manicure maniac friend will have so much fun playing with NCLA's I Don't Play Nice Nail Wraps [11] ($16).
Natural Chick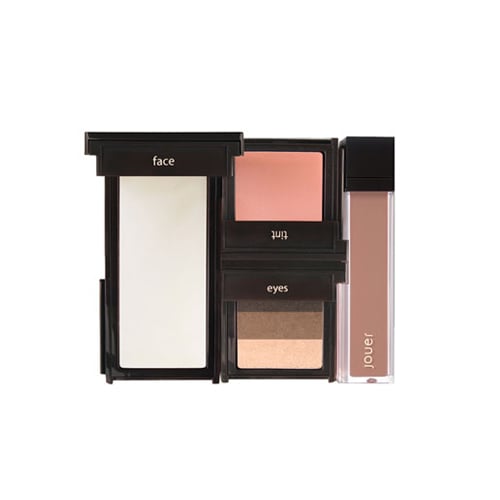 If she's all about natural-looking makeup, then she'll appreciate the Jouer Bare Beauty Collection [12] ($58), which features the brand's top neutrals for creating an always-flattering look.
Guilty Pleasure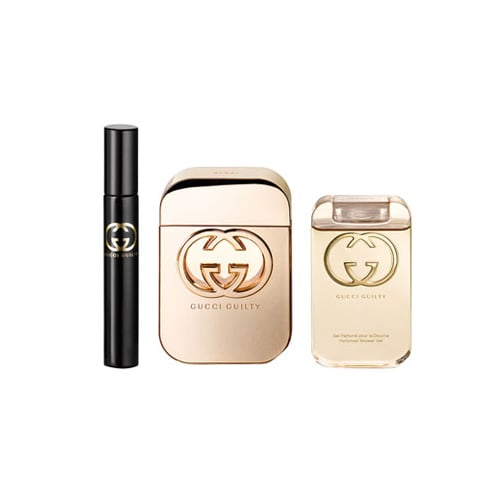 Make her smell irresistible wherever she goes with the Gucci Guilty Deluxe Gift Set [13] ($98). The floriental set includes a full-size version of the eau de toilette, a portable version, and shower gel.
Cocktail, Please
Is there a party girl in your life? She'll love this Bobbi Brown Bellini Lip and Eye Palette [14] ($75). Cheers!
What's Your Sign?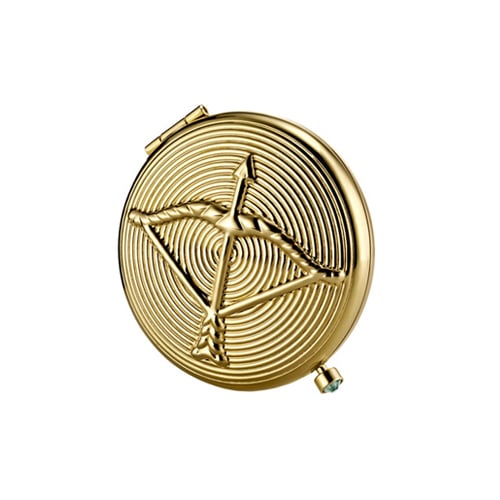 And a personal touch with the Estée Lauder Zodiac Powder Compact [15] ($70). The stunning gold compact comes in all the zodiac signs for a gorgeously meaningful present. Plus, the refillable Lucidity Translucent Pressed Powder will keep her looking her best wherever she goes.
True Artistry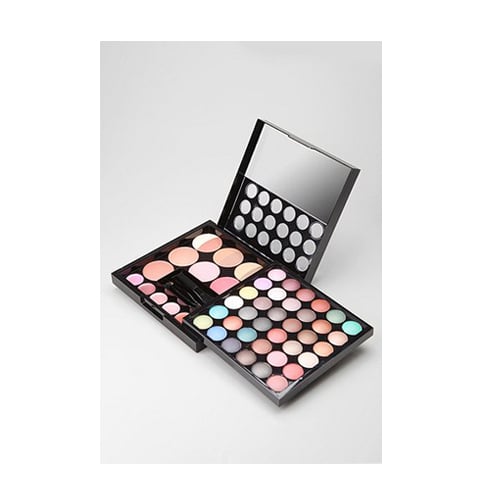 Eye shadow abounds in this NYX Makeup Artist Palette [16] ($30), great for the girl who likes to go wild with her eye makeup looks.
Bring on the Bronze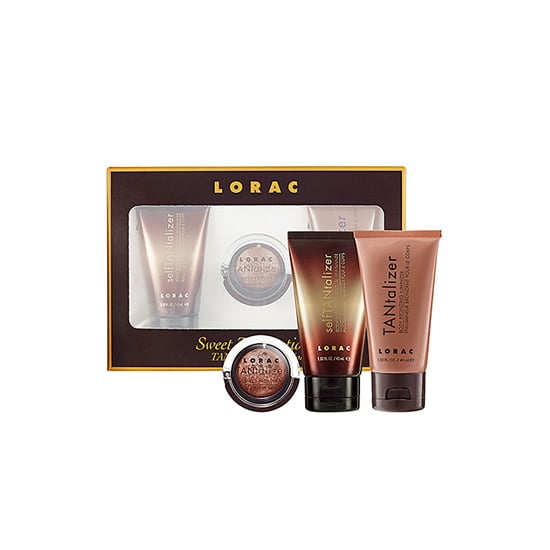 Just because it's the holiday season doesn't mean you don't need a little glow. Lorac's Sweet Temptations TANtalizer Collection [17] ($25, originally $30) provides a wonderful way to keep that subtle bronze up all year long.
Crowning Glory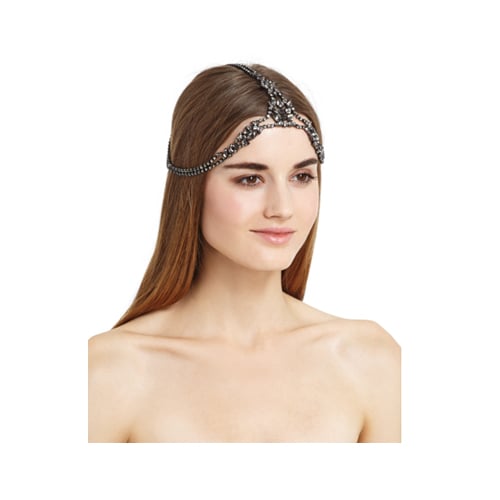 The fashionably adventurous one on your list will love the statement-making BCBG Max Azria Chain Headband [18] ($68).
Pucker Up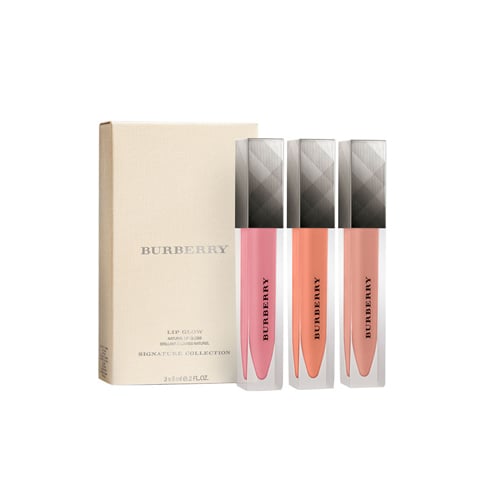 Add to her lip gloss collection with the Burberry Lip Glow Natural Lip Gloss Set [19] ($65). The trio includes three flattering shades that she can wear alone or on top of her favorite lipstick.
Scent-sational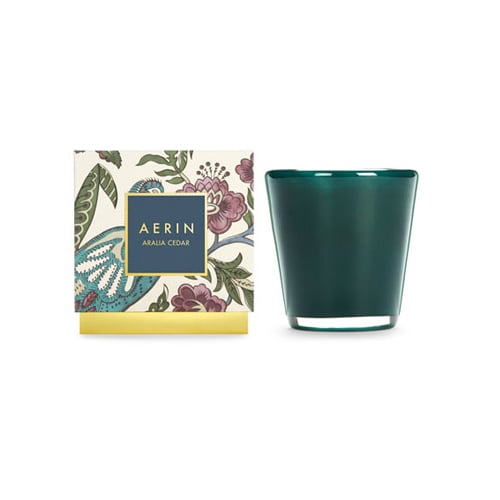 Give the gift of good scent — and ambiance — with Aerin Candle in Aralia Cedar [20] ($58).
Bag It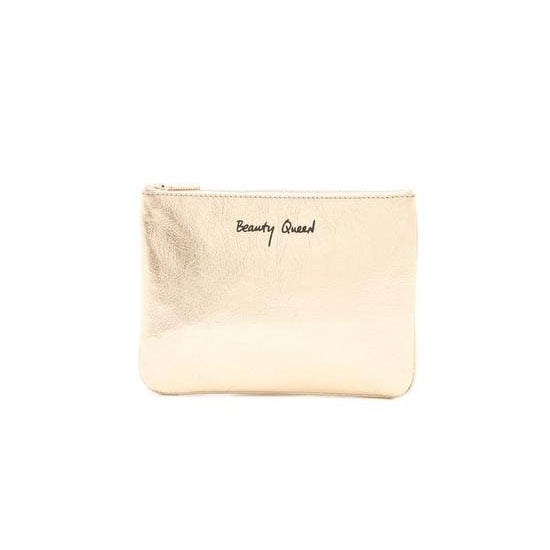 This Rebecca Minkoff Beauty Queen Cosmetic Pouch [21] ($75) is a fun way for her to travel with all her makeup necessities in tow.
Helping Hand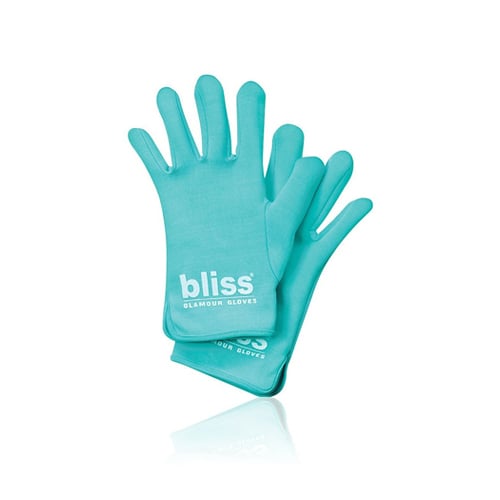 Gift her some pampering with these Bliss Glamour Gloves [22] ($48). Dry, cracked palms will be history.
Bluebells and Sleigh Bells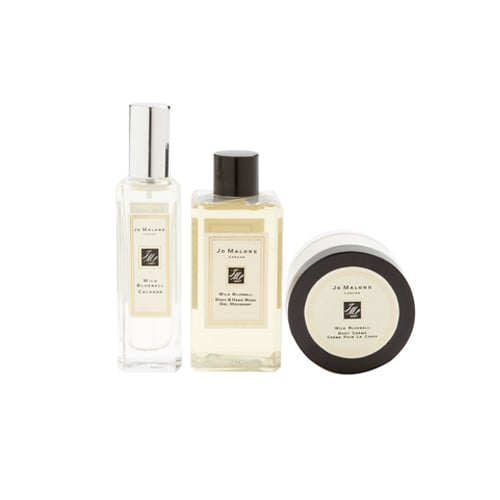 With notes of bluebell, persimmon, and lemon, Jo Malone's Wild Bluebell Set [23] ($95) is perfect for that woman who loves a sweet, mesmerizing scent.
Fully Stacked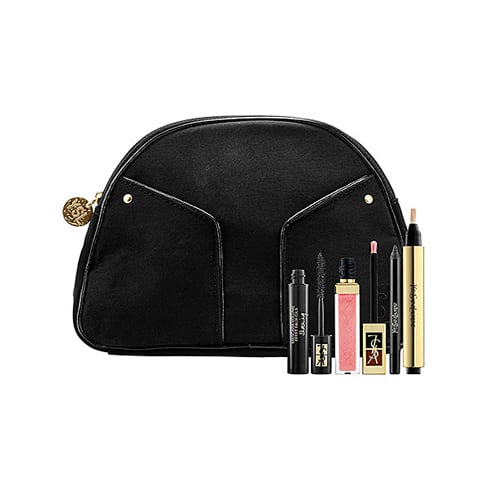 Is there a better holiday gift than beauty? YSL's Holiday Set [24] ($65) is the perfect way to spoil someone just a little.
Looks like this set is no longer available. Check out YSL's other holiday gifts [25] for similar options.
Festive Scent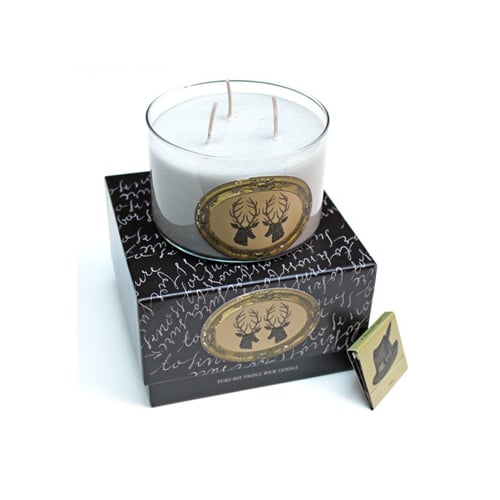 Bring the ideal hostess gift with Soap and Paper Factory's large three-wick candle in "Stag" [26] ($62). It's a merry blend of invigorating notes like fir, raspberry, and citrus.
Scent-acular Stowaways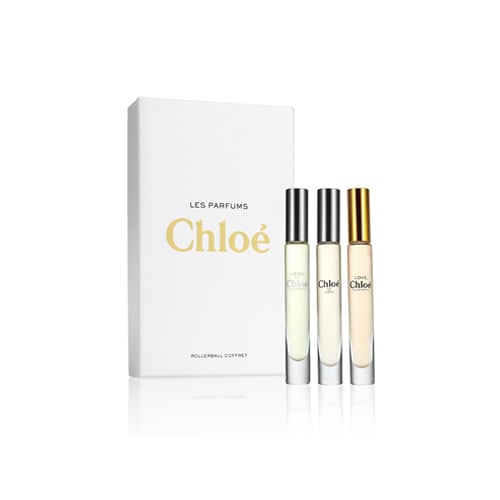 The Chloé Rollerball Trio [27] ($55) features three of the brand's iconic scents. Best of all, they're easily stashed in a purse for discreet touch-ups.
Bright and Beautiful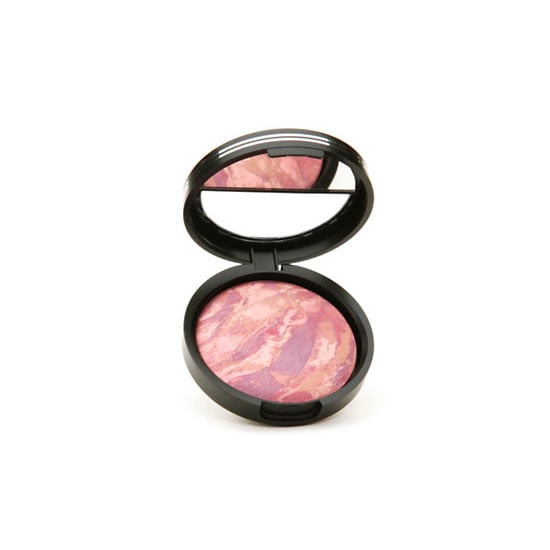 Brighten her day, and her complexion, with Laura Geller's Blush-N-Brighten Compact [28] ($31).
Love Your Body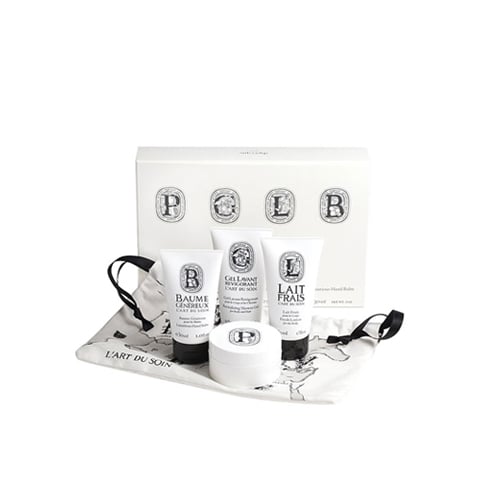 Help her pamper herself with the ultraluxurious Diptyque The Art of Body Care Set [29] ($50).
Blow 'Em Away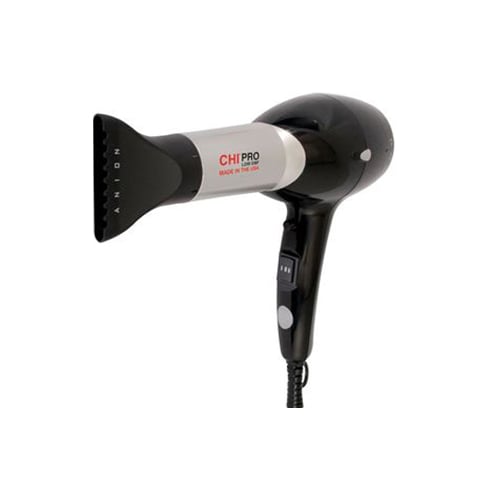 A top-of-the line blow dryer like the Chi Pro Hair Dryer [30] ($100, originally $150) is one of the best gifts a girl can receive.
That's a Wrap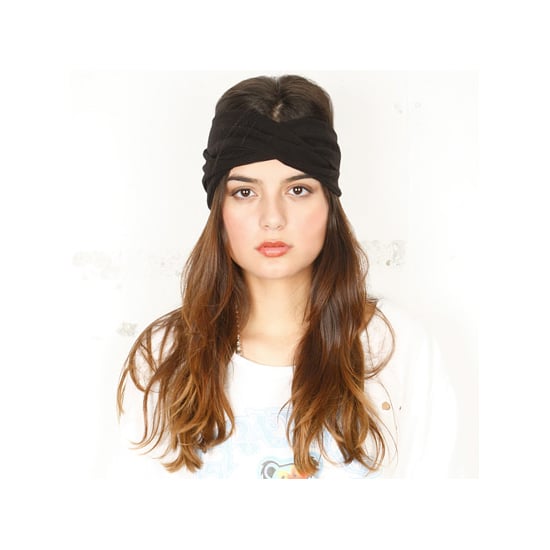 The Gold Saturn Solid Turband in Black [31] ($40) is a hair accessory classic. And she'll be surprised by how easy it is to wear, as well as how much it instantly elevates any ensemble.
Bestsellers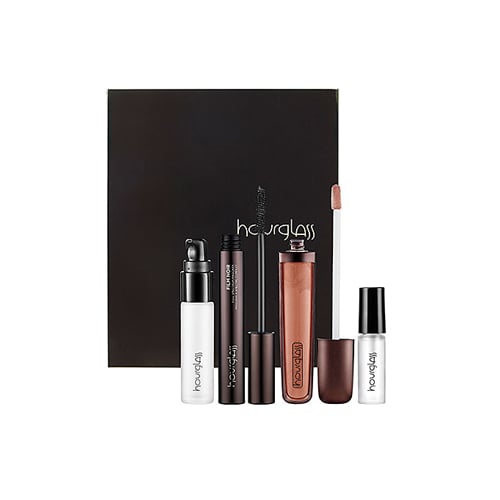 Hourglass has made its mark in the beauty industry with its innovative formulas and sleek packaging. Introduce her to the brand with the Best of Hourglass Set [32] ($59, originally $85), featuring the cult-classic primer, serum, mascara, and lip gloss.
Cream of the Crop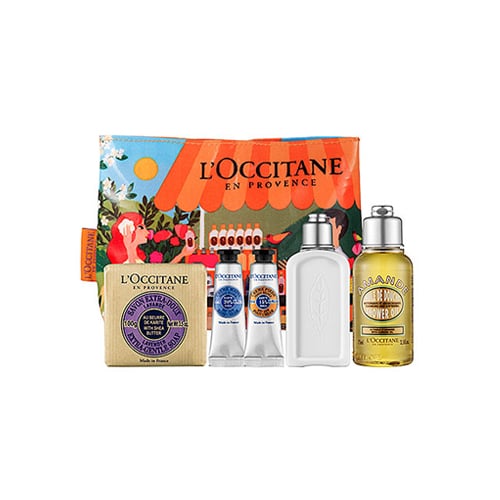 For the woman who wants the best of everything, pick up The Best of L'Occitane Discovery Set [33] ($32), a collection of the brand's top-selling products.
Spa Time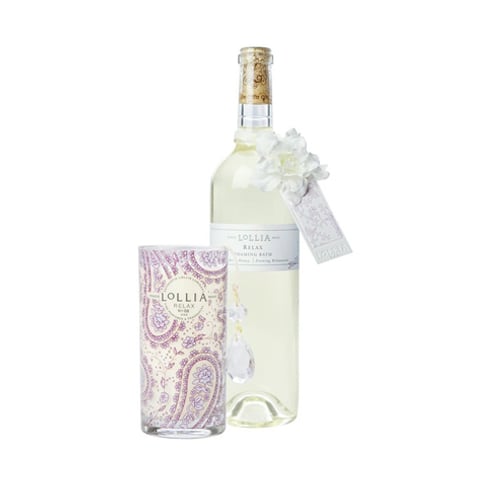 Make sure she makes some "me" time postholidays with the Lollia Relax Evening Bubble Bath & Petite Luminary set [34] ($68). The soothing blend of lavender, honey, and amber will transform her bathroom into a spa with the scented bubble bath and candle.
Green With Envy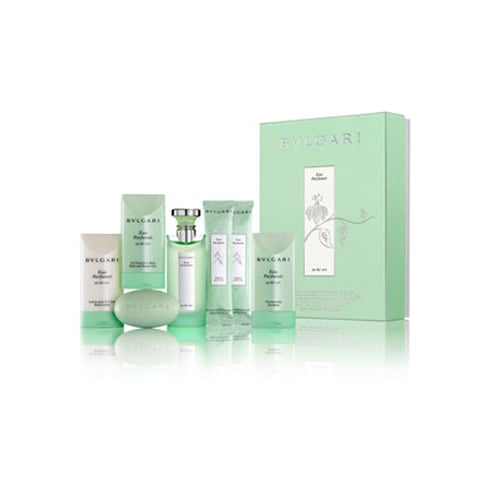 A scent-ual experience awaits the receiver of this Bvlgari au the vert Weekend Set [35] ($88), which includes a variety of luxe body products.
Go For Gold
Notes of bergamot, pear sorbet, and lemon make Versace's Yellow Diamond Gift Set [36] ($94) the ultimate luxury gift with a relatively reasonable price tag.
Factory Girl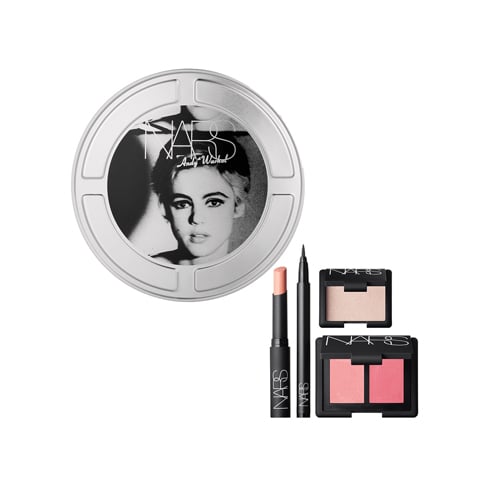 Nars recently released an Andy Warhol collaboration last month, and the Edie Gift Set [37] ($75) is the perfect present for the girl looking to emulate Edie herself.
Lash Out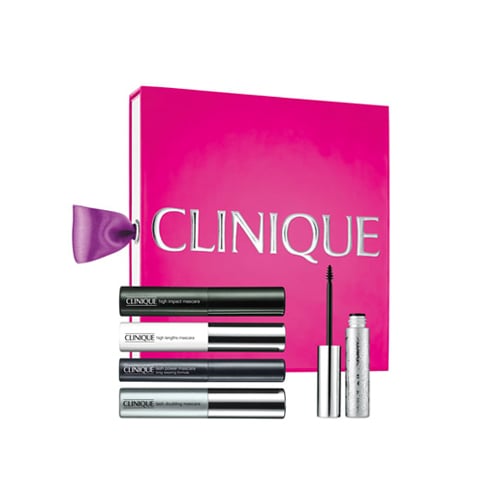 If she has amazing lashes, then she'll appreciate the Clinique Limited-Edition Mascara Wardrobe Set [38] ($30). The set comes with five different mascaras, so she can define, lengthen, and build volume from top to bottom.
There's No Place Like Home . . .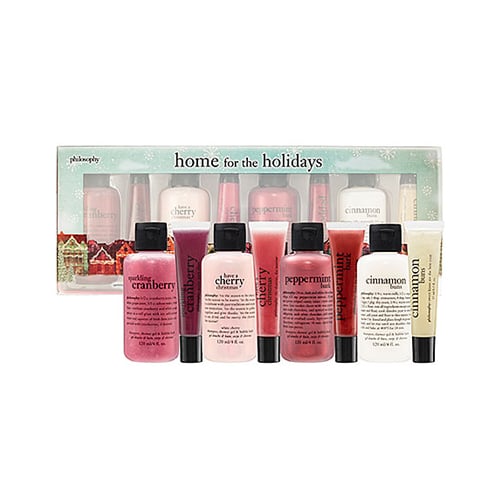 Let your beauty routine take on some holiday cheer with Philosophy's Home for the Holidays Set [39] ($38, originally $72).
Delectable Scents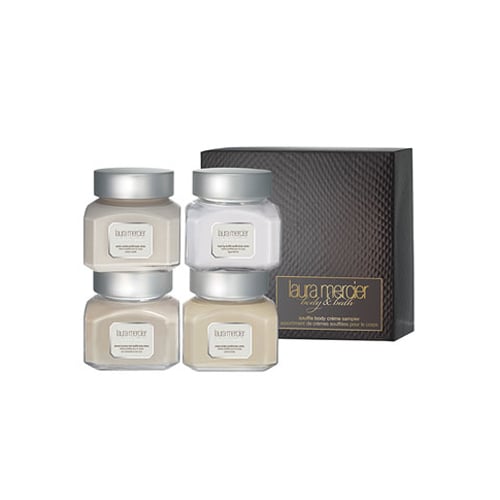 Pamper her from the neck down with the Laura Mercier Soufflé Body Creme Sampler [40] ($60). It comes with four delectable scents: Ambre Vanille, Almond Coconut Milk, Crème Brulée, and Fresh Fig.
We All Scream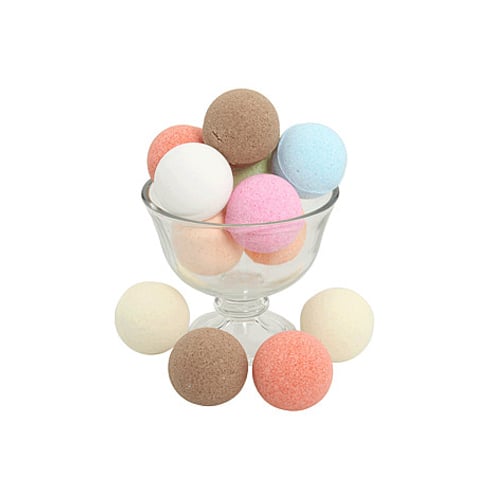 Your friend with the sweet tooth will feel blissed out with this Me! Bath Mini Bath Ice Cream Set [41] ($32). Six oils, purifying minerals, and Epsom salts make these bombs as pampering as they are sweet.
New York, New York
Give someone a trip to New York for a fraction of the cost with Bond No. 9's New York High Line gold-tone pocket spray [42] ($95).
Curl Up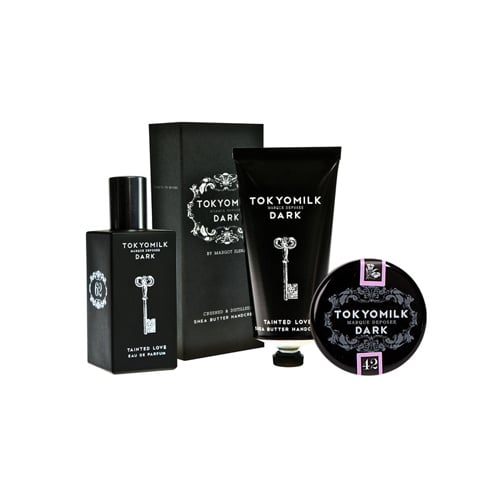 The cozy scent featured in the Tokyo Milk Tainted Love Collection [43] ($65) is a warm blend of vanilla bean, orchid, white tea, and sandalwood. And the gift comes with an eau de parfum, hand cream, and lip elixir.
Earn Her Stripes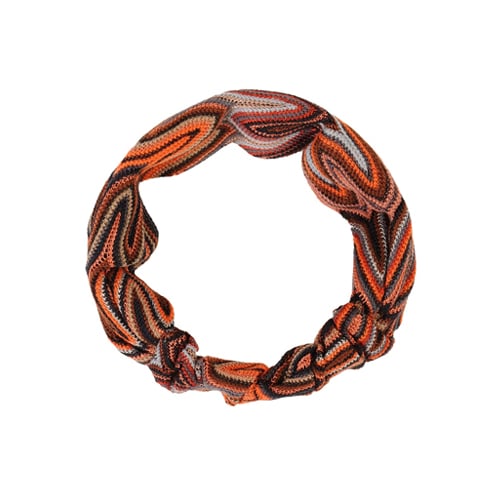 The signature stripes of this Missoni hair band [44] ($98) will make any fashion fanatic on your list swoon.
Gel Guru
The Sally Hansen Salon Pro Gel Kit [45] ($65) gives her everything she needs to create a high-shine, long-lasting gel manicure at home.
Take a Bite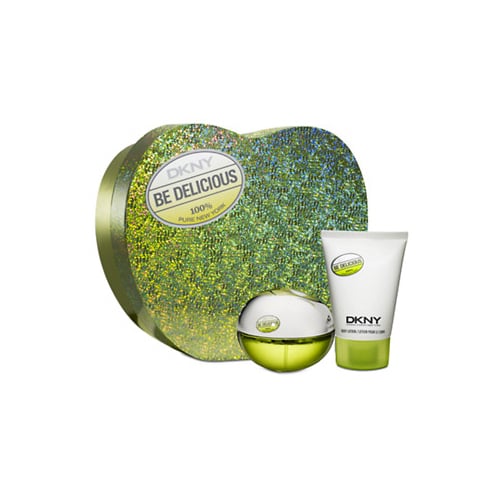 DKNY's Be Delicious, Be Delightful Holiday Set [46] ($65) is ideal for that woman who loves a fresh, fruity scent.
Miniature Miracle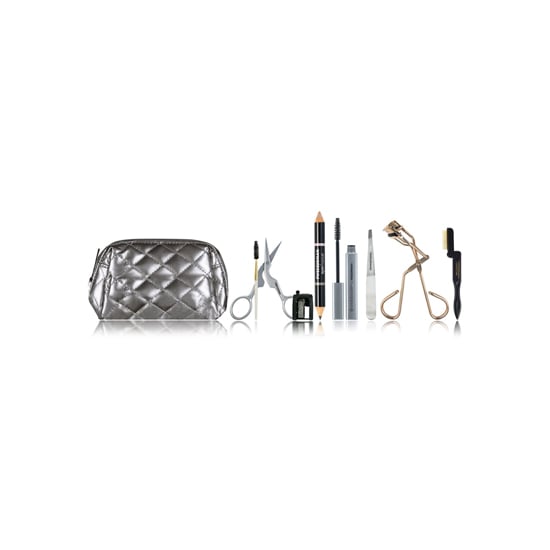 Everything you could ever need to keep your brows and lashes in tip-top shape is tucked away inside this Tweezerman Brow and Lash Beauty Box [47] ($85).
The Essentials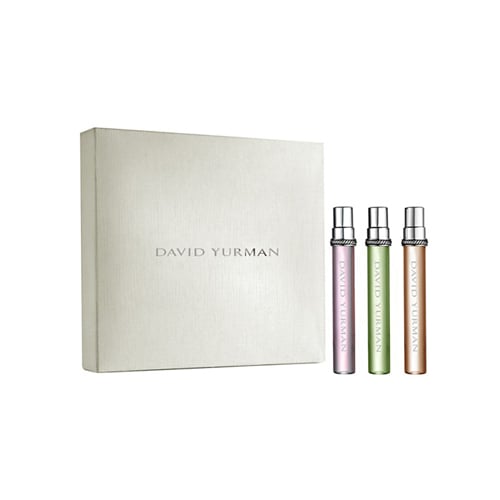 Mix and match the scents in David Yurman's Essence Collection [48] ($60), or wear them separately, for a gift your nose will love.
Pack It Up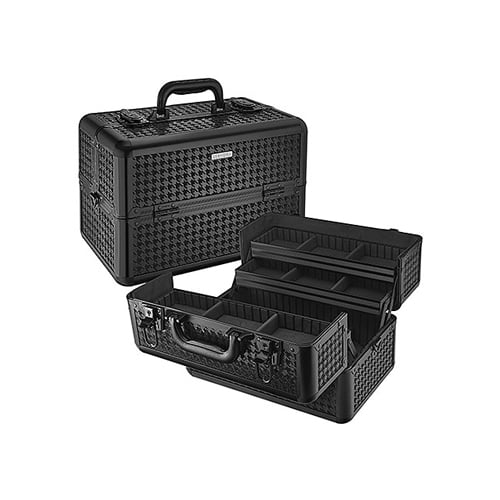 Your fabulous friend who has loads of makeup needs this Sephora Collection Mini Embossed Train Case [49] ($55, originally $110) to organize it all.
Little Black Box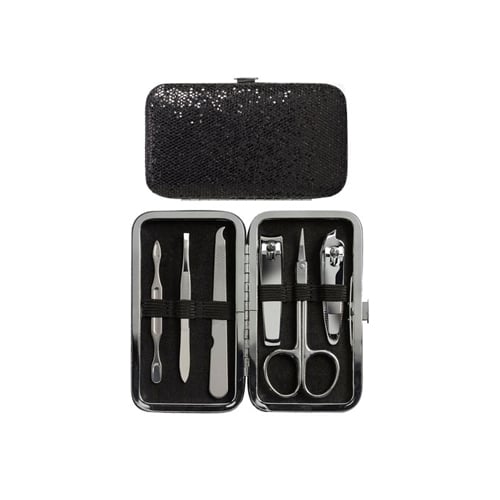 That nail art addict in your life will love this Nordstrom's Black Mini Manicure Set [50] ($13) to keep her fingers in tip-top shape.
Looks like this kit has sold out. For a similar option, try Beauty Secrets Five-Piece Animal Print Manicure Set [51] ($8).
A Little Whimsy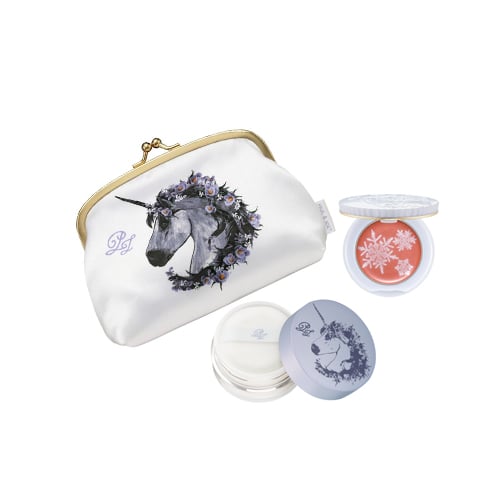 All things should be rainbows and unicorns, which is why your romantic friend will love the Paul & Joe Holiday 2012 Makeup Collection [52] ($65).
Mediterranean Muse
The Dolce & Gabbana Pour Femme Holiday Set [53] ($100) comes with everything she needs — an eau de parfum, body creme, and rollerball — to wear this scent wherever and whenever. The notes featured include a lush, Mediterranean blend of neroli, orange blossom, and vanilla.
Very Vidal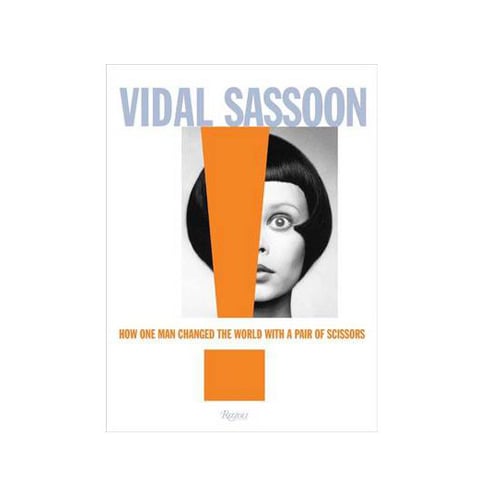 Give your beauty bookworm friend a copy of Vidal Sassoon: How One Man Changed the World With a Pair of Scissors [54] ($32, originally $50).
The Eyes Have It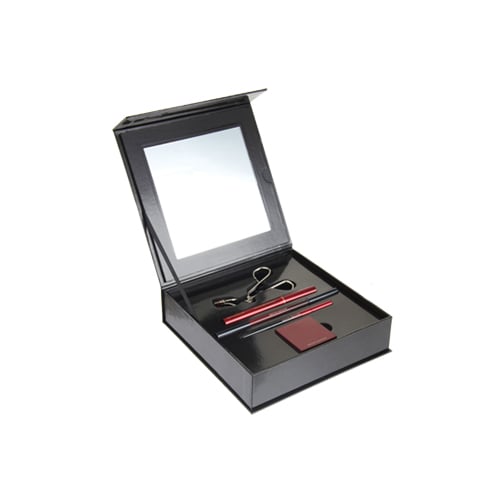 Know that person who always wants the best of everything? Give them Kevyn Aucoin's The Best of Kit [55] ($92), which includes a shadow, a mascara, and an eyelash curler.
S'il Vous Plait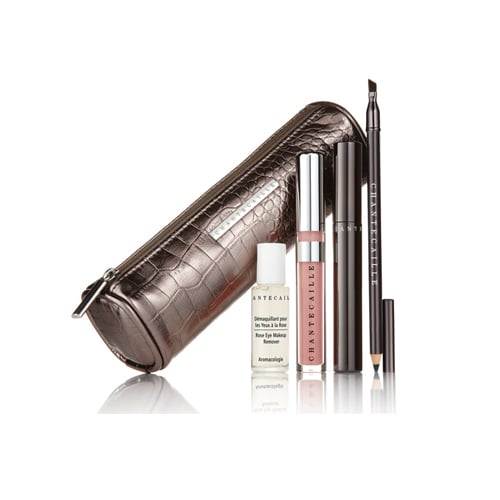 Stocked with mascara, liner pencil, lip gloss, and eye makeup remover, Chantecaille's Le Must Have Set [56] ($98) is your go-to for all your makeup touch-up needs.
Sparkle and Shine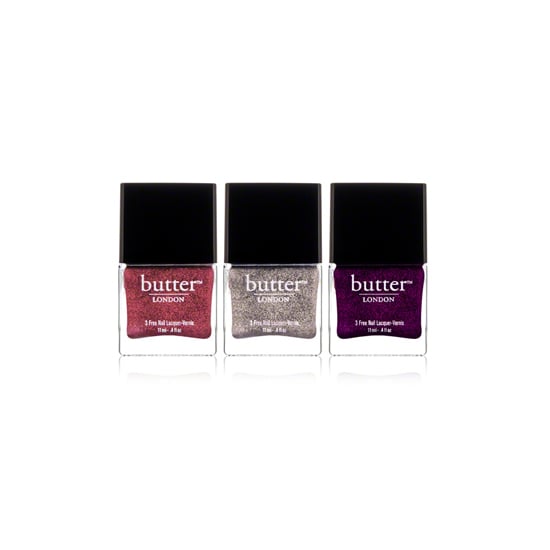 Add a little sparkle to her stocking with Butter London's Sparkle, Sparkle Holiday Laquer Collection [57] ($25).
Not So Coal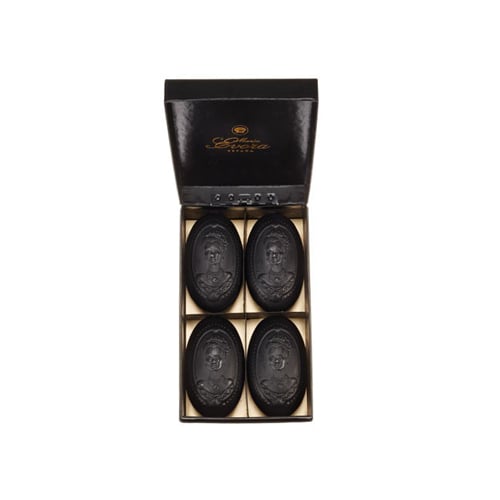 Has someone on your list been a little naughty? Then she deserves the Maria Evora Carob Mineral Four-Bar Gift Set [58] ($35), which features four black soaps made from not-so-bad sea minerals and salts.
La Vita Bella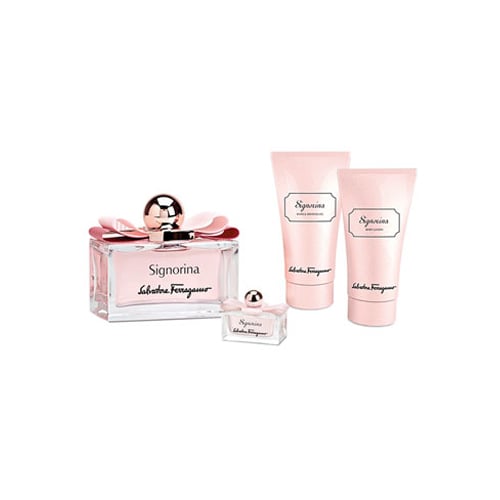 If your friend is looking for an Italian getaway but your budget is a little tight, then give her Salvatore Ferragamo's Signorina Gift Set [59] ($98).
Oh-So Fresh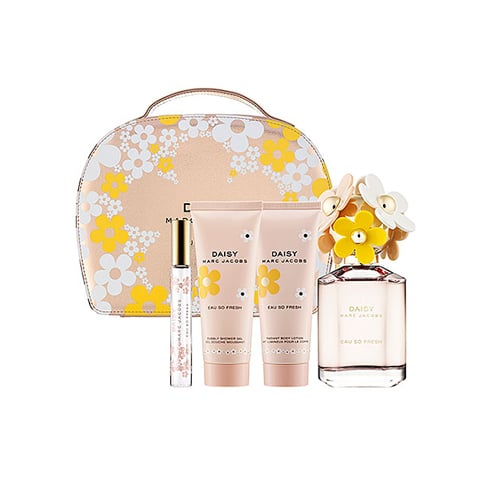 Marc Jacobs is the king of girlie scents, so why not present the ultrafeminine friend in your life with the designer's Daisy Eau So Fresh Set [60] ($95, originally $156)? She's sure to love the fresh, floral scent.
Iconic Treats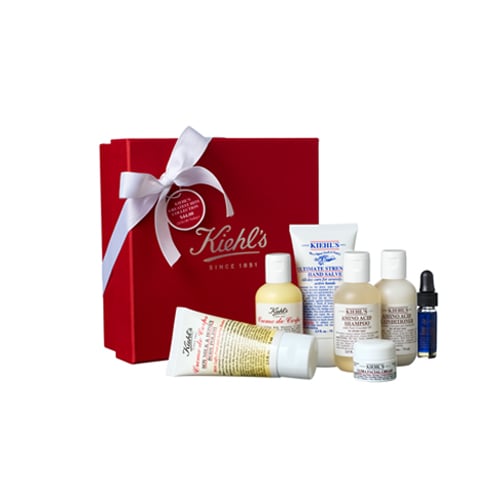 Kiehl's has been conjuring up beauty formulas for over a 160 years, and that has included quite a few top-selling wonders. Treat anyone on your list to the Kiehl's Since 1851 Greatest Hits Collection [61] ($44) for a sure win.
Forbidden Fruit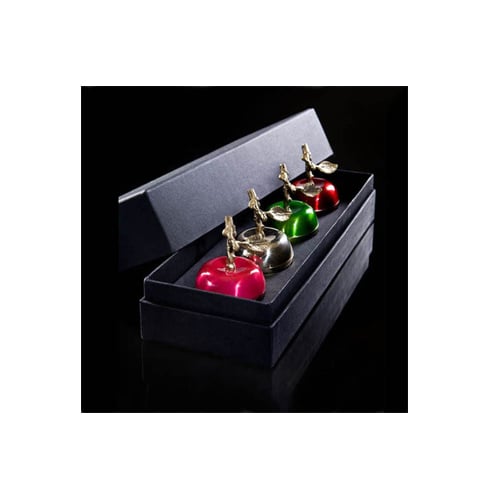 From the decadent black packaging to the stunning enamel apple candles inside, D.L. & Co.'s Boite de Pommes set [62] ($85) is the ultimate hostess gift.
Milk and Cookies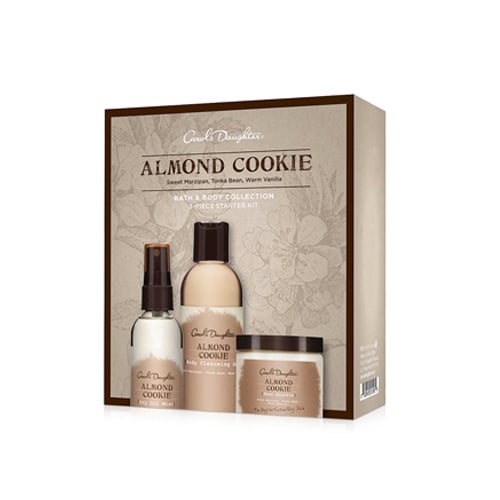 Indulge in some holiday sweets with the Carol's Daughter Almond Cookie gift set [63] ($30).
Light as Air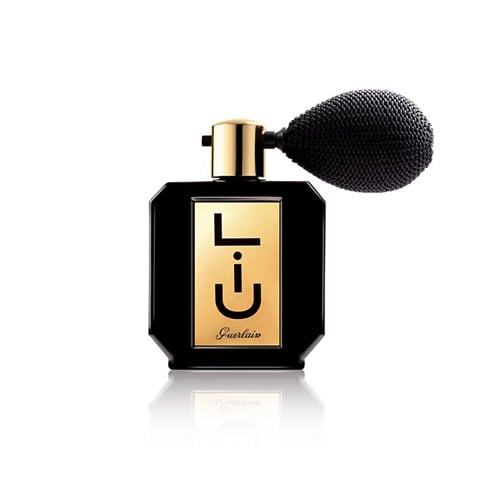 For the woman who wants a sexy twist on fragrances, pick up Guerlain's LIU Powder Spray [64] ($88). A sparkly powder leaves behind notes of vanilla, iris, and roses.
So Clutch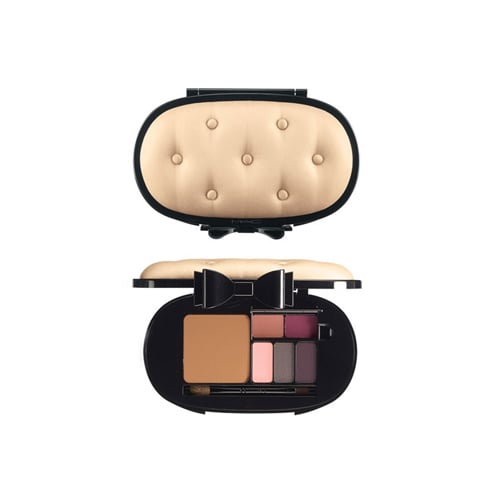 The MAC All For Glamour Gorgeous Bronze Face Kit [65] ($50) gives her everything she needs to look absolutely luminous — bronzer, eye shadows, and lip colors — all packaged in a reusable clutch.
Blissed Out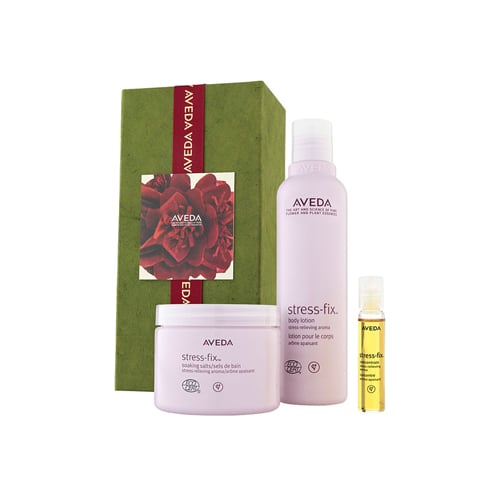 Mom needs some serious pampering this holiday season, so present her the Aveda De-Stress Gift Set [66] ($66) for some postholiday bliss.
Purse-Friendly
The Jimmy Choo Purse Spray Eau de Parfum Gift Set [67] ($68) gives her three bottles of the brand's iconic scent. That way, she can drop one of each in three of her favorite bags.
Take a Bow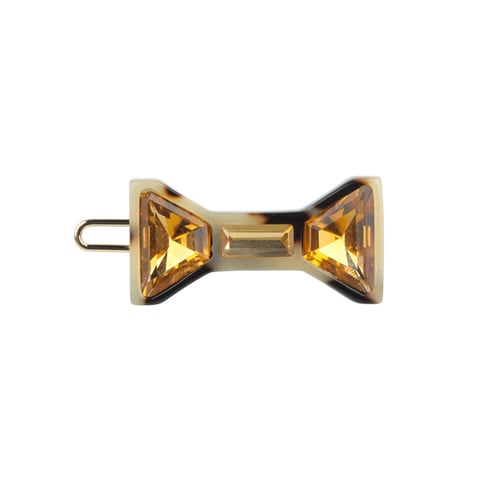 Add a little sparkle to her hair accessory collection with the Marc by Marc Jacobs Bow Hairclip [68] ($47, originally $58).
Art Deco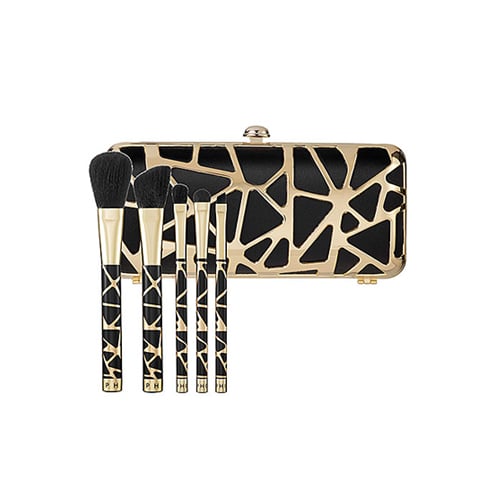 The Sephora Deco Daze Clutch Brush Set [69] ($58) is one of the best clutch and makeup brush sets we've seen, from the decorative detailing on the brush handles to the fashionable clutch that she'll really want to be seen out and about with.
Looks like this kit has sold out. For a similar option, try the brand's Bow Clutch Brush Set [70] ($36, originally $115).
Modern-Day Princess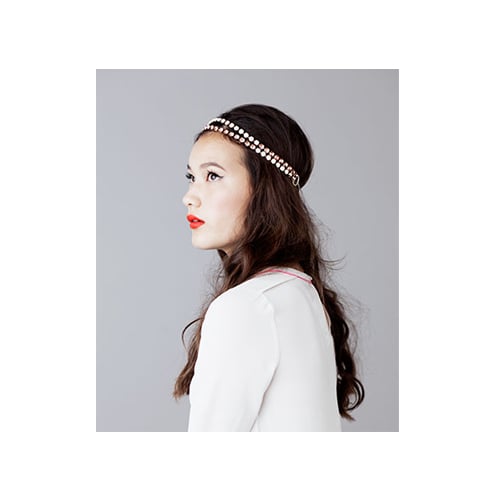 Dress up her hair with the Ban.do Double Trouble Headwrap [71] ($65)! The sparkling headband is like a modern girl's tiara.
Mineral Bath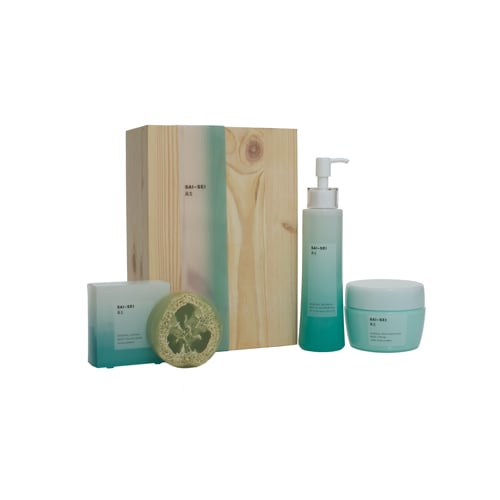 Turn your bathroom into a spa with the Sai Sei Essential Mineral Kit [72] ($65), an exclusive kit that will relax even the most stressed-out girl.
For the Little Monster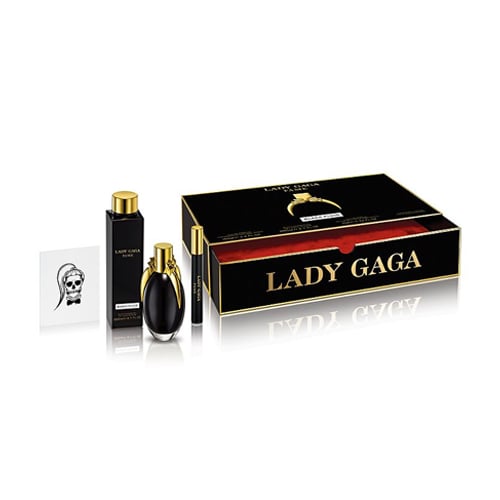 Any Little Monster on your list will go gaga over the Lady Gaga Fame Gift Set [73] ($64). It comes packaged in a dramatic gift box that slides open to reveal the first-ever black eau de parfum, a shower gel, a rollerball, and a temporary tattoo.
Pretty Prep
She'll be ready for her closeup with Elle Cosmetics' Face Primer [74] ($30).
Superhandy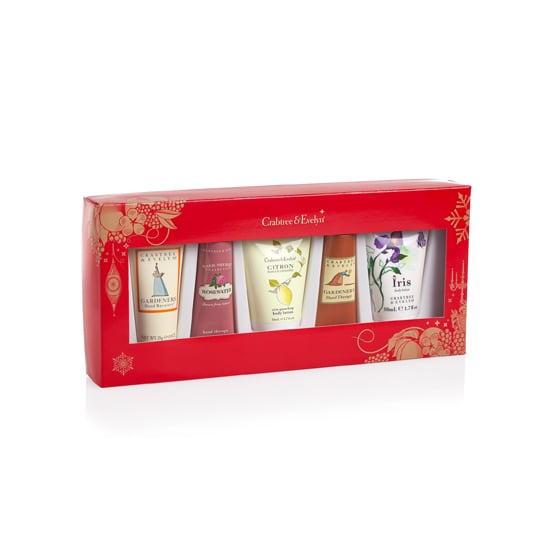 Tired hands need a serious break. Help her pamper herself with Crabtree & Evelyn's Fab Five Sampler [75] ($28).
Pretty in Pink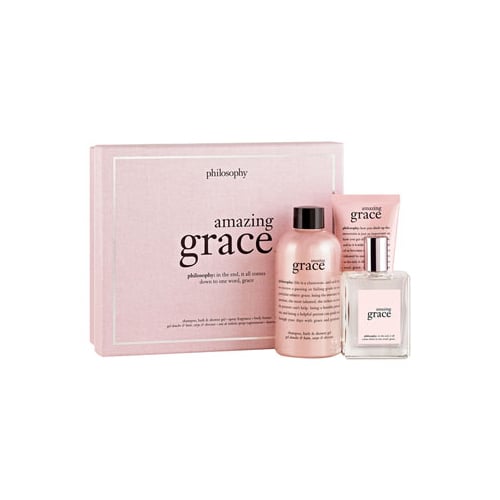 Philosophy's most popular scent gets the VIP treatment in this Amazing Grace Fragrance Layering Set [76] ($50, originally $80).
Calorie-Free Chocolates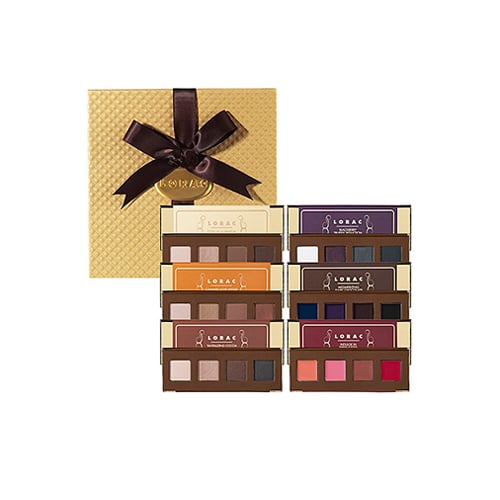 Give her some decadence sans the guilt with the Lorac Eye Candy Full Face Collection [77] ($59, originally $360). It comes with four eye shadow palettes, one cream liner palette, and one lip and cheek tint palette.
Bring on the Brushes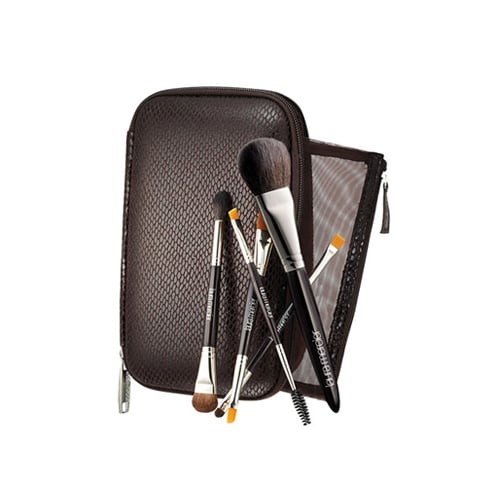 Laura Mercier's Deluxe Travel Brush Collection [78] ($95) features professional brushes that will make a good replacement to her (and your) tired, old tools.
In the Buff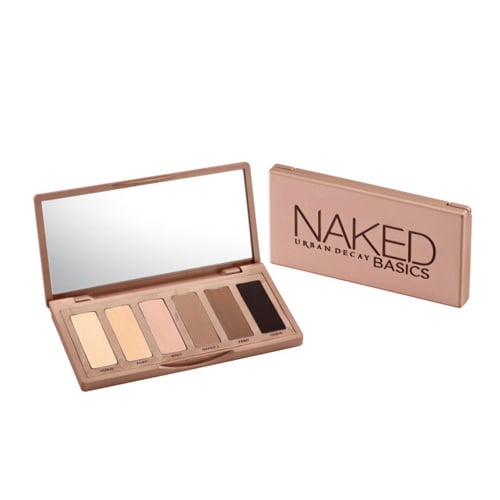 Urban Decay has released a sister palette to its Naked and Naked2 shadows called Naked Basics [79] ($27). Full of matte shades, it's great for the girl who plays with dramatic eye looks.
Power Trip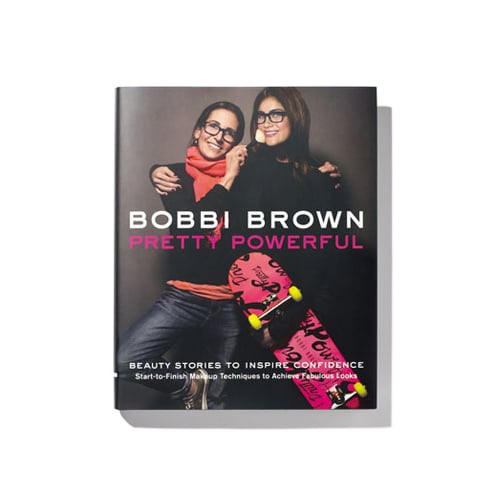 One of the more beautiful books you could gift, Pretty Powerful by Bobbi Brown [80] ($30) offers real-life beauty advice and loads of inspiration.
Vanity Must Have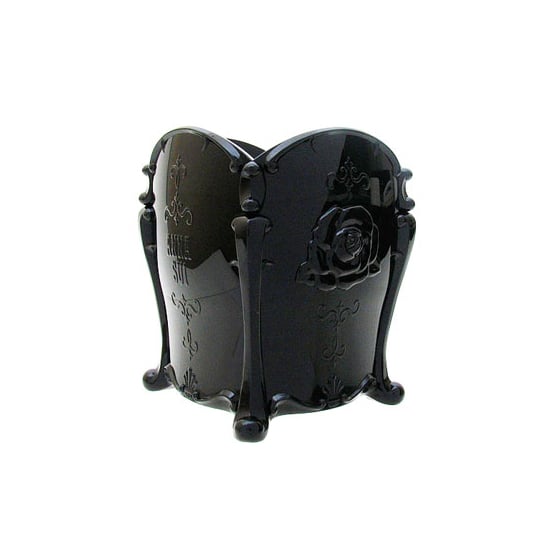 Help class up her at-home makeup station with the Anna Sui Brush Stand [81] ($25).
Three-For-One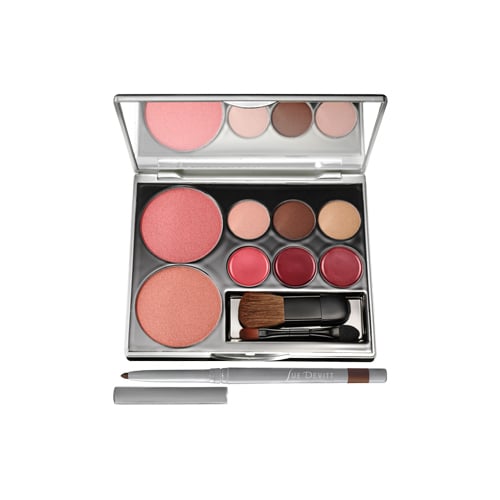 For the girl who needs it all, pick up Sue Devitt's Limited-Edition Eye, Lip, and Cheek Palette [82] ($55). It contains blush, lip gloss, eye shadow, and eye liner, all in an assemblage of complexion-enhancing hues.
Sparkle and Shine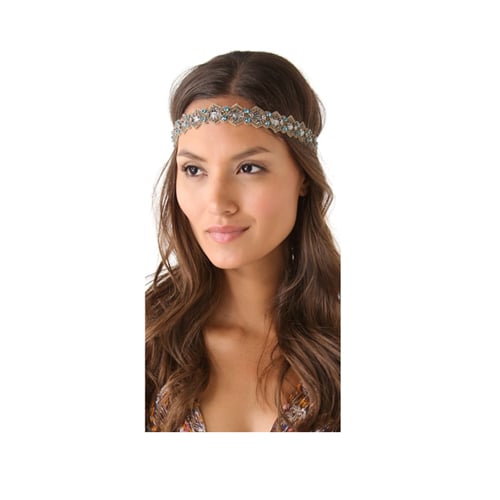 Dress up her hairstyle with Deepa Gurnani's Edwardian Crystal Headband [83] ($58).
Rosy Glow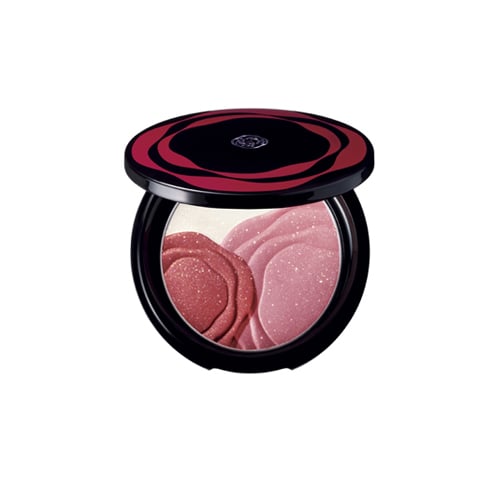 Designed to celebrate the brand's 140th anniversary, the limited-edition Shiseido Camellia Compact [84] ($36) is as pretty on as it looks in the packaging.
Looks like this product has sold out. For a similar option, try the Lancome Desert Rose Blush [85] ($40).
French Chic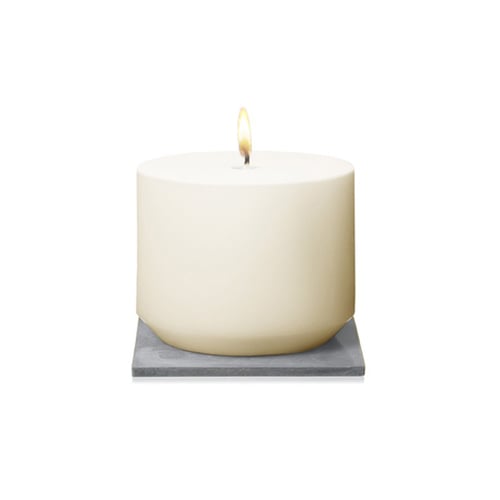 The minimalistic Maison Francis Kurkdjian Paris Perfumed Candle in Pour le Soir [86] ($65) looks visually stunning, but the comforting scents of rose honey, ylang ylang, and sandalwood are the first things she'll notice.
Hair Jewelry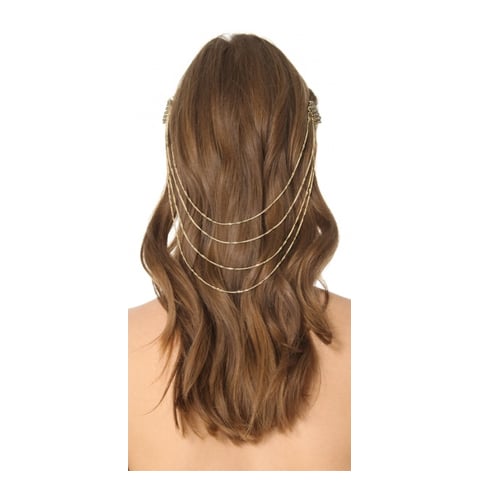 The Belle Noel Vintage Glamour Hair Piece [87] ($55) is the perfect way to add a little flair to her hair.
Fresh and Clean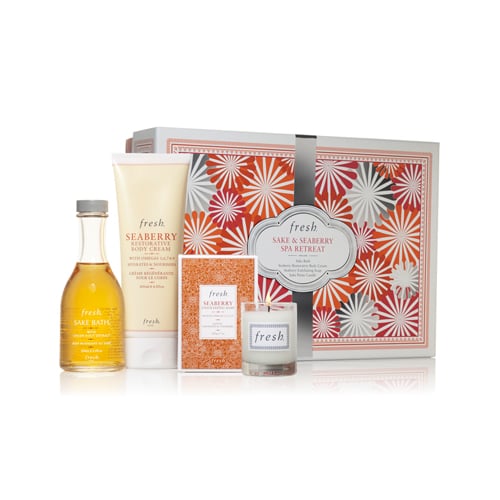 Give your best friend a day at a spa without her ever having to leave her bathroom with this Fresh Sake and Seaberry Spa Retreat Set [88] ($75, originally $103).
Perfect Minis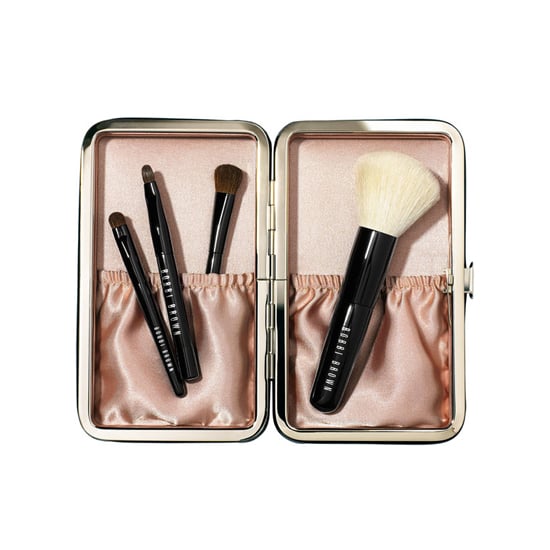 The traveling beauty will love the Bobbi Brown Caviar & Oyster Collection Mini Brush Set [89] ($65), which features four essentials to help create everyday looks on the go.
Sweet Skulls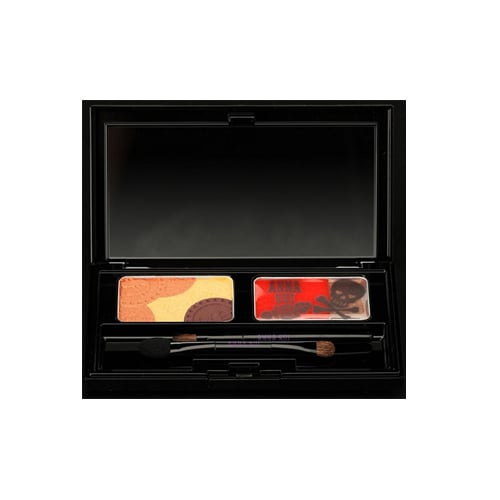 Two lip colors and two eye shadows? This Anna Sui Eye and Lip Color Palette [90] ($45) is also perfect for the girl on the go.
Eau So Lovely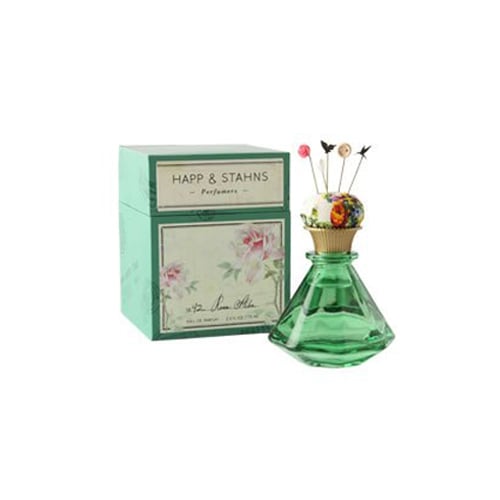 Dress up her vanity with the charmingly packaged Happ & Stahns 1842 Rosa Alba Eau de Parfum [91] ($68). It features a feminine blend of rose notes that are just as pretty as the bottle.
Roses Are . . .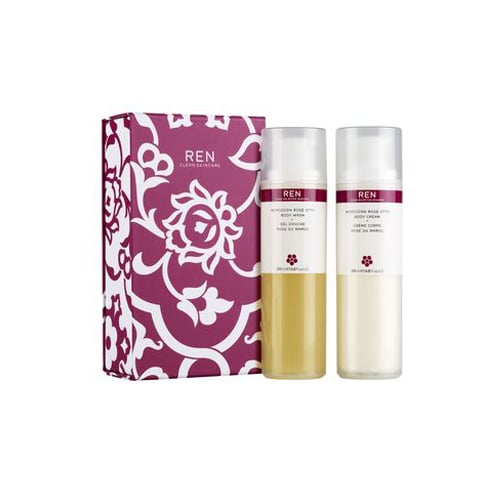 The Ren Rose Duo Gift Set [92] ($60) includes the award-winning Moroccan Rose Otto Body Wash and its lotion counterpart. She'll smell oh-so lovely.
Sleeping Beauty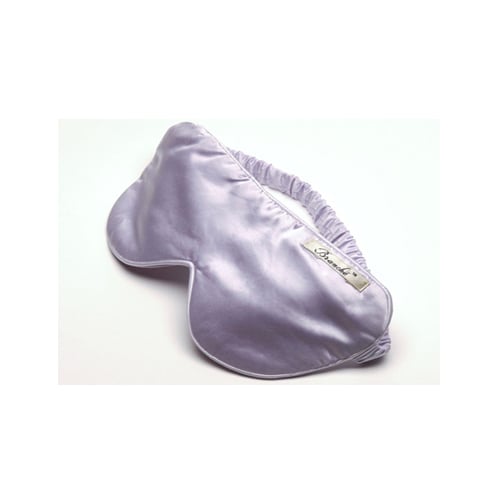 Help her get some beauty rest with the Branché Belle De Nuit Eye Masque [93] ($38). It's made from 100 percent silk and is even stuffed with silk fibers, making it ideal for her skin to absorb the 18 amino acids found in this naturally luxe material.
Gold Standard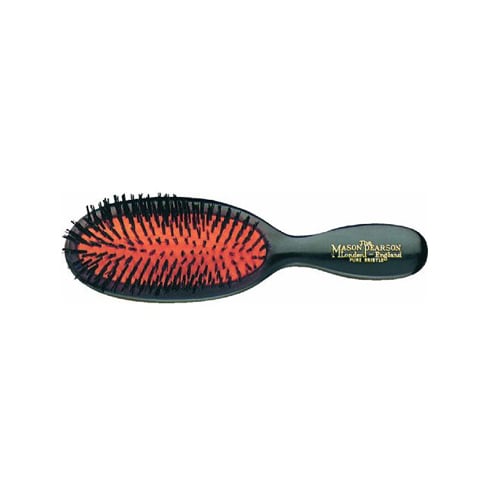 Think dropping this much cash on a brush is insanity? Maybe, but once you try Mason Pearson's Pocket Boar Bristle Brush [94] ($99), your hair will never feel the same. And that's worth the investment.
Travel in Style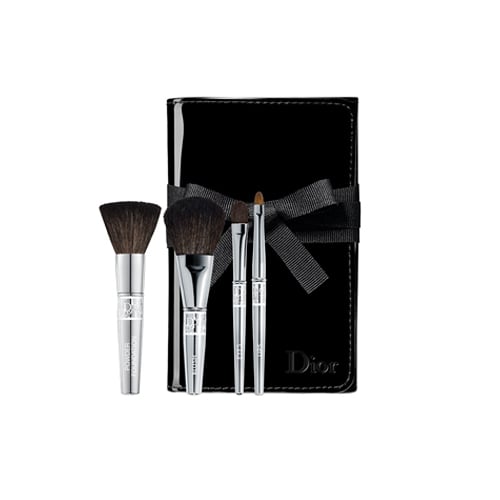 If there's a jet-setter on your list, then give her Dior's Holiday Travel Brush Set [95] ($62) so she can take a little luxury with her.
Mini-Me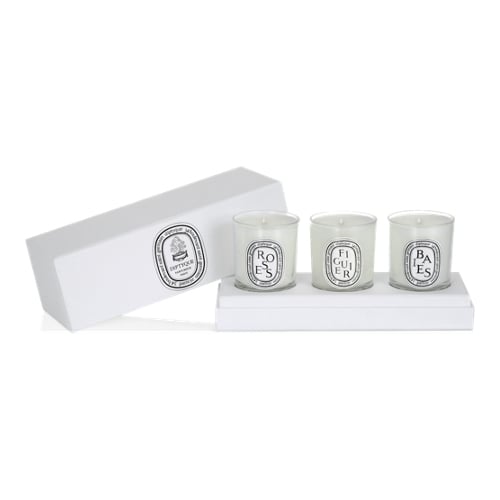 If someone is a fan of Diptyque candles, then she'll love this Set of Three Mini Candles [96] ($84), which includes Figuier, Roses, and the brand's bestselling Baies.
Blend In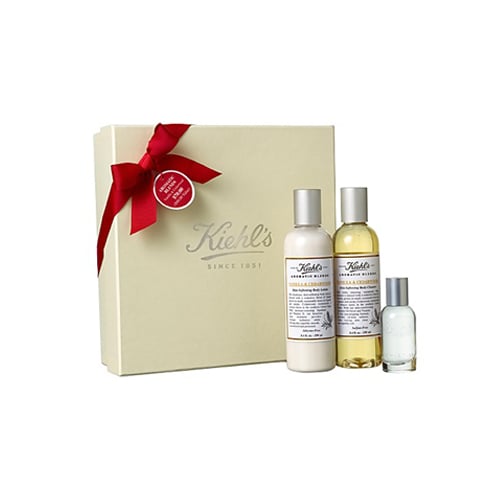 Vanilla and cedarwood blend together in Kiehl's Aromatic Blends Set [97] ($70) — magnificent for just about anyone on your list.
Oh-So Fabulous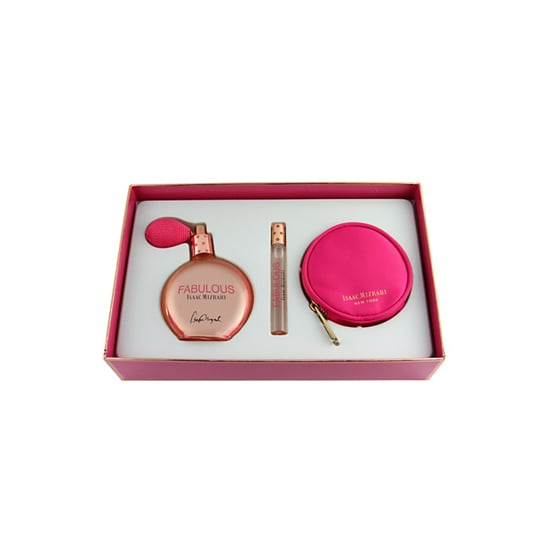 Isaac Mizrahi's Fabulous Holiday Set [98] ($85) includes a feminine scent in a kitschy bottle, great for the woman who likes to collect perfume containers.
Red Hot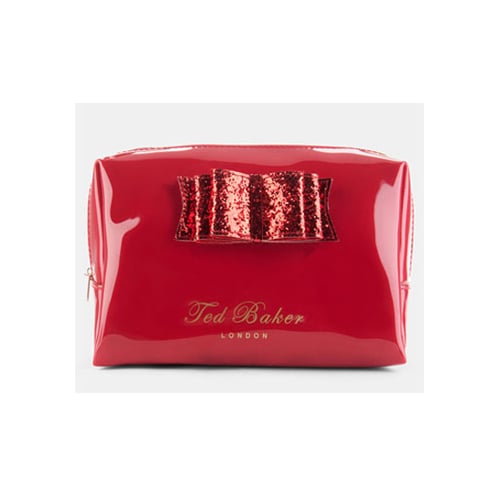 This shiny red packaging of the Ted Baker London Glitter Bow Large Cosmetics Bag [99] ($55) is very festive but will be her go-to makeup bag all year long.
Looks like this product has sold out. For a similar option, try Tory Burch's Sequined Cosmetic Case [100] ($78).
Vintage Soap
Whether it's as a hostess gift or a fancy stocking stuffer, Alighiero Campostrini's Glycerin-Based Soap in Rose [101] ($24) is a lovely handmade soap wrapped in vintage-inspired packaging from the brand's archives.
Glitz and Gold
Jazz up your nail art with Topshop's Nail Art Neon Glitter [102] ($16), perfect for anyone who love to play with nail art.
Looks like this kit has sold out. For a similar option, try Art Club The Eight-Piece Striper Kit in Glitters [103] ($24).
Let It Glow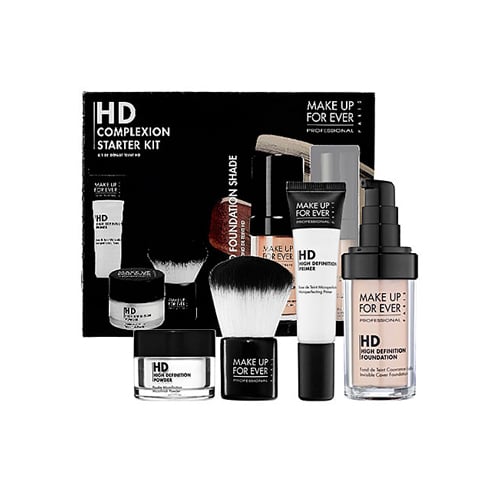 A flawless complexion is the ultimate gift to give, so why not slip Make Up For Ever's HD Complexion Starter Kit [104] ($79, originally $114) under your favorite lady's tree?
Hair Envy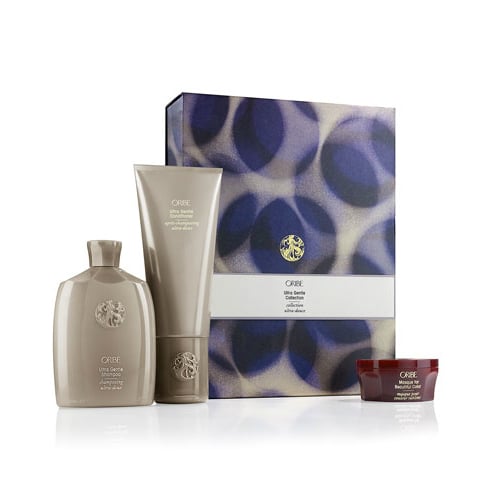 Oribe is the man behind Jennifer Lopez [105]'s iconic strands. So anyone on your list will appreciate this Oribe Ultra Gentle Collection [106] ($68), which works well on all hair types.
Classic Beauty
The conservative set will love the Kevyn Aucoin Essential Eye Shadow Palette [107] ($55), because it packages all the basics together for a natural look. The colors can even be layered for a more intense effect.
Fountain of Youth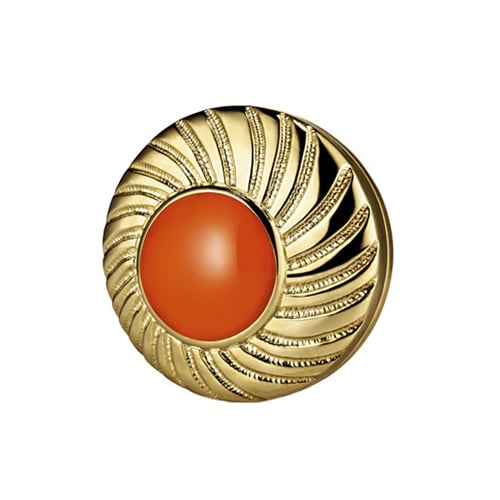 Solid perfume is ideal for the girl on the go, and Estée Lauder Youth Dew Solid Perfume Compact [108] ($89) is a refreshing scent she'll love. Plus, you can't beat that conversation-starting compact.