Holiday Hair Ideas For Beginners
3 Holiday Styles Even Hair Beginners Can Re-Create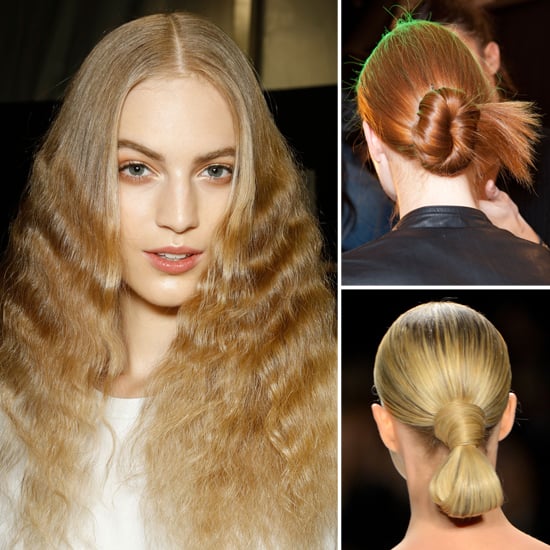 Not dexterous enough to create the most twisted and turned updos for the holidays? No worries. We've found three standout styles that don't require any heat styling or complex professional skill. Consider this the holiday hair guide for the styling challenged.
1. Waverunner: These waves spotted on the Victor & Rolf runway (left) are simple to copy on long and short hair. About an hour preparty, dampen hair with mousse from ears to ends. Then create four to six plaits (or two-stranded twists if you are inept at braiding). Secure ends with a hair tie. Proceed to get dressed (or dance around in your underwear), and when your hair is completely dry, unravel and fluff with fingers.
2. Chig-knot: Get the bun from Vivienne Tam (top right) by gathering hair in a low ponytail at the nape. For long hair, twist the ponytail into a circular chignon, pinning the hair in place with bobby pins. Leave the ends sticking out on the side. For medium hair lengths, you can use a sock to add some volume and get the perfect shape. Cut the toes out of an old sock, then roll into a doughnut shape. Place your ponytail through the faux stuffing and smooth hair over the top and pin in place.
3. Looped in: This simple style from the Naeem Khan presentation (bottom right) is a cousin of a beginner favorite — the ponytail. Starting with a basic low ponytail, tuck hair under with a hair tie or bobby pins at the nape. Any excess hair can be wrapped over to make a faux ponytail holder. If you have short hair, add extra length with an easy extension piece.