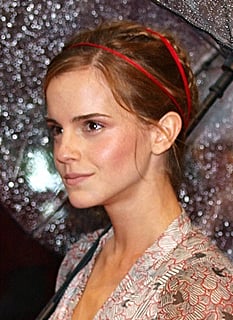 Rainy weather didn't stop Emma Watson from looking fresh-faced and chic at the London premiere of Harry Potter and the Half-Blood Prince. In fact, the loose updo style, complemented with braids and a red hair accent, is perfect for beating warm-weather humidity.
Now, I realize many of you might be sick of hearing about braids and headbands, two trends that have been popular for some time thanks to the ladies of The Hills and Gossip Girl, but you've got to appreciate how Emma turned the look into something fresh. She is, after all, becoming quite the sophisticate. Check out some pictures of the fun style below for inspiration, and get the how-to after the jump.
To get the how-to, just keep reading.
To imitate this style:
Start by parting your hair to the side. Next, pull hair back into a ponytail near the occipital bone, leaving out a large chunk from your fringe area and sides.
Now, twist and loop the ponytail to form a loose bun. Pin to secure.
Next, have some fun. Take sections from the front, criss-crossing them back into the bun. Pin to keep in place. Braid one or two sections of hair towards the back, pinning to secure. Be creative and make your sections both chunky and skinny to create interest to the style.
Finish off with a red accessory for a punch of color, like this Troth Headband from Aldo ($6).