How to Apply Fake Eyelashes
Your Guide to Never Fussing With False Lashes Again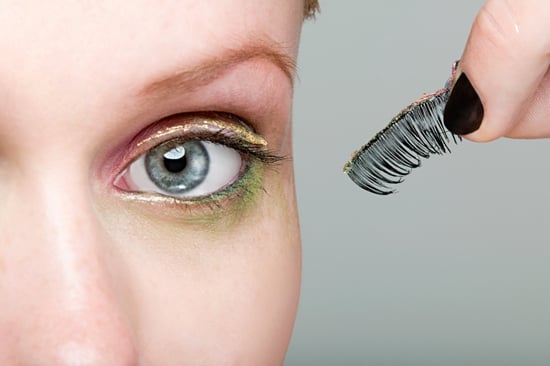 False eyelashes are one of those beauty products that give you a serious boost when used correctly, but can also look terrible when things go awry. "The key to false lashes anytime, whether you're backstage or at home wearing them, is to fit them to the eyes. You have to cut the band and make them shorter, otherwise they'll drag your eyes down," explains Stila key makeup artist Sarah Lucero, who created the flirty eye makeup look for Alice + Olivia's Spring 2013 show. To see her insider tricks for getting false lashes right, keep reading.
Measure: After pulling the lashes off their base, hold them up to your lash line. Bend them a bit so that they match the natural shape of your eye, and then measure where they need to be trimmed.
Cut: The lashes on the band go from short to long (as do the lashes on your eyes), so it's best to trim both sides to mimic this pattern. Tip: use a pair of cuticle scissors for a precise finish.
Prep: Lucero also suggests using mascara on your natural lashes before you apply the false ones. "It will add that super whimsical look to it," she says.
Apply: Add a thin layer of glue to the lash strip, wait for it to get tacky, and press the lashes on starting from the outer corners moving inward. Then, be prepared to get envious stares at your lashes all night long.