How to Apply Makeup During a Commute | MIMI
Why You Should Apply Your Makeup During Your Morning Commute
Instead of getting up early for work, why not hit snooze and save the primping for your morning commute? Our friends at MIMI spoke to Real Simple's beauty director, Heather Muir, to get her tips on mastering an on-the-go beauty routine.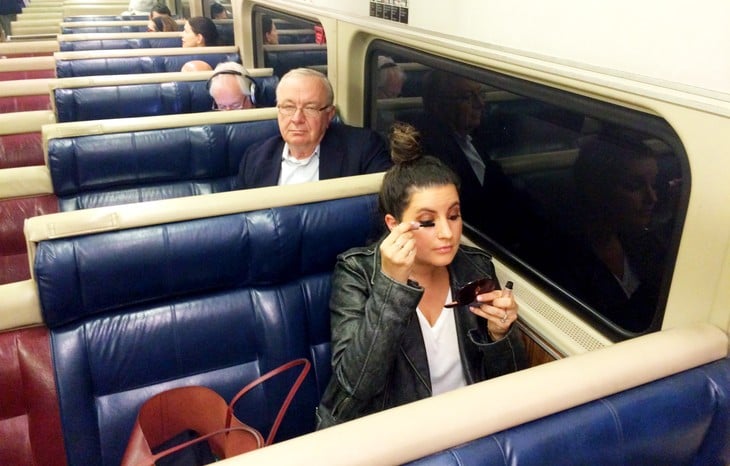 You've been known to do a little personal grooming on your commute to New York City . . .
I used to cringe when I watched women apply mascara on the train. But my mindset changed when my fiancé and I moved to a home that resulted in a two-hour door-to-door commute. Because I love our home and my job so much, I make it work. But I had to shave some time off of my morning routine, so now I use my train ride as my getting ready time.
Walk us through your routine . . .
Before I leave my house, I pop in my contacts, brush my teeth, and wash/moisturize my face. I throw my hair into a high bun (which gives it volume). When I get on the train, I stick on cooling eye patches — Bliss Triple Oxygen Instant Energizing Eye Mask ($54) — to reduce puffiness and to create a Zen state of mind. If I'm sleepy, I'll take a power nap. If not, I read The Skimm, check Instagram and Twitter, and make a to-do list on my phone. Then I start my makeup, which includes prepping my skin with Charlotte Tilbury Magic Cream ($100), primer, liquid foundation (applied with my BeautyBlender), highlighter, contour, blush, shadow primer, eyeliner, eye shadow, mascara, lip liner, and gloss. I file my nails, apply a fragrance-free hand cream (I don't want to overload people with scents), and do a little hair zhooshing with a mini Mason Pearson ($120).
What's your set-up — does it require two seats?
I pull out my makeup bag, an easy-to-wipe-clean black plastic Chanel pouch. On mornings when I have two or even three seats to myself, it's a treat, but I can do my routine in one seat, utilizing my lap. I always opt for the window seat, because natural light works best for a flawless application.
Ever get worried you're going to poke yourself in the eye if the conductor slams on the brakes?
Let's just say I've mastered a steady hand. I curl my lashes, line my top and bottom waterline, and precisely apply mascara, but just in case I slip up, I always keep a travel pack of cotton swabs to erase any smudges.
Any memorable comments from the ticket collector or fellow passengers?
They never even bat a lash. I abide by their rules, and at a whopping $500 a month, my ticket buys my seat — or in my case, a makeshift vanity.
Guessing a good mirror is key . . .
I've found it's more important to have great natural lighting than a big mirror. I use a small round compact. The close-up view lets me get my eye makeup just right.
Any touchups on the ride home?
I store Tata Harper Aromatic Stress Treatment ($80) in my bag and dab it on my pulse points to unwind after work.
Eyebrow plucking. Dry shaving. Nail clipping. Where do you draw the line?
Because the lighting is so great, it's an ideal time to pluck your brows and check for those mortifying rogue chin hairs that you might not find in bathroom lighting. Shaving and flossing are crossing the line in my book (though I've done both in my office).
The Daily Mail once reported two-thirds of British women apply their makeup on their morning commute . . .
I say they're smart! There isn't a ton you can do on the train, so I maximize the time by checking things off my list. I'm waiting for someone to open a blow-dry bar or a workout car — how great would that be?
Yet in Japan, they've run ads asking women NOT to put makeup on in the subway . . .
I don't invade anyone else's space and I go as far as being super careful when closing my eye shadow quads and digging in my bag so that I don't annoy other passengers. Although I accomplish a lot on the train, I do it in a respectful and discrete way.
To those who suggest you get up earlier to do your makeup:
I get up at 5 a.m., but I'd rather eat breakfast with my fiancé, spend a little time with my puppy, and get some chores done around the house instead of standing in front of the mirror. Since I can do my makeup on the train and not those other things, it's what helps me make the most of my day.
More from MIMI:
Master the Cat Eye Once and For All
This Trick Will Make Your Blowout Last Longer
How Beauty Editors Pack For Vacation