How to Choose Drugstore Foundation
A No-Fail Guide to Choosing the Right Drugstore Foundation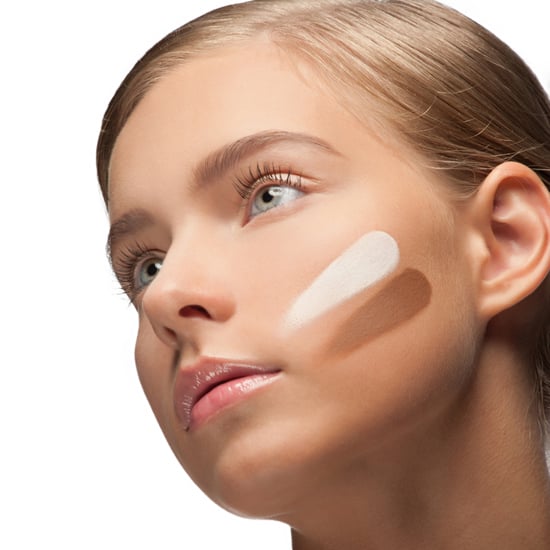 Shopping at a drugstore for foundation can be a frustrating experience. There are so many brands to choose from and very little ways to make sure you have the perfect shade for you. Sure you may be able to return those dud purchases, but who has the time? Get expert tips on getting the right shade up front when you keep reading.
Step 1: Compare and Contrast
In most drugstore beauty aisles, there is no way to test foundation without opening the packaging. Celebrity makeup artist Lusine Galadjian recommends using a compare and contrast system to get the closest shade as possible. "The best way is to put the bottles next to each other and you get a better sense of which one is cooler or warmer, and what's closer to your skin tone," she says. If you can test the shade, blend into your hand or décolletage instead of the neck, where skin is lighter.
Step 2: Pick Two
Still having trouble finding the right foundation color? Pick one lighter shade and one darker shade. Then mix them together at home. "But make sure you wash your hands because you don't want to transfer the oil and dirt," Galadjian advises. "I mix it with my finger so that with the warmth you get the color that your going to get once you put it on your face." It's also better to keep two shades on hand for any seasonal changes: one darker for the Summer and something lighter for the Winter months.
Step 3: Go Warm
Galadjian prefers to choose foundations with warm and neutral undertones because cool shades can appear too blue or pink on the average woman. If you're confused about what is warm or cool, use her insider trick. Bring something silver and have something gold with you to the store for comparison. "If it's a cool color it looks better to the silver. If it's a warm color it will look better next to the gold," she says. "And you want to pick the warmer color because it's more flattering to the face."
Step 4: Go Lighter
If you have to choose between using a lighter or darker shade, choose the lighter hue. "If you're a little bit lighter you can always use bronzer to bronze up the sides and your cheekbones and give yourself a little bit of warmth," Galadjian says. "But if you're darker there is not much you can do unless you have a foundation that's lighter that you can mix with it."
Step 5: Ditch the Sponge
"Sponges tend to soak up the foundation too much so you get a lot of product wasted," she said. "Use your fingers because the warmth of your hand just allows your foundation to blend well with your skin, so it doesn't look like it's sitting on top of your face and it's not cakey." And when it comes to selecting between brands, Galadjian prefers anything that has a pump. Not only is it more sanitary than placing fingers into your product constantly, but it gives more control on the amount used.