How to Choose an Eyebrow Color If You Have Black Hair
Eyebrow Beauty: Choosing the Right Shade For Raven-Haired Beauties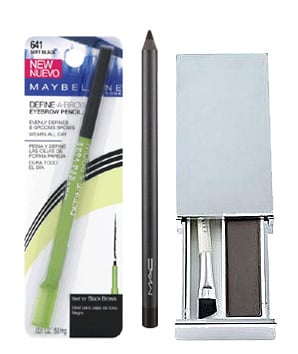 Supermodel Linda Evangelista once said, "No one is born with perfect eyebrows." But thanks to a profusion of eyebrow-enhancing products, achieving brow perfection is actually quite easy. The hard part often lies within choosing the correct shade, but I'm here to help.
Generally speaking, if you're blonde go one to two shades darker than your hair color; brunettes should go one to two shades lighter; and if you're a redhead, picking the right intensity and tone is key.
If you're blessed with raven-toned locks, however, a coordinating deep black eyebrow product can not only look too severe, but can add a starkness to the complexion as well. Instead, dark-haired beauties, smoke up. Think shades of charcoal, soft black, gray, almost black, and even mahogany, deep taupe, or dark brown. Better yet? Customize your shade with a multihued palette, like Brow Powder Duo in Ebony ($22).