How to Choose a New Red Hair Color
Get the Right Shade of Red For Your Hair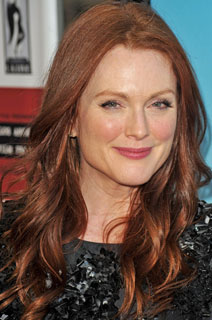 Many of us will, at least once, go red with our hair. But the experience can be a glorious one or a total disaster depending on how your shade interacts with your skin tone and eyes. So how can you make sure you get a flattering hue? Color experts Vickie Vidov and Kristina Barricelli — they're the ones who keep Julianne Moore looking so ravishingly red — have great advice on selecting a shade that will accentuate all your best features. To see their tips, just keep reading.
Think about your skin tone. "Choosing a shade of red is really about striking a balance of tone," Vidov says. "If you have very warm undertones in your skin (yellow, orange, or red), you need to choose a cool red hair color to neutralize your skin tone."
Try to create contrast between your hair and skin instead of matching. "Opposites attract," Barricelli explains. "Don't wear a copper red hair color if you have a gold-colored skin tone; create contrast by selecting a cool red color instead."
There are some people, unfortunately, who just don't do well in red. "If your skin tone is overwhelmingly red, then refrain from coloring your hair red," the duo advises. "The red color in your hair will pick up and accentuate the red tones in your skin. The result will be overbearingly red and simply too intense for the eye."