How to Choose the Right Spring Hair Color
How to Pick a Spring Hair Color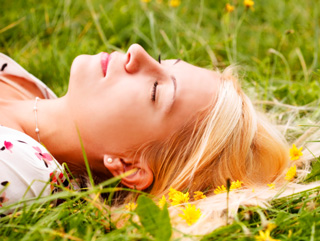 Whether you're a serial hair dyer, or just looking for a fast way to freshen up for the new season, coloring your hair can be a tricky process — especially if you're going the drugstore route instead of to a salon. So to help you get a color that looks great and is perfect for this time of year, I've put together tips to make choosing a color easy. To match yourself with the perfect Spring shade, just keep reading.
Think about your undertones first. If you don't know what they are, take my undertones quiz. You're either a warm or a cool, and the more on either end of the spectrum you are, the more your hair color should follow.
If you're very cool, go for an ash shade. Some colors, if you're shopping at a beauty supply store, may also list these as "blue" and "violet," or have numbers followed by .1 (a 7.1 is dark ash blond, for example). At the drugstore, a color designed to fight brassiness will probably also serve you well. Slightly less cool undertones look good in beige blonds and browns, which are termed "cool" and are listed with a .13 behind them.
If you're really warm, look for a color that's golden, which is often followed by a .3. Somewhat warm skin tones look lovely in warm or coppery shades, which are followed by a .31 or .35
Neutral shades look good on everyone. They don't have a number after them. If you're struggling with your color or scared to make a big change, go neutral.
Spring shades are usually lighter and have a hint more red than colors at other times of the year, so your safest bet is to bump your color up one shade level and add a hint of red. If you're a golden blonde (an 8.3, numerically), for example, try bumping it up to a light strawberry blond (a 9.35).