How to Correct a Crooked Nose With Makeup
How to Balance a Crooked Nose Without Anesthesia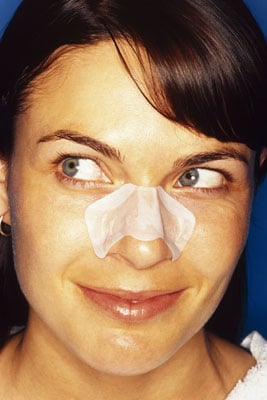 It's actually normal to have a slightly asymmetrical face, but if you'd like to try out a little corrective makeup contouring for a crooked nose, this post's for you.


Method 1: Apply a darker foundation or concealer to the side with pronounced bend. Next, apply a lighter shade of foundation on the opposite side. Blend well, and keep your lines straight to give the illusion of symmetry.
Method 2: Apply a creamy highlighter straight down the bridge of the nose. This technique helps reflect light away from any unevenness.
Method 3: To soften a bump, apply a darker shade of foundation right onto the bump and blend. Diffuse the bump ever further by applying a lighter shade of foundation on each side of the bump from the top of the nose down to the nostrils.
Other tips and tricks: Avoid too-dark lipstick, which can draw attention to the center of the face. Also, consider parting your hair to the side. If you have nose that goes crooked on the left side, create a part that falls to the right, for instance.