How to Correct Too-Dark Hair Color
5 Tips For When Temporary Box Color Goes Too Dark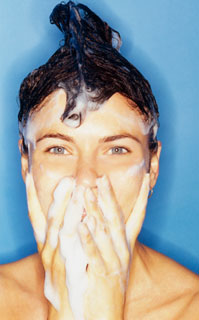 As a dark, natural blonde, I'm a big fan of semipermanent box color. It lets you brighten up a shade and look truly "blond" without requiring you to bleach. Usually, I'm a Clairol Natural Instincts kind of girl, but this time around I decided to give Garnier HerbaShine in Medium Ash Blonde ($8) a try. The results? Pretty, but way darker than previous experience (or the box) would have had me believe. So what's a girl to do? Find out how to lighten up when you keep reading.


The strip: If it's just way too dark and you can't handle it, use a color stripper like Color Oops ($10). Be warned, though. It probably won't take your hair back to its natural shade, and you'll most likely have to redye it. It's also pretty drying, so be sure to use a deep conditioner afterward.
Clarification: If you'd rather just fade it fast, wash your hair with clarifying shampoo immediately. Some people even wash their hair with Dawn or detergent, but that can damage your scalp and wreck your hair, so we say avoid.
That's hot: Hot oil treatments are cheap, good for your hair, and open up the hair shaft, which can actually help to fade color further.
Hit up the kitchen: Another natural and relatively gentle fader? Vinegar. Rinse with it and then leave it on for about 30 minutes, and it should take care of some of the color.
This may be the only time we say this, but . . . : Heat styling and hair products like hairspray are another easy way to fade out color you don't like quickly and subtly without incurring the kind of damage you'd get from bleaching.