How to Cover a Huge Pimple With Makeup
4 Easy Steps to Covering Up a Gargantuan Pimple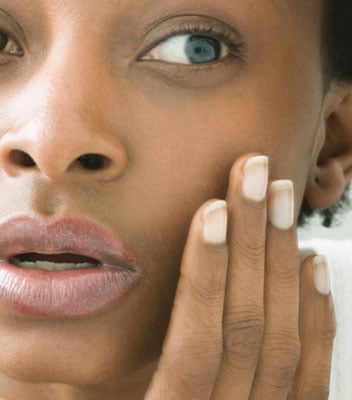 We've all been there before: you wake up one day to what appears to be Mt. Vesuvius erupting on your face. "Depending on how big a pimple is, it can create almost a shadow underneath it," explains L'Oréal consulting makeup artist Collier Strong.
And if our foolproof steps to covering up pimples just aren't cutting it, don't give up hope. A few optical illusion-style makeup techniques can make the oversized spot less noticeable. See four steps on how to do it when you read more.
Step 1: Start off by making sure you have at least two different concealers (one light, one dark) in your makeup bag so that you're always ready to do a little shading (aka makeup magic) as needed.
Step 2: Use a lighter-colored concealer under the pimple, applying it in a crescent-like shape. "This 'lifts' that area of the skin out, so that it makes the pimple actually look flatter," Strong says.
Step 3: Cover the rest of the pimple with a skin-toned foundation or concealer.
Step 4: Finish by dabbing a lighter-than-normal toned pressed powder onto a Q-tip, and then roll it across the pimple to set the makeup. Just be sure to not to press the powder on or apply too much product, or you'll end up amplifying the bump even more.