How to Create the No Makeup Look 2010-05-18 08:00:00
Faking the "No Makeup" Look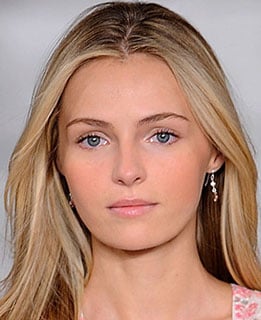 Perfectly made-up girls who looked like they were almost bare-faced were all over the shows this season, with particularly gorgeous results at Ralph Lauren's Spring 2010 show. But as Pamela Anderson once said, "Natural beauty takes at least two hours," and let's face it: all those sweetly unmade runway faces were wearing plenty of cosmetics. Creating a makeup-free look is all about the products you choose and your technique, so to find out how you can get gorgeous results without looking like you're wearing anything at all, just keep reading.
Brown mascara and shimmery nude eye shadow are your best friends. The first enables you to put on several coats without looking like you're wearing anything, and the second opens and brightens your eyes without any visible color change.
For even more eye brightening, waterline the inner corners and rims of your lower lids with a shimmery nude eye pencil. It will make you look more alert and give you "sparklier" eyes.
Use a highlighting pen over your foundation to brighten your under eyes, play up your cheekbones, and clean up your brow bone area.
Pick a light-colored cream, gel, or mousse blush instead of a powder — you'll get plenty of pigment, but more sheer coverage. Plus, the shade will look more like a real flush than a blusher.
Pick a lipstick in a cream or semi-sheer formula that's pretty close to your natural lip hue. It will emphasize your lips and make them look fuller without looking done up.